Deck decorations are the best way to add another touch of personality to your custom-built outdoor living space. Whether your deck décor is classic or modern, you can find the perfect touches to make your deck more usable, more fun, and more you!
While every homeowner and every design are one-of-a-kind, these are the 11 deck accents and decorations that accompany almost any deck color scheme that practically everyone will love — explore the options for yourself.
Fantastic Pieces of Porch and Deck Décor
Whether you prefer the deck decorations that transform your back porch into the perfect outdoor bistro — or the decorations that make your deck more fun — you'll find everything you could possibly imagine in this guide.
Here are the top 11 hottest deck decorations, in no particular order:
1. Deck Heaters
If you love your outdoor living space, you want to push its usage as far into winter as possible. Meet your secret weapon against the winter chill — in a stylish package. These deck-safe propane heaters come in a variety of styles, adding powerful ambient heat to your deck. Since they are 100% portable, these highly-useful deck decorations can be placed anywhere you need them.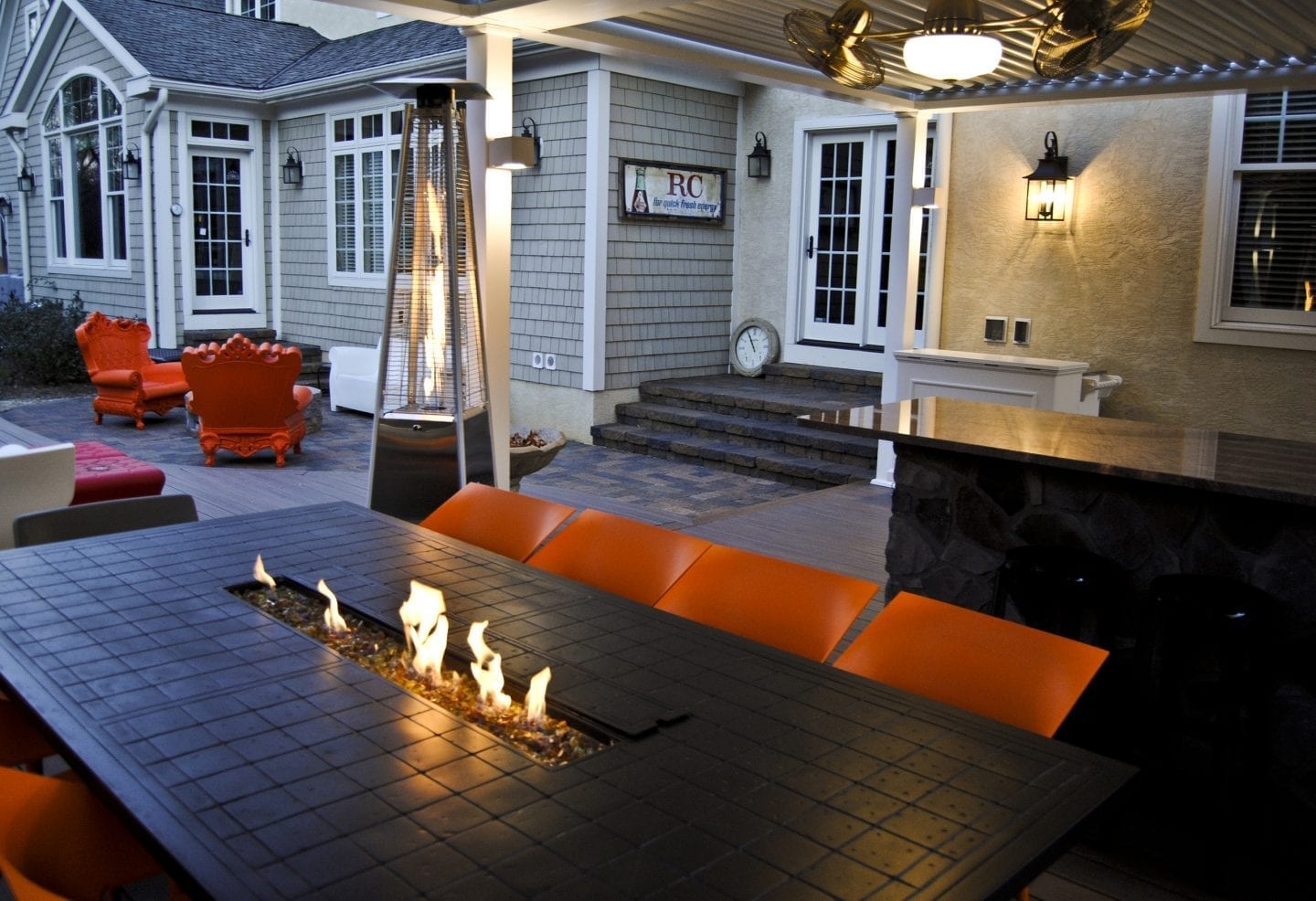 2. Sashes or Large Curtains
A fantastic way to incorporate some much-needed privacy into your design, these deck decorations come in a few different forms. Some designs that include pergolas use wrap-around cloth shades to transform the pergola into a secluded retreat. However, if you don't opt for a pergola and still want privacy, look into a large privacy screen to provide the privacy you desire along with a splash of color.
3. Putting Green and Other Outdoor Games
Who says outdoor living can't come with a fun side? Your exterior living space may be a stylistic masterpiece, but it's also a fun place to hang out with family and friends. Drive that point home with a putting green or other outdoor game your family loves. Do you love cornhole? A plus of composite decking is that dragging cornhole boards across your deck won't scratch the composite surface.
See how this exquisite deck made perfect use of a putting green.
4. Art Work
Your deck decor lets you showcase a little bit of what's in your heart to everyone who visits. Art collectors often use their covered outdoor spaces to highlight a personal piece of their collection — especially if their outdoor space is a hub for entertaining. If you think you'll end up hanging a work of art, let our designers know and we'll incorporate it into your design.
5. Lighting
A gorgeous deck accent that will keep your parties going later into the night, lighting is a crucial component of your deck décor. While including built-in lighting is popular in modern decking styles, some homeowners prefer to keep their lighting portable. However, thinking about how you'll use candles, luminaries, or tiki torches during the design phase allows us to make the space to accommodate them.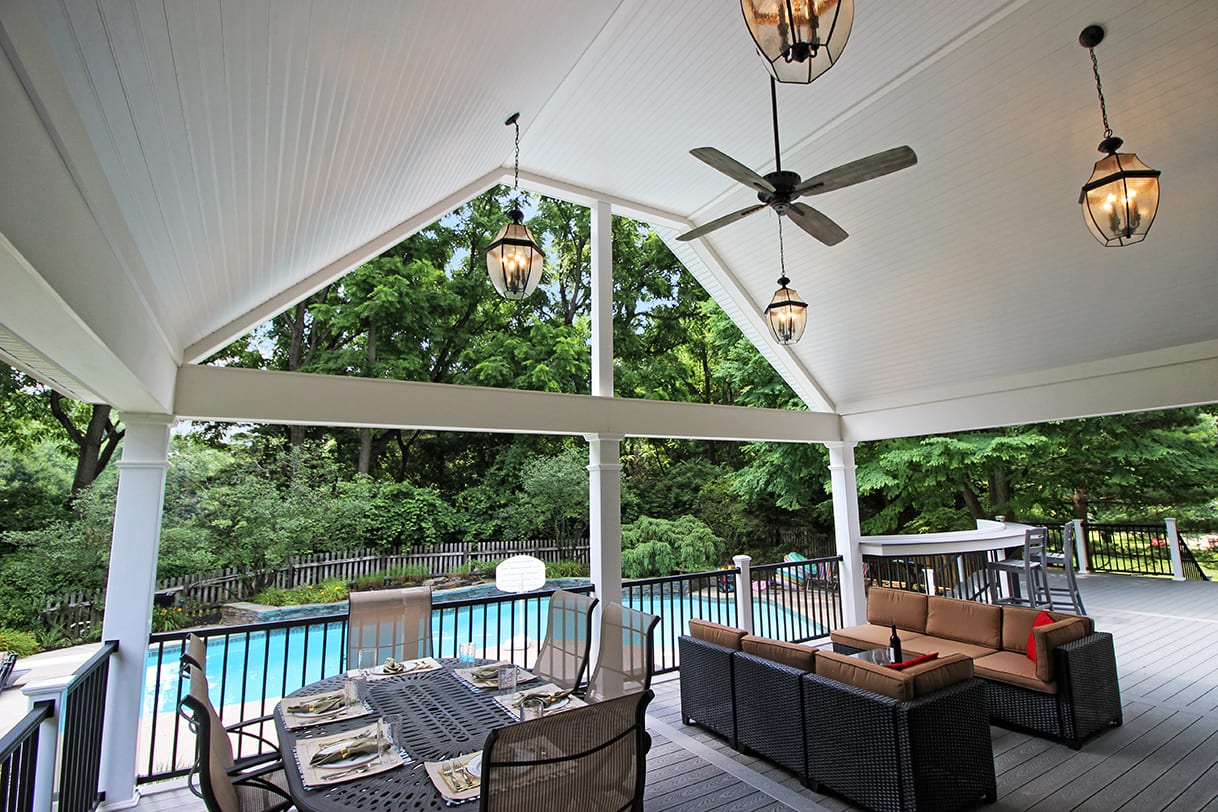 6. Sports Memorabilia
Showcasing what's in your heart sounds great. But what if a die-hard love for the 2018 Superbowl Champs, the Philadelphia Eagles, is in your heart? Your outdoor living space is a perfect place to announce to everyone that you live for the Birds! From flags, rally-towels, rugs and more, sports memorabilia makes some of the best deck decorations.
7. Outdoor Furniture
The outdoor furniture you choose is a crucial piece of your deck décor and deserves your attention. The most popular options for deck furniture include weather-proof poly furniture, sleek aluminum pieces, or increasingly popular rope furniture. More than ever, homeowners create a unified aesthetic both inside and out. In addition, high-top barstools pair well with a drink rail for a cool secondary sitting area.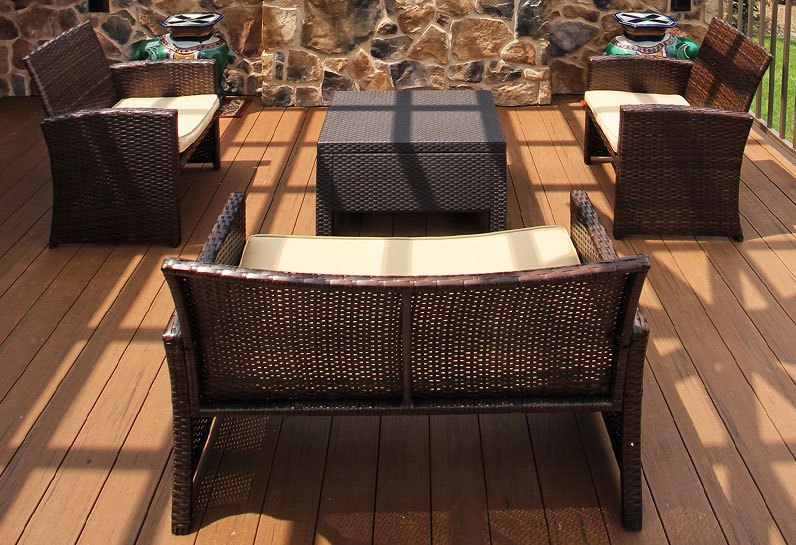 8. Portable Fire Features
While installing a fire feature into your outdoor living space definitely builds a sense of ambiance, it isn't in everyone's plan or budget. In these cases, a portable — and deck-safe — fire pit or chimney is a great alternative. This can be a great deck decorating idea on a budget.
9. Umbrellas
Another case of the beautiful meeting the practical. Sun umbrellas provide you a full-coverage sun shade while also enhancing the style of your outdoor living space. Umbrellas are a great deck accent as they serve as a focal point, transitioning from the roof to the deck surface itself. In addition, an umbrella can also break up the sameness of an expansive deck surface.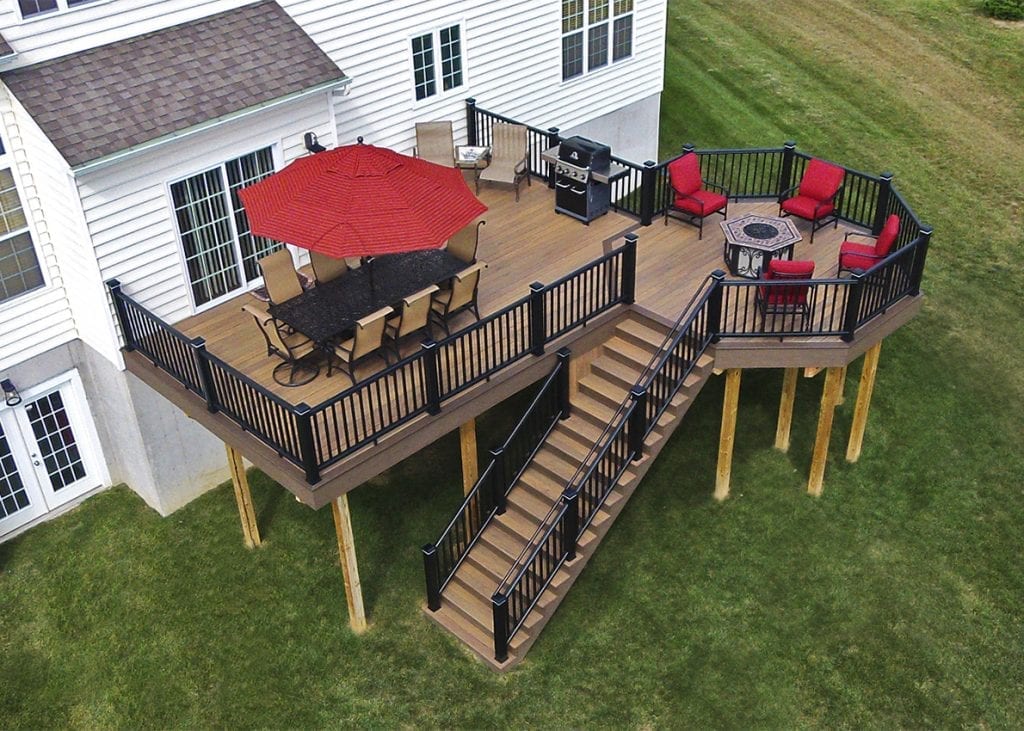 10. Potted or Hanging Plants
An infusion of life and color, plants are a fantastic decoration for so many different styles of outdoor spaces. When building a 3D rendering, our designers like to incorporate hanging plants and space for potted plants from the very beginning — and you can always switch up your plants with the seasons, too.
11. Rugs
A rug on your deck is a recipe for bright colors plus maximum comfort. Weather-proof rugs are a fantastic deck accessory on the sun-deck portion of your outdoor living space. On the other hand, a traditional rug pairs well with your porch area to create the feeling of an outdoor living room.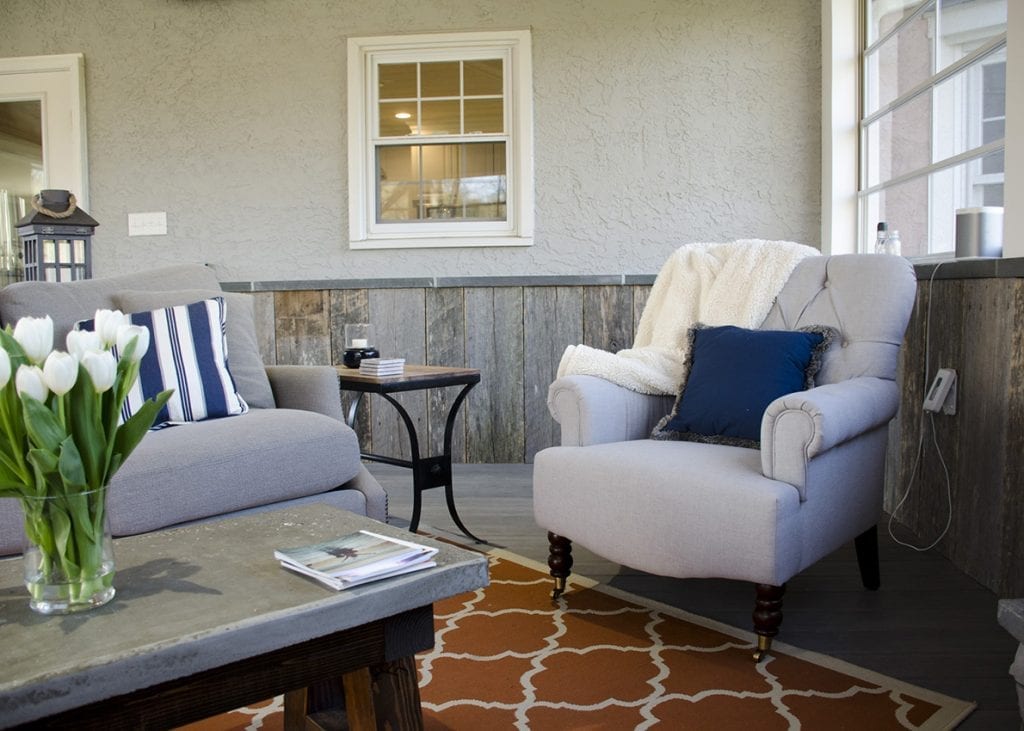 In addition to these great deck decorations, which you can incorporate after your deck is built, check out the great deck accessories you can use, too.
3D Design with Your Deck Decorations in Mind
At Keystone Custom Decks, the 3D design process is the foundation of how we show our clients their dream deck come to life. The perfect deck decorations are part of that. We can incorporate the personal touches and style that will contribute to your beautiful outdoor living space.
If you're ready to start the conversation about designing a porch, deck, or patio that brings your style to life, contact us today!