Composite Decking VS Wood Decking – 9 Common Questions Answered
If you are ready to build a new deck or re-do an existing deck, you are probably facing a common dilemma:
Should you go with composite decking or wood decking?
This is a question our team at Keystone Custom Decks gets a lot, and we want to help answer this question by looking at it from nine different angles.
Feel free to click the question most relevant to your project, or simply read through the article.
Ready to learn the differences between composite and wood decking?  Let's get started!
How Are Composite & Wood Decking Different?
While it's sometimes easy to assume all decking is the same, there are some big differences between composite decking and solid wooden decking. 
Wood Decking
Traditional wood decking is as basic as it sounds - decking made from wood!
It is usually treated and stained to help preserve the lumber and resist the weather.  As it ages, it requires more maintenance to keep it from splintering and warping.
Composite Decking
Composite decking - technically called 'capped composite decking' - is a precise blend of wood and plastic polymers.  This polymer core is then wrapped in vinyl sheathing to provide protection and long-term durability.
Composite decking is easily customized when it comes to color, style, and texture.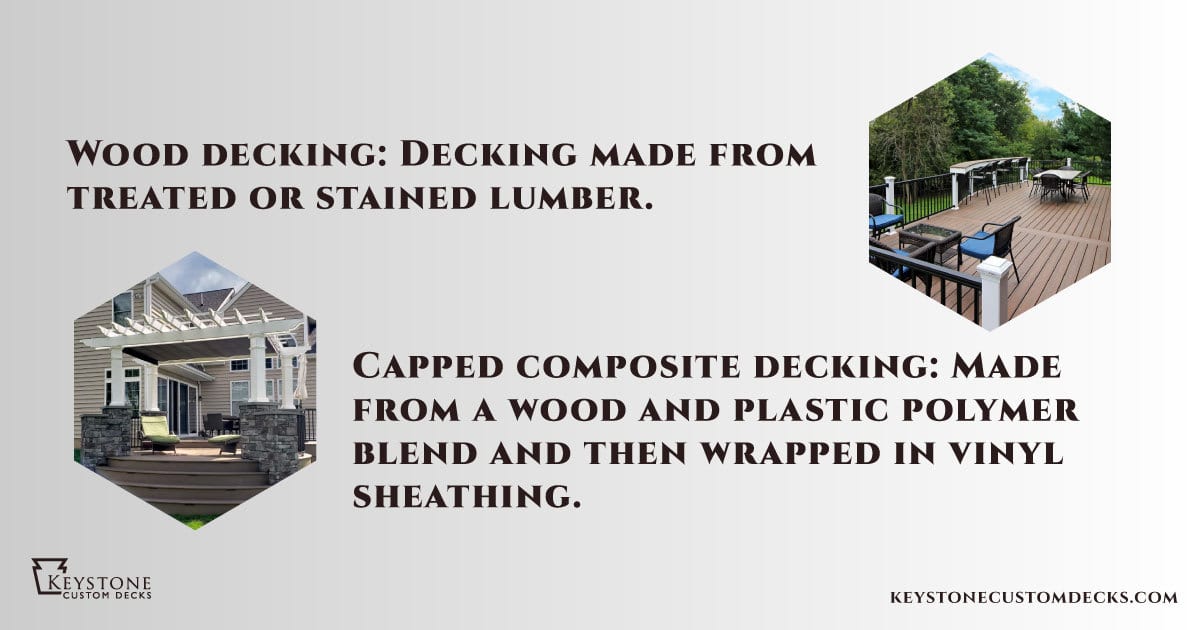 What Are The Benefits Of Wood Decking?
Wood decking has three main benefits:
First, it is cost-effective. 
Here at Keystone Custom Decks, we estimate that wooden decks are approximately $5,000 cheaper than a composite deck of comparable size.
Second, it is real wood. 
No matter the color or stain applied, it always has the texture and aesthetics of solid lumber! And to some, the charm of real wood seems irresistible. 
Third, it is easier to replace individual boards. 
Most composite decking uses a snap-lock system.  Snap-lock systems are relatively easy to install, but it's harder to replace a single board if you need to. 
Because wooden decking is screwed to the deck frame, it is easier to remove and replace individual deck boards.
Note:  Many would argue this third point is not as advantageous as it first sounds. While composite decking rarely needs to be replaced, wood boards need to be replaced periodically due to splintering, warping, or rotting.  Keep reading to see the long-term benefits of composite decking...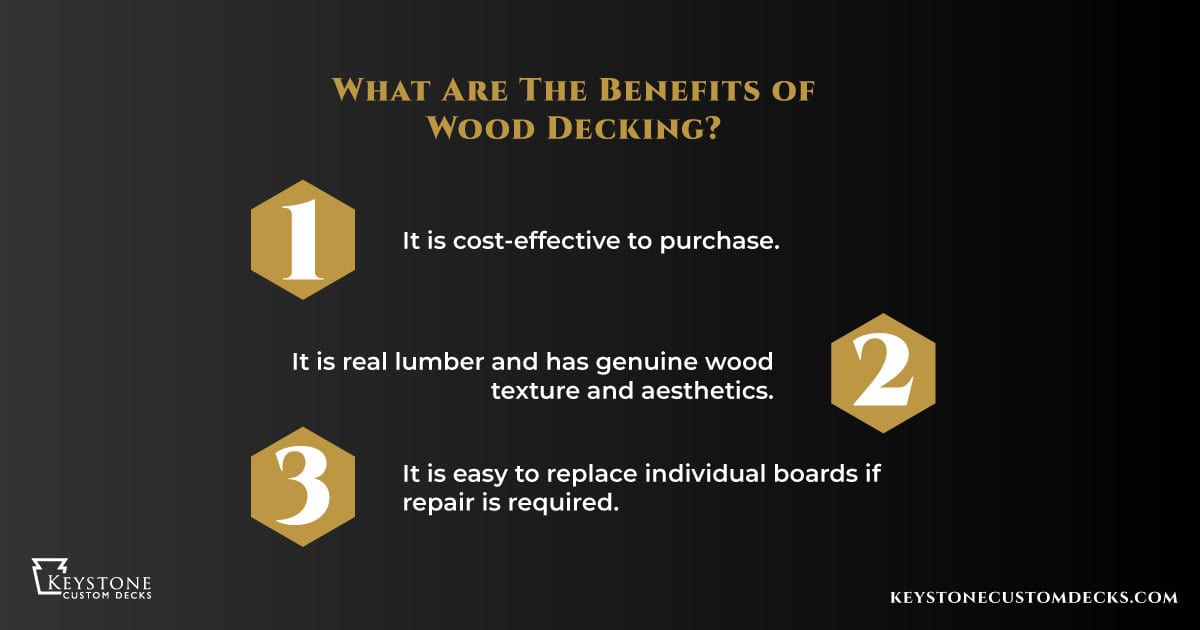 What Are The Benefits Of Composite Decking?
While it costs more than wood decking, capped composite decking has multiple benefits:
First, it is highly customizable. 
Composite decking comes in a wide variety of colors, textures, and styles. In fact, you can get composite decking that looks almost exactly like wood! Sometimes you can barely tell the difference. 
Second, composite decks do not fade over time. 
Unlike wooden decks, you don't need to worry about staining or repainting your composite deck.  When it comes to long-term aesthetics, this material won't let you down!
Third, it doesn't warp or splinter. 
This keeps the deck looking nice for many years, and it makes it safe for children, pets, and others. 
Fourth, it cleans easily and doesn't stain or grow mold. 
Because it is wrapped in vinyl sheathing, you can easily clean composite decking with soap and water, and it won't grow mold or mildew.  This removes the threat of staining and makes cleaning and maintenance easy.  
There are many more benefits to using composite materials for your deck.  Continue reading to discover these other advantages.
Which Decking Is Cheaper?
When comparing decking, pricing is one of the few areas where wood decking has an advantage over composite decking. 
As mentioned previously, we estimate the average wooden deck costs $5,000 less than the average composite deck. 
While this is not an insignificant number, there is a catch to the more cost-effective wood:  It requires more long-term care, maintenance, and replacement.  
Before choosing to go with lumber just because the initial cost is cheaper, be prepared to put in the additional maintenance and work on your deck.  
You should also be prepared to replace your deck sooner when using wood decking, and this fact alone often cancels out the initial savings in the long term. 
It is important to note that manufacturers are aware of the price difference in materials, and they are working on materials and processes to make composite decking more price competitive.
What is an example of better pricing?
TimberTech has started producing a material called TimberTech Edge Premier Collection.  The cost of this material is cheaper than standard composite materials and closer to that of a wood deck. 
While the Edge Premier Collection comes with the same long-term durability and low maintenance of capped composite decking, it comes in limited colors and textures. 
Which Is Easier To Clean?
When it comes to cleaning your deck, wooden decking has a significant fault:  it quickly gets stains, mold, and mildew, all of which can cause permanent blemishes. and if you eat on your deck regularly, it's sure to get stained pretty quickly. 
These issues mean you need to regularly clean wood decks, because they might develop permanent stains and potential damage if not quickly cleaned. 
Cleaning a wooden deck properly requires power washing or hard scrubbing with a powerful cleaning agent. If the stain or mold is a big enough issue, it may mean you'll need to resurface or paint the deck.
Composite decking, on the other hand, is designed to repel liquids, mold, and other materials that leave stains. Also, if something spills on the deck, you can usually wipe it up easily and quickly. That means you can host dinner parties on your deck without a care, even if there are kids present.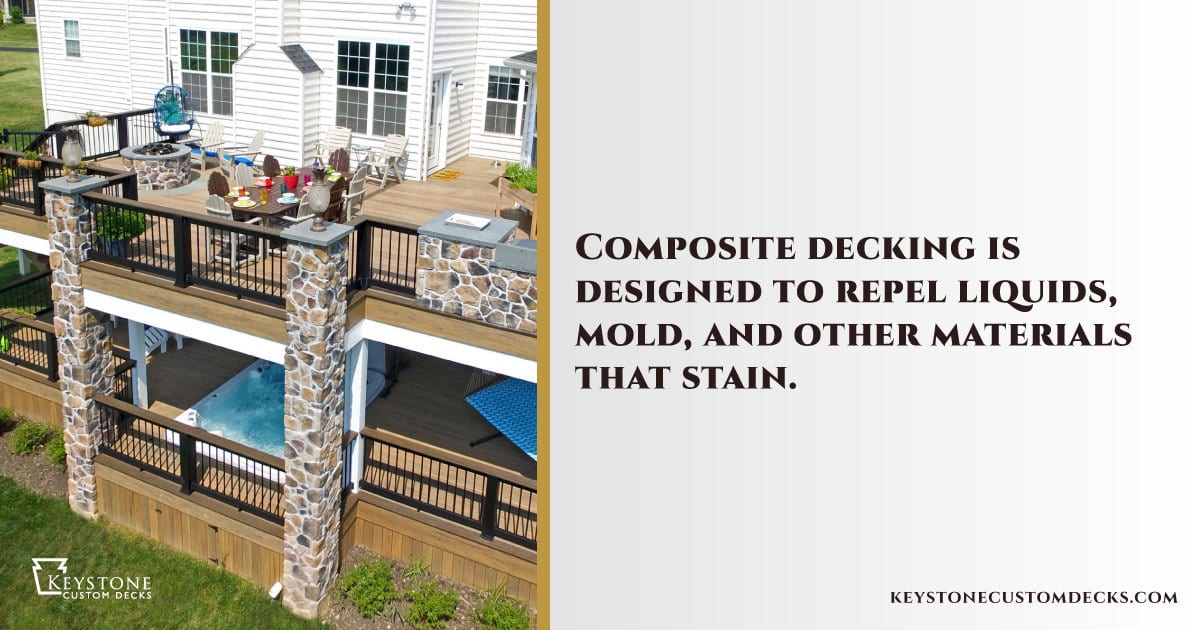 However, if you want to clean a composite deck thoroughly, follow these six simple steps called the "soap-and-water method":
Remove all furniture from the area to be cleaned.

Sweep the floor with a broom to remove loose debris and leaves.

Rinse the floor with warm water.

Prepare a solution of warm water and standard dish soap (we recommend Dawn).  The soap-water mixture should be similar to what you use to wash dishes.

Using a nylon broom or brush of medium stiffness, put the brush head into the soap-water solution and scrub your deck.

When you are finished scrubbing with the soap-water solution, simply rinse away the remainder of the dirt and soap.
Cleaning a composite deck is really this simple - no pressure washer or powerful cleaning agent required! And small spills and stains can be easily wiped up. 
We provide more cleaning tips, including snow and ice removal, in our Ultimate Guide to Cleaning Composite Decks.
Which Decking Requires Less Maintenance?
We have already discussed the fact that wood decking is easier to replace or repair if only one or two boards need replacing. 
At first glance, this may make it appear that wood decking is easier to maintain, but this is not true.
In fact, with composite decking, you don't often need to worry about replacing any deck boards!
Why is this material so worry-free?
Because it requires almost no maintenance!
The engineering and vinyl wrap of capped composite decking means the boards don't crack, split, warp, splinter, or experience other negatives common to wood decking.
Other than the occasional washing or cleaning with the soap-and-water method, you won't need to worry about your composite deck.
Wooden decking is the opposite - it does require regular care.  This includes restaining or painting the deck periodically to protect it, replacing broken or splintering boards, and removing mold or mildew from the deck over time.
Mold and mildew can cause severe damage to a wooden deck. If you don't remove it quickly, it can penetrate the lumber, begin to spread, and destroy the deck in a matter of months.
Which Deck Material Is More Durable?
Similar to the maintenance question, composite decking shines in long-term durability.
Because of the core being wrapped in vinyl, composite decking is engineered to last a minimum of 25 to 30 years.  In fact, some manufacturers, like Trex, are so sure about their materials lasting 25 years that they back their products with a 25-year limited warranty! 
What other factors make composite decking durable long-term?
It resists hot and cold temperatures and does not swell or contract.

Wood decking invariably begins to warp, twist, and splinter over time.  Composite decking is designed to hold its colors and shape for decades.

It does not fade or require regular staining or painting.  

Unless they are abused or mistreated, composite materials do not scratch over time.
Wooden decks' long-term durability depends on having a water-proof sealant or stain applied regularly, often every several years. Keeping the deck mold and mildew-free is also critical to extending the life of wood decking.
At Keystone Custom Decks, we have seen composite decking live up to its hype.  
We have been installing composite decking for over thirty years now, and there is no question in our minds - they live up to their expectations of long-term durability!  
Which One Is More Customizable?
Both wood and composite decks can be customized in color, but the amount of work required is vastly different between the two.
Wood decking means the deck has to be painted or stained to get the desired color, and periodically you will need to deep-clean and repaint or restain the deck due to fading.
In contrast, composite decking is a "set it and forget it" approach to design and color.  
Once you choose the color and decking style you want, you are finished - no painting or repainting necessary!
Composite decking also allows for more textures and styles in truly customizing your deck.  Whether it's a modern, rustic, traditional, or earthy feel you want, you'll find a style to match.
In fact, several styles look almost identical to lumber if you want the wood aesthetic without the related maintenance and issues!
The one downside to the long-lasting color of composite decks is that it's harder to change it if you want to. It's much harder to paint composite decking than wooden decking, so you want to be sure that you like the color you choose for your deck. 
Which Decking Is Right For My Project?
Choosing the best decking for you all depends on your budget and situation. 
Here at Keystone Custom Decks, we encourage all of our customers to get capped composite decking for their decks and porches.
Even though wood decking is cheaper, we have built and serviced enough decks in the past 30+ years to know that in most cases the extra money spent on capped composite decking is worth the saved maintenance, work, and long-term aesthetics and durability. 
However, we also know every situation is unique, and our team is dedicated to listening to your goals and ideas in creating your dream outdoor space.
We also offer other services, including swimming pools, pergolas, outdoor kitchens, fireplaces, water features, and more! 
Contact our team today to find out which deck features, colors, and design are the right fit for your home and family!
P.S.  Wondering what some of our other customers said about composite decking and having our team design and install their decks?  Read some of their stories below!
John Schwing:  "Extremely happy with our new composite deck, can't wait for spring!  From the design phase with Ron Yoder, to the completed project, everyone at Keystone Custom Decks was very professional and polite."
Alan Roseman:  "We recently hired Keystone Custom Decks to replace our existing wooden deck with a new composite deck and roof.  My wife and I did our research on two other contractors, but after understanding how Keystone operates, it was obvious to go with them."
Matt Ferrantino:  "Keystone installed new railings and composite decking at our home recently - the crew did a great job, and the process was incredibly smooth."