How To Design A Gorgeous Covered Porch: 6 Helpful Questions To Ask Yourself
Imagine having a lovely outdoor space on your property–maybe with a fireplace, a scenic view, or lots of leafy, green plants. 
Now imagine being able to use your outdoor space in any weather–rain or shine. That is what a covered porch enables you to do! 
In this blog, Keystone Custom Decks will give you more info on covered porches, plus some design tips and inspiration. 
Ready to get started? 
Let's dive in! 
Why Should You Build A Covered Porch?
Before we get to design principles and inspiration, let's answer a question: 
Why would you want to put a roof on your porch? 
After all, putting a roof on your porch will cost more than building a simple, uncovered porch or deck. Is it a worthwhile investment?
We think it is! Here are a few benefits of a covered porch.
Enjoy your space in any weather
With a roof over your head, you'll never have to cancel your dinner party plans because of showers. Plus, a roof protects you from harsh sunlight, so you won't have to squint as you dine or relax. 
And just imagine the relaxation of kicking back in an easy chair under your porch roof, with your favorite drink in your hand, watching the rain fall all around you!
Increased privacy
If you have close neighbors, you may get tired of being on display. However, if you have a roof to frame your porch, you can add curtains to close when you want more privacy. 
That means you can see the view, but you don't always have to be the view. 🙂
Protect your porch furniture
Porch furniture is made to withstand the elements, but it lasts longer if it's protected. A roof helps protect your furniture from getting wet and moldy or becoming faded from the sun. 
Plus, if your porch has a roof, you can justify buying nicer furniture because you know it will last longer.
Add value to your home
If you are considering selling your home in the future, a covered porch will add more value to it than an uncovered porch. And in the meantime, you can enjoy it, instead of regretting you didn't do it sooner! 
The exact ROI a covered porch provides depends on location and other details, but some experts say you can expect around a 75% ROI. 
Numerous potential home buyers are looking for homes with outdoor spaces, and a covered porch may be the tipping point for some of them.
6 Things To Think About When Designing A Covered Porch
A relaxing porch is such an excellent addition to any home! 
Next, let's go over 6 questions you should consider when designing a porch for your home.
1. What is the purpose of the porch?
When designing your porch, the most critical question to ask yourself is, "How do I want to use my porch?" 
Will it be a place to sit and enjoy nature and conversation? Will it be for entertaining? Do you want it to serve as a transition from the outdoors to the indoors? You may even want to use it for cooking or sleeping. 
The main key to a well-designed porch is to be very clear about its use.
2. Where should my porch be placed on my house?
There are several things you should think about to determine where you should place your porch:
What type of light would you like to capture? Do you want to take advantage of sunrise or sunset? 

Where will a porch fit on my house? How will it look in relation to existing gables, windows, and doors? 

What about access to and from the driveway? Is this important, and if so, where is it easiest to access the porch from the driveway? 

What about interior access to the porch? Will the design impact traffic flow in the interior of the house?
With a covered porch, it is especially necessary to think about the roofline and how it will relate to existing elements like windows and gables.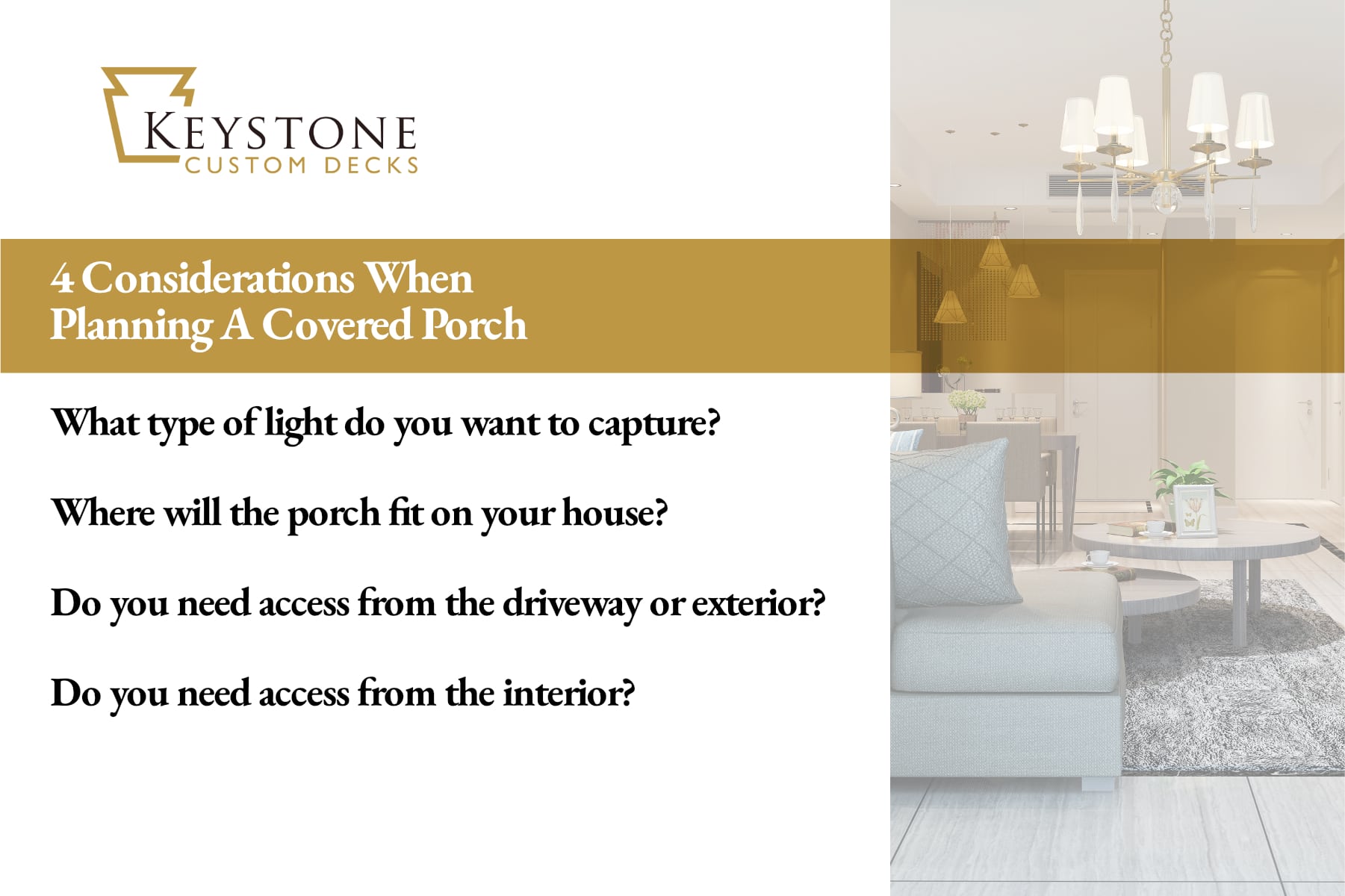 3. What is an ideal size and depth?
Your vision for your porch's function helps determine what size and depth it should be. 
If you would like to host dinner parties on your porch, you will want it to be at least 8-10 feet deep to accommodate a table and chairs. If you envision just a few chairs, 9 feet is a standard depth. 
Size can be determined partly by what available space you have on your house to build off of. Your budget may be another deciding factor for size.
4. What will fit with my home's style?
You want your porch to mesh with your home's style. You probably don't want majestic white pillars on your porch if you have a farmhouse. Those would go better with a southern plantation-style home. And you wouldn't want rustic beams on a contemporary/modern home! 
Be sure to consider what style of porch best complements your home's style.
5. What should the proportions be like?
Proportion goes hand in hand with size. Most people won't consciously think about the proportions of a porch, but you can normally tell when they are off. 
You want to be sure that the size, shape, railings, trim, pillars, and other elements blend to make a pleasing combination that complements your house.
6. Miscellaneous questions to ask yourself
There is a lot to think about when you are designing a porch! Here are a few more questions that can help you nail down a design: 
How much time will you spend on your porch? 

How many people will regularly be on your porch? 

How much maintenance are you willing to do? 

What should your budget prioritize? 

Do you want refrigeration, heating, grills, or ceiling fans? 

Do you want a neighborly porch or a private porch? 

Are there windows above your porch roof? If so, what about a walkout surface on top of your porch? 

Will you want screens or glass? 

Do you want to frame a specific view?
We know–it's a lot to think about! But with a good team to help you, designing and building your covered porch can be a fun and exciting process.
Bonus: Covered Porch Accessory Ideas
As a bonus, here are a few fun porch accessory ideas to get you excited for your finished porch!
Potted plants
Nothing adds beauty and relaxation like some leafy green plants! Hang up a few ferns or place larger pots on your porch for a natural atmosphere and charm.
Lighting features
Need some ambiance and maybe a little romance? Beautiful lighting features add a better touch than a plain old porch light. Lighting features also act as safety features for using your porch at night. 
If you don't want to invest in built-in lighting, you could just get some lanterns or string lights.
Privacy/shade screens
If you want some extra privacy or shade, consider adding removable screens.
Rugs
Because your porch has a roof, you can afford to invest in a beautiful rug to add to the area and know the elements won't ruin it. A rug encourages people to kick off their shoes, sit back, and relax!
Pillows
Add lots of comfy pillows to your seating area to bring the indoors outside and make it really cozy. You could add a throw blanket too.
Accent table
An accent table is a great place to put your lanterns or other decor. It's also handy for holding your drink or book while you sit and enjoy the outdoors.
We hope this article has been helpful for you if you are considering designing a covered porch! 
If you want to start the conversation about building a covered porch today, call us at Keystone Custom Decks. We design and build covered porches as well as other outdoor structures, including: 
And more. You can check it all out at keystonecustomdecks.com. 
Give us a call today! We look forward to hearing from you.