Deck Privacy Solutions: Tips For Creating A Cozy, Relaxing Haven
A raised deck or open patio can be the perfect spot to relax and enjoy nature's display. 
However, problems arise when it starts feeling like YOU might be the one on display! Nobody wants to be in full view of neighbors and passing cars while trying to relax or have family time. 
If your deck feels too public, you should consider investing in a privacy solution so you don't feel scrutinized while you relax. 
Today, Keystone Custom Decks will use our experience with decks to tell you how to make your deck into a cozy, private oasis. 
Let's get started!
Let's start with some basics and talk about deck placement. 
Obviously if your deck is already built you don't have a choice about where it goes. But if you are constructing a new deck, placing it in a way that maximizes privacy can significantly enhance your outdoor living experience. 
For instance, decks are often built off the backside of a home because that tends to be more private and is less likely to face a road or other houses. However, this is only sometimes the case, and placing your deck off a side of your home or somewhere else may be a better option for your specific situation. 
Each situation is different–but if you are building a deck, it's wise to consider privacy when deciding where to place it. 
That said, let's look at some privacy solutions you could implement on your existing deck to make it feel more cozy and secluded. 
We'll start with a few natural solutions.
Natural Privacy Solutions
There's nothing like a bit of green to make a deck feel relaxed and natural. The good news is that it can also make a deck more private! 
Here are a few ways you can use plants for privacy on your deck: 
Trees/bushes
Trees or tall bushes are among the best ways to create an attractive privacy screen. The downside is that it can take them a long time to grow large enough to be effective.  
However, if you want a privacy hedge in a hurry, you can invest in fast-growing shrubs such as the Thuja Green Giant. Just make sure you find plants that thrive in your particular geographic location. 
Hanging plants
If you have a roof or other type of frame over your deck, you can hang potted plants at intervals to create an enclosed feel in your space. Large, leafy plants such as ferns are both attractive and effective for privacy screening.  
Living walls
Lush and verdant living walls are a luxurious way to screen the view. They are made of climbing plants covering some sort of frame and can provide full privacy coverage. 
Check out a few of these living wall ideas for more inspiration! 
Potted plants on pillars
If you have large posts or pillars surrounding your deck, simply placing large potted plants on top can effectively break up the view. Large, leafy plants such as ferns are a great choice. 
Plants can be a great way to increase privacy on your deck! Now, let's talk about a few more things you can do with materials you may have at home or can easily buy and assemble. 
Here we go! 
Curtains
Some simple curtains on curtain rods work well if you have a frame of some sort to hang them on, such as a pergola or roof. You could even jazz up your space with a fun pattern or color! 
Wooden privacy screen
If you are handy with wood and tools, rigging up a wooden panel privacy fence or a lattice screen could be a good solution for you. 
Not everyone has the time for DIY projects or loves working on them–and that's OK because there are plenty of other privacy solutions you can buy for your deck. 
Here are a few suggestions: 
Pergolas 
Incorporating a pergola into your deck design gives you options for privacy, such as hanging curtains or adding a living wall to one side. It also defines a space and makes it feel more enclosed, even without walls. 
Retractable privacy screens 
Retractable, wall-mounted privacy screens are handy because you can choose whether to enjoy the view or a secluded, romantic retreat. One side mounts to a wall, and the other is movable, so you can decide how much privacy you want. 
Portable privacy screens 
Sometimes, something simple, such as a bamboo screen or paper room divider, can do the trick for privacy. You can even move it around to block the sun at different times of the day or accommodate different furniture arrangements. 
Railing screens 
Installing a cover along your railing helps screen at least the bottom of your deck. If your deck is raised off the ground, this may be all you need, as people will be looking up at your deck and won't be able to see over the cover on your railing. Here are three ideas for railing covers: 
Bamboo rolls -

Installing a

bamboo roll privacy screen

along your railing blocks the view while adding a natural, exotic touch to your space. 

Artificial hedge rolls -

These

artificial hedge rolls

can give you privacy and natural foliage but don't require any "green thumb!" 

Mesh privacy screens -

If you want a simple, modern look, a

mesh privacy screen like this one

could be your best bet. 
There are plenty more ready-made privacy solutions out there, and this is just a beginning to jumpstart your research. 
Next, we'll give a few more tips for making your deck into a romantic, secluded retreat, so stay tuned!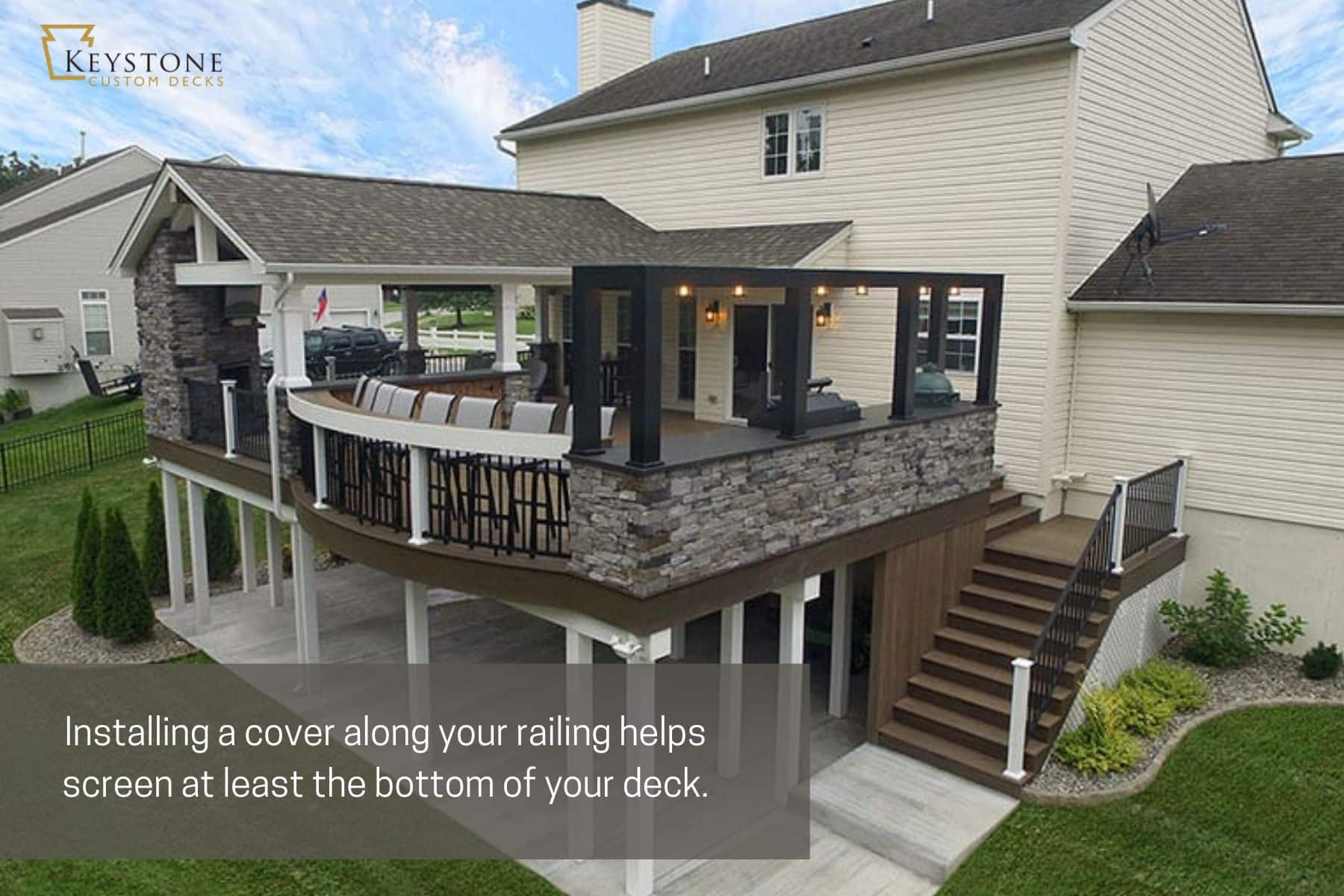 4 Tips For Achieving the Perfect Private Deck Feeling
If you want to make your deck into the perfect private retreat, there's more to it than just blocking the view. Here are a few more tips to setting the scene: 
Add sound
Adding sound with a speaker or a water feature can do two things: 
Block unwanted sound from neighbors or roads, making your space feel more distant and secluded
Set a peaceful, romantic mood 
You could relax to the burble of a real fountain or water wall or turn up the ocean noises or soft music on a speaker–either way, it will create an excellent ambiance for your space! 
Choose good furniture
Nobody likes relaxing in a hard, uncomfortable deck chair. To create an inviting and relaxing space, you must choose quality, accommodating furniture that allows you to unwind comfortably. 
Add lighting
Lighting is a crucial part of creating a great ambiance. A few lanterns, candles, landscape lighting, or even a fireplace elevates the feel of a space a notch or two! 
Use soft textures
Nothing makes a space inviting and cozy like soft pillows, blankets, and a nice rug. Adding a few soft textures to your space will warm it up and create a welcoming atmosphere.
We hope this article helps jumpstart your inspiration so you can make your deck into the private retreat you visualize. 
If you want to plan and build a deck, contact us here at Keystone Custom Decks! We specialize in building custom decks completely tailored to your lifestyle and needs. 
Our services include: 
And more! Contact us today to learn more about how you could build your dream backyard retreat! We look forward to hearing from you!