Considering an Inground Pool? 7 Frequently Asked Questions Answered
A pool provides the opportunity for hours of fun in the sun with family and friends. They can also be a lot of work, and you may wonder if it is worth the effort. 
If you are considering investing in a private in-ground pool, you are probably looking for a lot of answers. And you aren't alone. 
As a home pool contractor, we understand the importance of making an informed decision about investing in a pool for your family. So we've compiled a list of questions people often ask when considering a private pool. 
Ready to get some answers? 
Let's dive in!
*Feel free to read through the whole article and look at the pictures, or simply click the feature below that you would like to learn more about.*
1. What is the best time of year to install a pool?
This varies somewhat based on your area and climate. That said, off-seasons are usually your best option. Many pool contractors say autumn is the best time of year to install a pool. This timeline ensures that your pool is ready for the next swimming season, and the milder weather means fewer delays than if you waited for winter.
However, there isn't a wrong time of year to install a pool, just pros, and cons for each season. Pool projects take an average of 8 -12 weeks from start to finish, so you'll want to keep this timeframe in mind when planning. The type of pool affects the installation time. For example, most fiberglass pools take 3-4 weeks to install, while concrete pools take 2-3 months.
Spring and summer are busy seasons for pool installers, so you may need to wait longer before they can begin your project. While autumn is usually the best time of year, if your area gets a lot of rain in the fall, another season would be better. 
Installing a pool in the winter could take longer because of cold weather. However, there can be other benefits, like not needing to wait for the project to begin and having the pool completed by swimming season.
2. Is owning an inground pool worth it?
Let's be honest: 
Most homeowners have one big question on their mind before installing a pool: is the up-front investment and upkeep worth the reward? 
That depends.
For many people, the answer is yes. Pools can add much to a property, entertainment, hosting opportunities, and family life. However, at the end of the day, only you can decide if a pool is worth it for you.
Here are some questions to ask yourself that will help you decide. 
Does my property have adequate space for a pool? Is the terrain in my backyard well-suited for a pool? 

What is my budget? Quality in-ground pools require significant upfront investment and do include some maintenance costs.  

How important is a pool to me and my family? How often will we use it? If swimming and being outdoors is something your family enjoys, a pool would be a valuable addition to your home!

Am I willing to do the

ongoing maintenance

and upkeep requirements or hire someone else to do it? Pools can be a lot of work to maintain, and it's important to keep realistic expectations about the effort or cost required.

How long am I planning to live at this property? If you plan to move within a few years, investing in a pool is probably not worth it. However, if this is your home for the foreseeable future, investing in a pool could mean countless hours of fun and a connection with family and friends!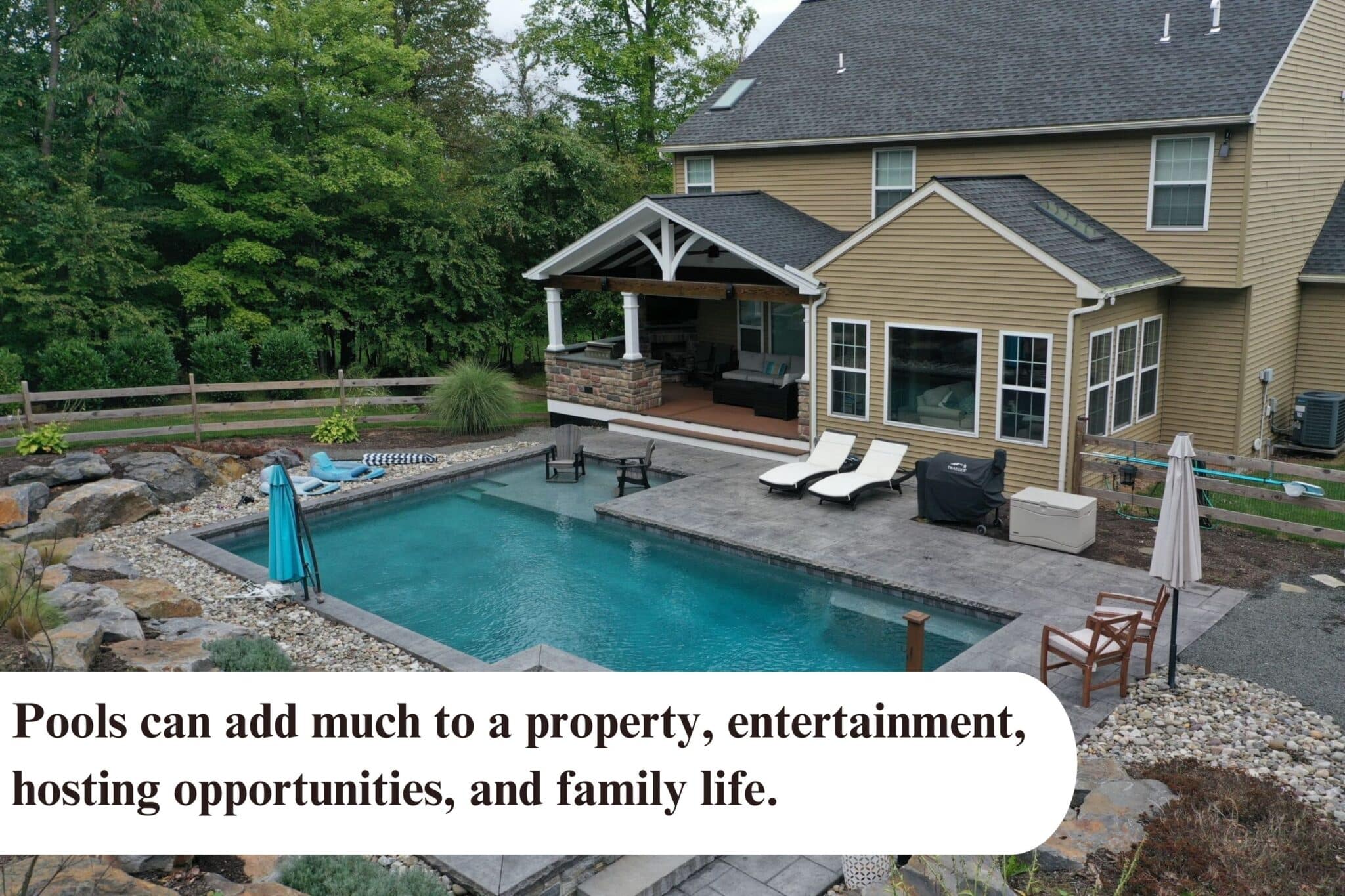 3. What type of in-ground pool is best?
There are numerous materials used to build in-ground pools. The three most common are vinyl, fiberglass, and concrete (also called gunite). Of these, fiberglass and concrete are usually considered the best options, and they are the two that we here at Keystone install. 
Which is best for you will depend on factors like where you live, how much maintenance you are willing to do, and your budget. 
Here are a few pros and cons of concrete and fiberglass pools.
4. What is a good pool size and depth?
This depends on your intended use, available space, and who will use the pool. The average home swimming pool is 16 feet by 32 feet or 560-600 square feet. Our rule of thumb is the pool length should be double the width.
If you have young children or non-swimmers, ensure you have a shallow end between 3 and 4 feet deep. You'll also want a floor that slopes to the deeper end so there aren't any sudden drops. Another option is to build a separate children's wading pool that's between 2-3 feet deep.
If you want to use your pool for playing games and swimming laps, depths of 3-6 feet are usually sufficient. The recommended minimum length and width for swimming laps are 25 feet by 5 feet, respectively. An L-shaped pool works well if you want to swim laps, but it also has a shallow end for kids and non-swimmers. 
You can jump feet-first into a pool that is only 6 feet deep, but if you want to dive, your pool should be at least 8-10 feet deep. Local laws and insurance policies may affect the required depth for diving in your area, so be sure to ask your pool contractor about these variables. 
5. What is the average cost of installing an inground pool?
Pool installation costs vary significantly. According to Forbes, pools in 2022 cost $50-$125 per square foot. 
Here are some factors that affect cost: 
The size of your pool. A larger pool costs more.

Pool material. The cheapest pool material is a vinyl liner pool. The most expensive is a concrete pool (which also lasts the longest).

Shape. An unusual pool shape is a great way to add interest to your pool and outdoor area. However, this will cost more than a standard rectangular pool.

Site conditions. If the ground is clay, rocky, or sandy, it can create extra work and increase costs. Site accessibility is another factor to consider. 

Pool cover. Though they will increase the cost upfront, pool covers have

numerous benefits

, including water conversion, reduced cleaning time and cost, and reduced chemical consumption. And these benefits will save money in the long run. Depending on the type of pool cover, it can also function as a safety feature. 

Safety Fencing. Safety considerations are essential, and installing a fence around your pool is a good practice. 

Additional features. Features like jets, lighting features, diving boards, slides, and such usually come at an extra cost. 
6. How long does an inground pool last?
This varies based on installation quality, upkeep, maintenance practices, and pool material. But, if you take care of your pool, it can last a lifetime (literally). 
Concrete and fiberglass pools both have lifetime warranties on the pool shell. Most have 15-20 year warranties on the finish.
7. Is a salt-water or chlorinated system better?
Many people think sports memorabilia belongs in a "man cave" or office, but depending on your decorating style you could use it very tastefully on your deck too. 
Like other deck decorations, you don't want the memorabilia to distract by being too loud or large. You wouldn't want it to distract from the beauty of nature! If you wish to include outdoor memorabilia, we recommend using smaller pieces.
Sports pieces commonly found outdoors include flags, rally towels, rugs, photos, and more.
You also need to keep weather factors in mind - make sure the items are weather-proof before you bring them outside! You don't want them to get rusty or moldy. 
Pools can be a great addition to a home and provide the opportunity for hours of fun! If you are interested in starting the process of purchasing your own custom pool or have some more questions, contact us today! 
If you found this article helpful, you'll probably enjoy our blog, Top 7 Pool Deck Ideas (and how to take your pool to the next level). 
In addition to building pools, Keystone Custom Decks builds other custom outdoor living spaces. These include pergolas, patios, decks, outdoor kitchens, and more!
We would love to work with you on your next outdoor living project. We hope to hear from you soon!