Why choose composite decking?
Low Maintenance

Composite decking material is immune to the factors that undermine traditional wooden decking.  

These resistant qualities mean that composite decks require far less maintenance than wood or other traditional deck materials.

Long-term Durability

Composite deck material is made by blending natural wood with polymer fibers into a sturdy core.  This core is then capped with a durable vinyl exterior to increase durability.

This process creates a durable composite decking material that can easily last for decades.

Variety of Styles

Composite decking allows for almost unlimited options in style and color.

This range of styles allows for the ultimate customization for you as the customer.  It also allows us to match the color scheme of your existing home.
Why choose composite decking over wood?
What about composite decking versus vinyl?
Both of these are synthetic materials engineered to provide a deck that is long-lasting and low-maintenance. While composite does have a few advantages over vinyl, it is important to find the material that fits your needs and budget.
Learn more about vinyl decking that we offer.
Natural Wood Design
Composite decking more closely resembles real wood; vinyl decking does not look as natural.
More Slip Resistant
Because of the fibers worked into composite decking, it is generally more slip resistant than vinyl.
Cooler Temperature
Composite decking reflects sunlight better and does not get as hot when exposed to sunlight.
What composite decking brands do we install?
As a composite deck builder, we know that a beautiful and a long-lasting deck begins with quality materials.
That is why we only install well-regarded, nationwide brands of composite decking.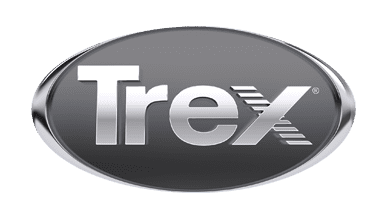 Composite Deck Builder in PA, NY, NJ, DE, & MD
Are you wanting to build a composite deck, but you feel overwhelmed in starting the process?
At Keystone Custom Decks, we know how overwhelming the construction process can be.  That is why we offer turn-key construction projects for custom composite decks along with other outdoor features.
We know how important it is to design and build a composite deck that fits in perfectly with your existing home and backyard.
When you're building a luxury deck, you're not just renovating your home — you're making a stylistic statement. 
That's why we offer premium composite deck material.  With its durability, colors, and available styles, you can create your dream custom deck.
If you envision building a modern deck to match your modern suburban home, you'll find the possibilities for cool colors inspiring. On the other hand, if you want to match the aesthetic of a rustic log home, composite wood decks can look indistinguishable from wood, perfect for a rustic style.
As composite deck builders, Keystone Custom Decks has earned a reputation for designing and creating showpiece decks out of vinyl composite decking. As craftsmen who are experienced at working with composite, we can design and build the advanced custom decks that other contractors shy away from. 
We even have experience building two-story composites decks. We begin every project by providing our clients with a fully 3D rendering of what their deck will look like — before they sign the final contract.
We've exceeded the expectations of many homeowners with composite decks throughout Pennsylvania, New York, New Jersey, Delaware, and Maryland.