Homeowners often say that Keystone Custom Decks "transformed" their homes — and we love hearing that. Our teams always appreciate knowing that they've made an impact — and changed the way a family enjoys their outdoor space together.
However, even the grandest outdoor living area can't come close to the impact that Keystone Custom Decks co-owner Michael Esh and his community development organization, For One Life, have. In addition to Michael, other Keystone Custom Decks partners Marv Esh, Kevin Esh, and Elvin King have served on the board and worked in the field.
Centered in a remote region in Northern India, for the last 6 years For One Life has been empowering the local youth as a way to build the region as a whole. They offer a job skills training program for teens, a children's home for orphans, a very popular café, and so much more.
When it comes to For One Life, co-founder and international director Michael doesn't just write a check periodically. He lives this mission. He personally spends the vast majority of his year — months at a time — on the ground living in India. That's just how he feels inspired to live.
"We've been blessed," Michael says. "We don't feel those blessings should be used just for ourselves. We want to give something back."
It All Began with A Cup of Coffee
The particular region where Michael and For One Life dedicate their time suffered from high unemployment rates and a lack of safe places for young people to spend their time. This combination proved dangerous, as drug and alcohol dependence threatened to take hold. Michael and the other For One Life leaders saw that they could address both issues at once.
They created the Life Café, a coffee shop, restaurant, and music space. Not only does the Life Café employ 12 local people in full-time roles, but it has also quickly earned the reputation as the best restaurant in town. In addition, it's also a popular and safe place for the young and old alike.
Michael sees that the reach of the café extends beyond the people who work there and the people who love the gourmet fare. Life Café is a way to transform the community, one person, one cup of coffee, and one Friday night at a time.
Transforming Lives
The transformation has already begun. In the few short years that For One Life has worked in the community, they have already seen their presence bear fruit in the lives of many extraordinary young people.
"There is so much talent here, both in terms of music and sports," Michael reflects. "The difference is in the opportunities. In America, young people have a million and one opportunities. That's not the case here."
Michael notes that depending on where you grow up in India, there might only be a single guitar in your whole village — imagine the challenges that presents for potential musicians. For One Life feels blessed to be able to provide any opportunity that they can.
The café has been a performance space for great local musicians, and it has even been the seed for a bona-fide music career. The café hosted a singing competition, as a showcase for local talent. While crowds of skilled vocalists performed, one young man stood out in particular. Thanks to this opportunity, he performed in a massive state-level singing contest — and he earned massive acclaim. It was all about the right opportunity.
Beyond music, For One Life also wants to develop opportunities in sports. In 2017, the under-17 World Cup was held in India, and 7 of the 11 starters for India came from the state where For One Life is located. This sparked a massive interest in the sport — and For One Life wanted to be onboard. In fact, this passion and talent for athletics lead right into For One Life's next big initiative.
For One Life Going Forward
To continue developing the community and cultivating opportunities for the young people who live there, For One Life is building the Community Life Center. When finished, the center will be a community hub, providing hands-on athletics skills and general life training.
So, what does the tight-knit local community think of it?
"They see the passion in our hearts and they love what we're doing," Michael describes. "People in town can't wait for the center to be finished — they are always asking when it'll be done."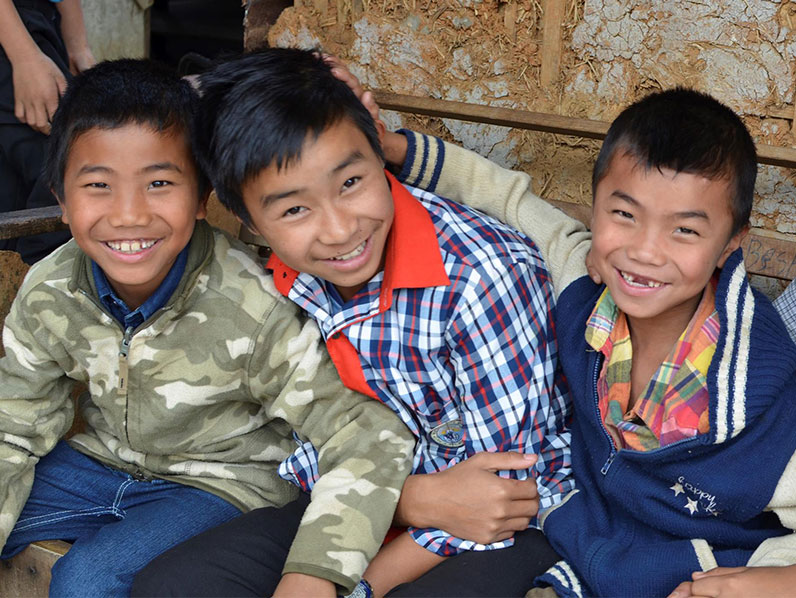 For the next few years, Michael and For One Life will continue to build the Community Life Center — with Michael still making this remote region of Northern India his home.
"On a very practical level, we are getting donations — and we feel a strong responsibility to use that money wisely. We didn't feel comfortable doing that without someone on the ground," Michael explains.
While Michael may be making a difference and putting down roots in India, his passion and his generosity is a constant part of Keystone Custom Decks, thousands of miles away in Lancaster County, PA. A percentage of the profits from every single deck, patio, and porch get donated to charity — sometimes to For One Life and sometimes to another worthy organization.
"We want to make an impact for others who don't have the chances — we want to make a difference. That's been our mission from the very beginning."