While the price looks incredible, cheap decks, patios, and porches have their downsides. The style, the performance, and more can suffer when your primary goal is building an inexpensive deck.
While some cheap deck builders can put out a quality product, the saying "you get what you pay for" unfortunately proves true with most renovation projects — especially for outdoor living. We've seen the big-picture downsides of cheap decks or porches outweigh the initial savings.
Learn more about the unexpected pitfalls of budget decks and other outdoor living projects.
6 Common Complaints about Cheap Outdoor Decks
The allure of a luxury living space can't be denied — at Keystone Custom Decks, we know that better than most. Whether it's a deck, porch, patio, or a combination of any of them, almost every homeowner can envision how much grander their house would look accompanied by their dream deck. The best way to get the deck of your dreams is to plan and save for it over the years. Sometimes, the best things are worth the wait.
Here are the six most common downsides we see from cheap outdoor decks:
Basic Style — There's no question that modern deck design trends are becoming more ambitious with curving shapes, multiple levels, and big personalities. Whether you take your inspiration from a Tuscan villa or a rustic luxury barn, our designers bring your dream to life.  When you build a budget deck, you get a very basic style. That means there's nothing unique to really make your space stand out from the thousands of others.
Cheap Decking Materials — One of the main ways that cheap deck builders cut prices is by using inexpensive deck materials. While Keystone Custom Decks almost exclusively uses the gorgeous, low-maintenance composite decking, most budget decks are made of basic lumber. While our composite decks only require the most basic maintenance, basic wooden decks demand time-consuming and expensive work every year.  For example, if you have a wooden deck, you'll need to repaint and re-seal your deck every year. We've seen that in just 8 years, the money you need to spend to maintain your budget wooden deck will outweigh how much you saved up front.
No Help with Permitting Process — The deck itself isn't the only place homeowners can lose out when opting for cheap deck builders. Since these budget deck contractors need to spend as little time as possible on each project, they hardly ever help you with the permitting process. This means as a homeowner you'll need to deal with your township on your own to secure a building permit. Since we know that can be challenging and stressful for homeowners, Keystone Custom Decks handles 100% of the permitting for you — like a good partner should.
No Frills, No Fun — Not only will the design of your outdoor space be basic, it won't have too much going on either. Deck accessories like kitchens, fire pits, and water features are some of the best methods to inject excitement and usability into your space. However, cheap porches and other spaces simply don't include these attractive and functional features.
Craftsmanship Concerns — We haven't examined their work, so we can't say for certain about every cheap deck builder — but we have met too many homeowners who have experienced serious craftsmanship issues with their bottom-dollar decks. For example, some decks violate building codes and ultimately aren't legally allowed to be used without additional work. However, issues of safety can also be a factor. Less experienced budget deck builders may not know how to build a truly safe deck — this is particularly a concern for elevated decks.
You Might Not be Fully Satisfied — Even cheap decks, porches, and patios aren't really that inexpensive. If this is the direction you go, you're still investing quite a bit of money on a compromise that wasn't what you wanted.  The deck, porch, or patio of your wildest dreams is possible. We recommend saving up a little longer and getting the product you wanted all along.
Financing is Available
At Keystone Custom Decks, we encourage our customers to think about their outdoor living spaces as an investment — in property value, and in moments of family togetherness. In order to help our customers enjoy the spaces they truly want, we offer numerous financing options.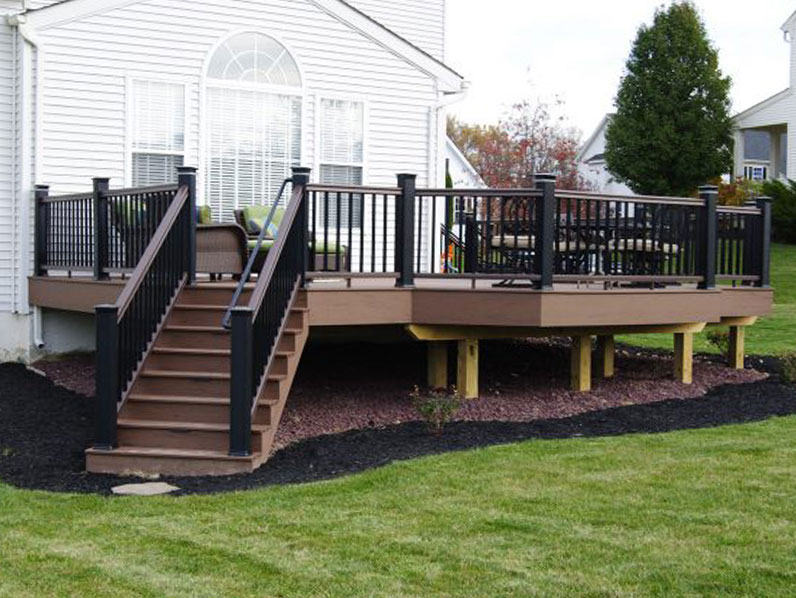 Every single stunning Keystone outdoor space began in the same way: with a conversation. Our deck designers begin every project with a discussion of your dream designs, your budget guidelines, and the timeline of your project.
Contact us to schedule a conversation today.