Top 6 Deck and Porch Trends In 2021 [with pictures]
Are you ready to take the plunge and bring your dream outdoor living area to life in 2021? 
We can't say we're not biased but trust us on this one: it's worth it! After all, a beautiful outdoor living space offers you unlimited opportunities: 
Be the talk of the town when you host a neighborhood party and grill the tastiest steaks imaginable in your outdoor kitchen. 

Relax to your core in a swimspa or hot tub incorporated into the greater outdoor design. 

Gather with friends and family to watch the big game in an outdoor media area - especially when gathering indoors is off-limits. 
We could spend more dreaming, but we don't want to take that fun from you! What do you see when you close your eyes and imagine the perfect deck? 
Maybe you aren't sure. And maybe you want to transform your backyard into a beautiful space, but you aren't sure how. 
At Keystone Custom Decks, we understand that feeling. Our years of experience in creating outdoor spaces have taught us that producing a beautiful deck, porch, or patio doesn't just happen overnight! 
That's why we're here. Read our blog to see six of our favorite deck trends for 2021 — and see how these ideas could make an impact on your outdoor space.
*Feel free to read through the whole article and look at the pictures, or click the feature below that you would like to learn more about.*
We don't have to tell you that Covid-19 has turned our lives upside down. What used to be a simple gathering with friends or a holiday celebration with the family is suddenly complicated. 
The result? 
An uptick in outdoor gathering spaces. 
More and more people are creating stunning outdoor bar setups and large seating areas to accommodate friends and family. 
Thankfully, it's easy to make an outdoor gathering space cozy and dry. Find the right deck builder, and you can have an outdoor gather space with a roof, fireplace, all-weather screens, and more. 
Many people are even getting creative with their deck furniture - opting for sectional couches and egg chairs to make people feel comfortable and at home, almost like you are in a cozy living room. (To learn more about awesome deck furniture, check out our blog: 20 Deck Accessories & Decorations For Your Dream Outdoor Space.   
You can share the same conversations, foods, drinks, and activities that you used to do inside with an outdoor gathering space!
Remember when you were a child roasting marshmallows over a campfire? Nothing tasted better than food made by your own hands over an open flame--even if it got a little blackened. 
Deep inside, most adults still think the same way! 
In fact, we've seen people getting more and more into outdoor kitchens recently. In particular, many people are interested in trying their hands at smoking meats and getting creative with wood-fired ovens. 
And when it comes to outdoor cooking stations, you can let your mind run wild! You can tailor your space to whatever it is you love to cook and eat. 
Whether you want a smoker, gas grill, conventional oven, griddle, pizza oven, or anything else, we have what you want. 
And the best part? 
Your outdoor kitchen can look great too. The design team here at Keystone Custom Decks loves to get creative with outdoor kitchens - whether it's using old barrels for an outdoor kitchen island or custom lighting features that take your meal to the next level.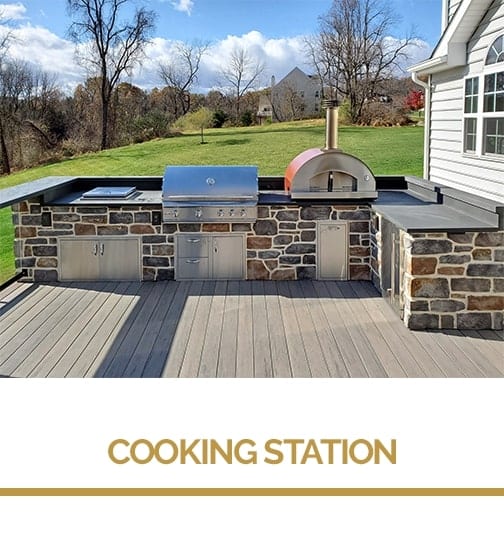 Who wouldn't want to settle down for an evening of watching a movie, show, or the big game all while breathing fresh air and feeling the breeze? Or just imagine enjoying your favorite movie while a light rain dances on the porch roof above you? 
Maybe that's why media areas - designated areas for enjoying media outdoors are growing in popularity. 
Adding a weather-proof outdoor TV lets you bring the feel of your indoor living room to your outdoor space. The outdoor TVs we use can survive outside all year long, completely immune to snow, wind, rain, and more. Then you can relax and enjoy your entertainment with all the benefits of being outside!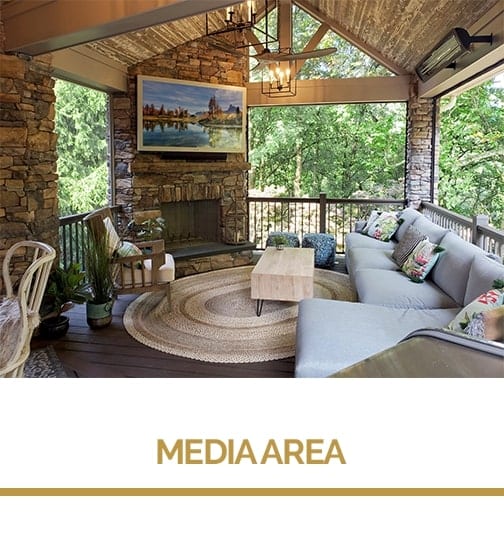 Swimspas and hot tubs are on the upward trend - and for good reason! With stress and anxiety on the rise, the health benefits of a relaxing soak are undeniable. A hot soak in the hot tub is the perfect fix after a long day at work. 
Beyond that, water features can be creatively incorporated into the design of an outdoor living space so that interaction with individuals on the deck or patio remains easy.
Natural And Neutral Colors
A lot people have been choosing natural and neutral colors for the flooring on their deck or porch recently. 
We love this trend because neutral colors allow you to retain the wild, natural look of the outdoors. Enjoying nature is the point of a deck, right? 
They are also easy to maintain when it comes to drink and food spills, and other accidents since neutrals hide stains and blemishes. (Read our blog, Everything You Need To Know About Cleaning Composite Decking, when you're ready to get your deck really clean!)
Natural, neutral colors are also classic - always easy to match, and never go out of style!  
When it comes to railings, the color black is king. Again, this is a classic style that creates a nice, sleek, finished look on your deck.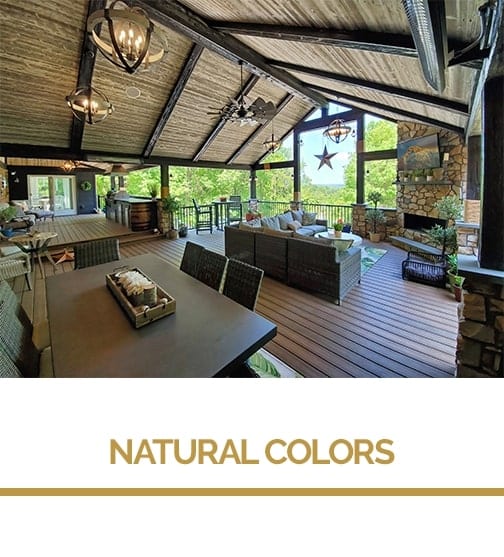 The ceilings of outdoor living spaces used to be boring - it was the decking and railing that mattered. 
But that's a trend of the past. 
Porch ceilings are taking on a new life for us here at Keystone Custom Decks. Giving special care and thought to your porch ceiling is one of those extra touches that make an outdoor living space come alive. 
Whether it's reclaimed barnwood for a charming rustic feel or sleek, majestic wood for a classy look, you can make a statement and reflect your unique style in your porch ceiling. 
You can also get creative with unique lighting fixtures on your porch ceiling to create the perfect ambiance! 
BTW, if your deck doesn't have a roof and you need some shade, read our blog on creating deck shade for some inspiration.
Reach Out For A Design Consultation
If you're ready to build your dream space, possibly using some of these deck trends for 2021, Keystone Custom Decks is the team to trust.  
We've been making our client's outdoor living dreams a reality for over 30 years. But don't take our word for it - browse through over 200 reviews to get a feel for why we have an overall rating of 4.9 stars on Google. 
All Keystone projects begin the same way: a conversation. We encourage you to reach out to discuss your project and to schedule your in-home conversation.
Or, if you want to learn more on your own, read our blog, 7 Ways To Make Your Porch The Perfect Hosting Space.  
Keystone also offers other outdoor living services, including swimming pools, pergolas, outdoor kitchens, fireplaces, water features, and more! 
Contact us to request your no-obligation design consultation today. We look forward to hearing from you!