It's the perfect day to sit on your deck and soak up the sun — BUT your favorite team is playing, too. Tough choice — unless your outdoor living space comes equipped with an elite SkyVue outdoor TV.
One of the most popular deck accessories we build into our projects, SkyVue outdoor TVs allow you to enjoy one of your favorite indoor amenities outside! We are always expanding the exceptional outdoor living products we offer, and that's why Keystone Custom Decks is proud to recommend these weatherproof TVs.
Learn more about how these ultra-tough TVs are built to withstand the elements — and see all of the different ways that a SkyVue outdoor TV completes your deck, porch, or patio!
The Leading Brand of Weatherproof TV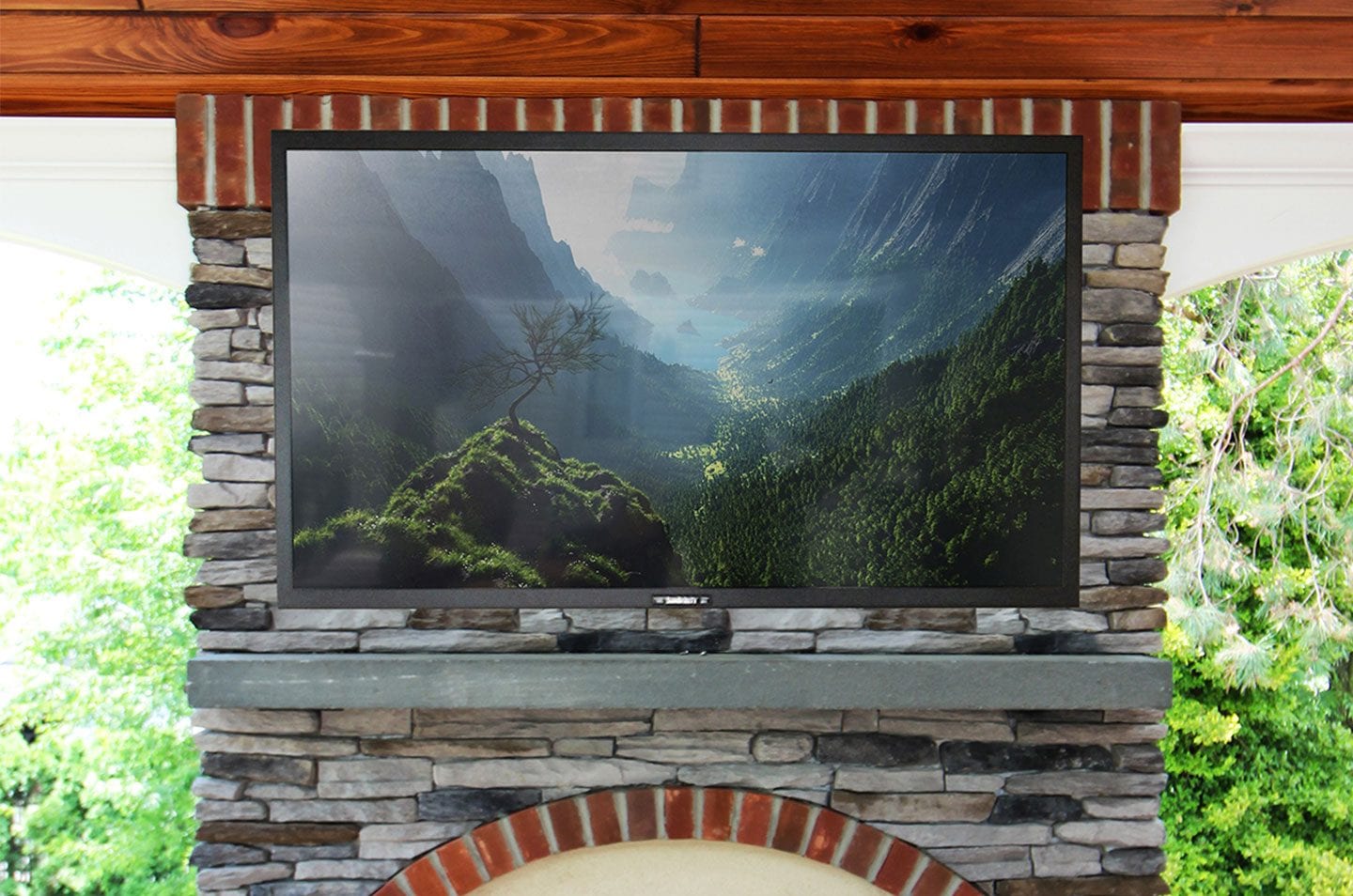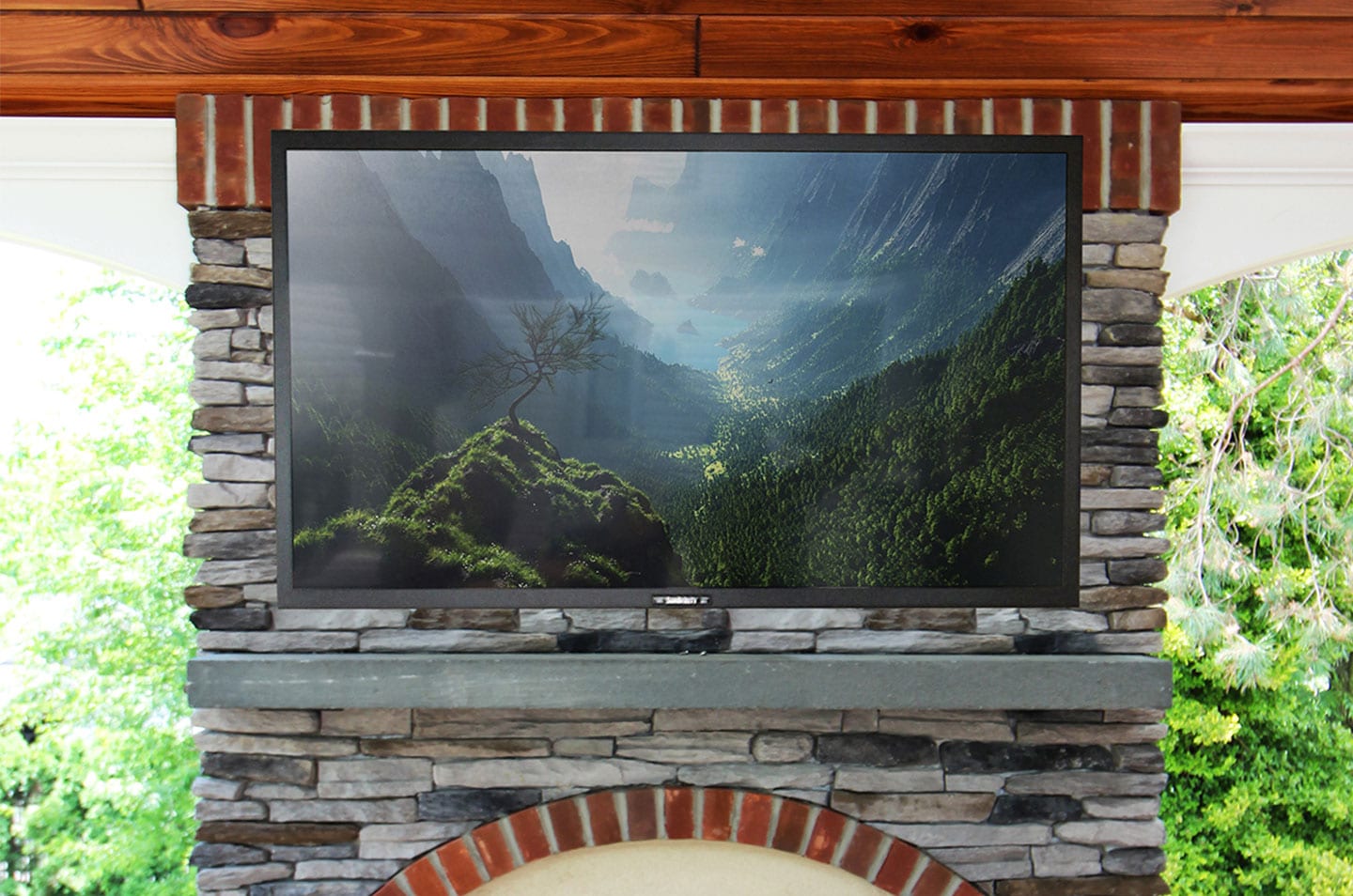 A TV with a 4K picture that can survive a torrential downpour — there's no doubt about it, the SkyVue outdoor TV is a marvel. SkyVue is the leading brand of weatherproof TVs because they can handle anything and look great while doing it. These are the features that make these USA-built units such a standout hit:
[icon-list icon="tv"]
Complete Waterproof Protection — These weatherproof TVs are able to stand up to the water and moisture that would destroy any normal television. SkyVue accomplishes this by sealing the TV in a powder coated aluminum that gives it total protection from the pouring rain. In fact, SkyVue TVs are so waterproof, you can even pressure wash them if they ever get dirty. These guaranteed waterproof qualities also mean that SkyVue TVs can handle snow and extremely moist climates, too.
Auditory Options — A great looking picture needs fantastic audio to go with it. While the base TVs themselves feature built-in audio, many homeowners like to add on a SkyVue weatherproof speaker bar. This upgraded sound makes your outdoor space something of a home theatre, perfect for outdoor screenings of your favorite movies.
Outdoor-Ready Picture — These televisions aren't just tough enough to stand up to the elements — they are also specifically designed to look great outside, whether they're mounted on your patio or under your covered porch. SkyVue outdoor TVs have a brighter picture than your average indoor TV, which allows them to compete with the ambient light and reflections of the outdoors.
Ready for Winter — Not only are these weatherproof TVs ready to handle even the biggest snowstorms, but they stand up to the freezing cold temperatures of winter as well. The design of these TVs includes a built-in heating system that keeps the electronics protected during those cold winter days.
Cool for the Summer — Along the same lines, the design also features a cooling system that protects the TV from the summer heat. Not only does this mean you can enjoy your SkyVue TV in all weather, it also means you'll never have to worry about storing it inside or taking care of it.
No-Hassle Warranty — One of the best ways to gauge the quality of a product is to see how much confidence the manufacturer has in it. That's why looking at the warranty is a great place to start. SkyVue weatherproof TVs come with either 1-year or 2-year, no-hassle warranties.
[/icon-list]
How to Use an Outdoor TV in Your Design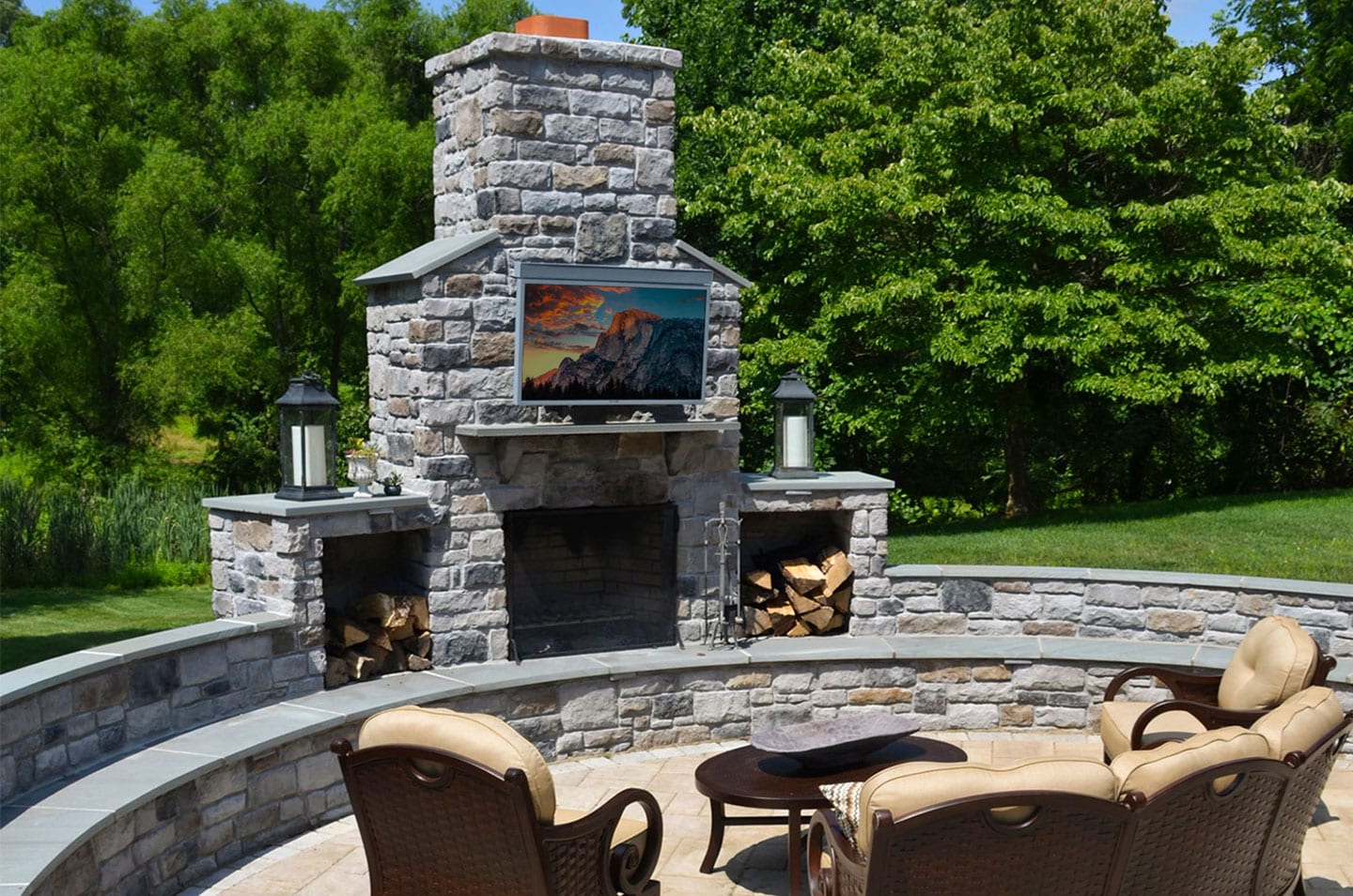 At Keystone Custom Decks, we have ample experience integrating these waterproof TVs throughout a wide variety of designs. See some of the ways you can bring this popular accessory to your design:
[icon-list icon="tv"]
TV under Your Covered Porch — A design that truly possesses the qualities of an outdoor living room, adding a SkyVue TV to your covered porch makes for a classic design. By adding the TV as a wall fixture or a drop down to your covered porch creates the feeling of a living room — just outside!
TV Mounted on Your Patio — Want to put these waterproof TVs to the test? Add them as accessories onto your patio. One of the most popular ways to place one of these TVs in an open space is to build a stone TV wall on your patio in front of the seating area. You can make that stone structure a standing fire feature for double functionality.
[/icon-list]
Bring a SkyVue Outdoor TV to Your Deck Design
Interested in the qualities of an elite SkyVue outdoor TV? Intrigued by these custom outdoor living spaces? You're in the right place! Every single one of these outdoor living spaces began in the same way: a conversation with our cutting-edge exterior designers.
If you're beginning to plan your new deck or porch, we encourage you to reach out to discuss all of your options including bringing one of these amazing weatherproof TVs to your space. Contact us today to request a free design consultation, either at home or in our porch and deck showroom.