Outdoor Masonry Features: What They Are and Why You Should Care
Do you want to take your backyard to the next level? Do you want to create a perfect space for relaxing and hosting? 
Then you've come to the right place! At Keystone Custom Decks, we offer beautiful outdoor masonry features that add style and character to your space.  
Whether you already have a deck or patio or are starting from scratch, an outdoor masonry feature could be just the ticket to an elevated outdoor experience. 
If you're ready to learn more, let's dive in!
What is an outdoor masonry feature?
Masonry is a building craft in which the builder uses stone, brick, or similar material bound together with mortar. Here at Keystone, we use brick, natural stone, and stone veneer for our masonry projects. 
A masonry feature (in this context) is any backyard accent structure built with these methods. Think outdoor fireplaces, stone pillars, outdoor kitchens, and other such items. 
And masonry isn't a modern fad. Instead, masonry has been used for centuries to create beautiful and useful structures. 
For example, masonry was the method used to build the ancient Egyptian pyramids, the Roman aqueducts, and the beautiful medieval cathedrals and castles that continue to awe people today. 
Of course, we aren't building any aqueducts or pyramids here, but these structures are a testament to the durability and beauty of well-constructed masonry.
Masonry has continued to be a popular building material throughout the ages and into the present. Its design versatility can be seen in how it has easily shifted to fit modern styles like smooth concrete finishes and thin profile veneers. 
Masonry has many advantages. In addition to its durability, it has simple maintenance requirements. The amount of maintenance required for a given backyard masonry feature is more connected with other elements of the build than the masonry. For example, a water feature will probably have more maintenance requirements than an outdoor fireplace. 
Other advantages include structural strength and mold resistance. On the aesthetic front, masonry offers various textures and design flexibility.
Depending on the size of the project, masonry can require a significant investment. But its durability and beauty make the investment more than worthwhile.
In short:
When it comes to ways to elevate your outdoor living space, masonry is an excellent choice.
Why should you include masonry in your outdoor living spaces?
You have limited options of what you can include in your outdoor living space and want to be sure to include features that match your goals for your space. Here are three reasons why including masonry features is a good idea. 
1 - Masonry features have a timeless quality about them in both style and durability.
As we mentioned in the previous section, well-built masonry lasts a very long time. Its durability means masonry gives you a great return on your investment. With proper maintenance, your grandkids and great-grandkids will be able to enjoy those same masonry features!
The timeless element also highlights the versatility of masonry. It can blend well with a wide variety of other design choices. While there are, of course, masonry designs that are currently in vogue, masonry generally has a more inherent timeless style than a home design, for example. Some masonry designs are tried and true, like stone fireplaces or stone walls and pillars.
2- Masonry adds texture and visual appeal to a space.
Spaces without varied textures tend to be less aesthetically appealing. In indoor design, texture is commonly added using items like upholstery, blankets, rugs, plants, wood accents, etc. In outdoor spaces, a similar principle applies. 
While you can create some of this same texture outside with outdoor upholstery and plants, it's also good to incorporate more permanent texture into your design. A masonry feature accomplishes this effortlessly and beautifully.  
3 - Masonry features create space for outdoor entertainment areas.
If you enjoy taking your entertainment outdoors, adding a masonry feature is a great way to accomplish it. Masonry provides space for TV mounts, light features, and sound systems. Grab blankets and hot drinks and watch your favorite show outside on a brisk fall evening. Play board games with your friends on a warm summer night with the help of strategically placed lighting. Plan a cookout with friends and enjoy being serenaded by soft piano music blending with nature's sounds. Or just go the whole way and build a patio or create an amazing pool deck. 
How to implement masonry features
Now that we've established the value of masonry features, how can you incorporate them into your backyard design? 
Here are five ways you can include masonry features.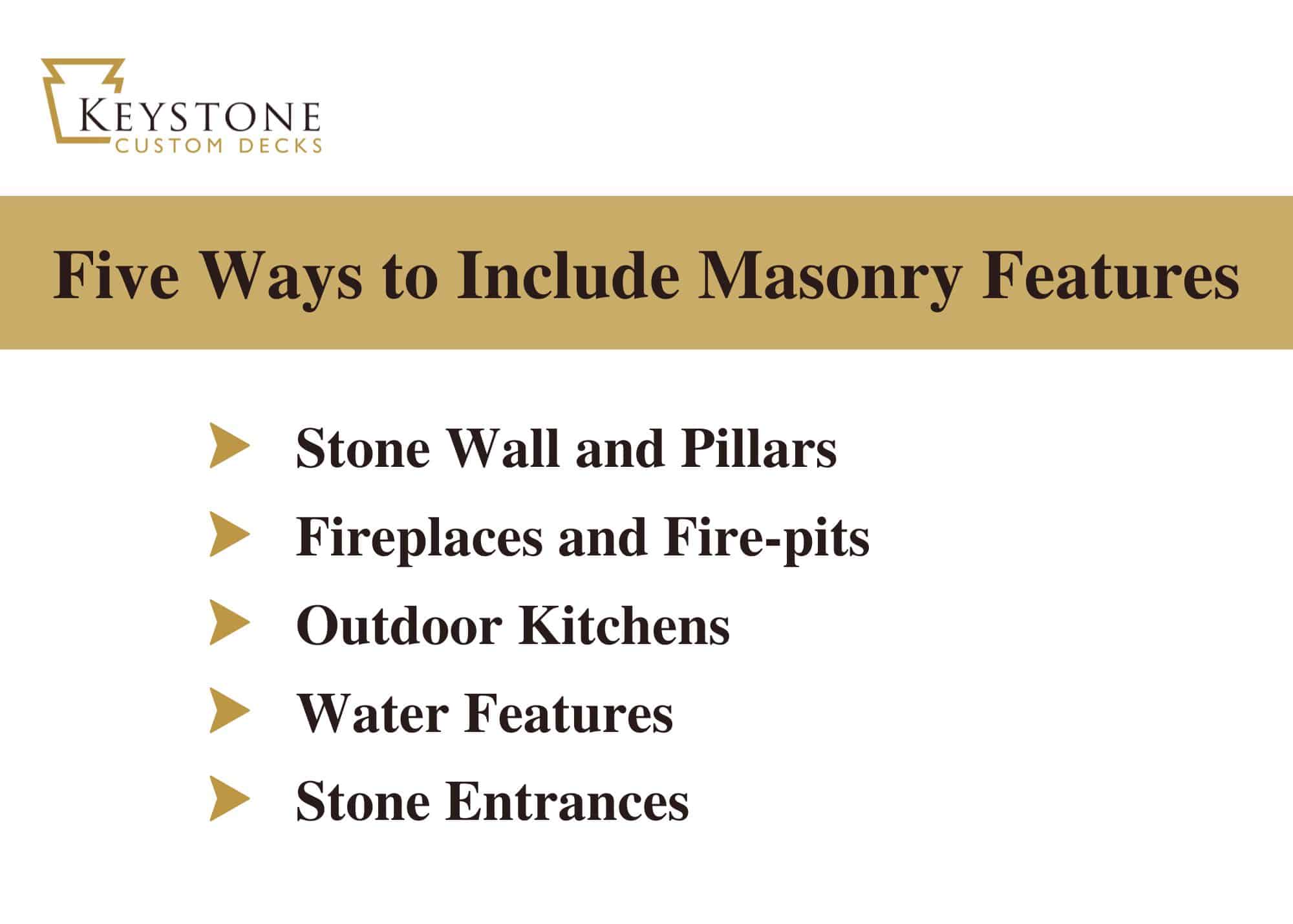 The simplest way to include masonry is by adding a stone wall and/or stone pillars. A stone wall can provide a bit of additional privacy, help divide your outdoor space into different sections, and create more seating. 
Stone pillars or columns add more interest to a simple wall, creating a regal look. They can also be used to create a gateway onto the other parts of your backyard. 
A stone fireplace or firepit can function as the centerpiece of your designs. Stone fireplaces have a wonderful way of being a statement piece while remaining warm and inviting. Firepits invite people to gather around to chat, get warm, or roast marshmallows. 
If you love the smell of a wood fire, adding a fireplace or pit is a great option. If you don't care for the work that comes with a wood fire, both can also be fueled by gas!
You can't go wrong with a fireplace or firepit!
If you love hosting or just love cooking, adding an outdoor kitchen is a wonderful way to incorporate masonry, elevate an outdoor space, and add value to your home. An outdoor kitchen creates a dream hosting space and provides easy access to food and beverages. It also gets you out into nature more and the backyard space you've designed.
Water features immediately elevate any outdoor space. Like a fireplace, they can create a central focus for your outdoor space. Water features also bring a calming effect to a space. This is because water sounds are soothing to the human brain. They've long been used to aid practices like meditation and putting restless babies to sleep. 
There are few things more classic and timeless than a stone arch or entrance. An elegant invitation to your outdoor living space, a stone entrance also provides additional privacy. These entrances can be fully customized with a style, color, and stone that matches the aesthetic of your home and backyard design.  
So how should you decide which of these masonry features is right for your backyard? When it comes down to choosing which features to include in your outdoor living space, there are a few helpful questions you should ask yourself. 
What is my budget? 

What's my style? 

How do I want to use my space? Will this be a space for hosting or such for my family? Will I want to cook outside?

Will there be children or pets in this space? 

What feel do I want to create? An outside living room? An open hosting space? 
This isn't an exhaustive list by any means, but it will help get you started. And as always, we'd love to answer any questions you have! 
Here at Keystone Custom Decks, we care about helping create the outdoor living space you've always dreamed of. If we get the privilege of building your backyard masonry features, here's what you can expect: 
Turnkey projects. After you've given the go-ahead, we'll take care of the rest. 

Lifetime workmanship warranty. 

Integrity. We'll build each feature on budget and on schedule. 

Manufacturer Product Warranties. Our mason and stone both come with warranties.
If you found this post helpful, you might also enjoy our blogs, How To Design a Gorgeous Covered Porch and 5 Features That Make Your Deck a Dream Outdoor Living Space.
In addition to masonry structures, we also build porches, patios, swimming pools, and more!
If you're ready to get started on your masonry features or still have some questions, just give us a call. We look forward to hearing from you!