5 Features That Make Your Deck A Dream Outdoor Living Space
Do you ever look at your deck with its shabby, outdated furniture and piles of rusty garden tools and feel a pang of regret that you're not doing more with your space? 
We get it. Every homeowner dreams of having a charming, hospitable outdoor living area. A place to relax on cool evenings or host gatherings with friends. A place that draws people together to enjoy the fresh air and the peaceful calm of nature. 
Instead, it's become a catchall space for those plastic flower pots you might need someday and the box of old dishes you've been meaning to take to the thrift store. You know you should love spending time out here, but you find yourself avoiding it instead.
How can you change this? How can you make your deck a place where you want to hang out?
The good news is, you have multiple options! At Keystone Custom Decks, we'd love to help you brainstorm ways to enhance your outdoor living space, no matter what your budget is. 
In this article, we will explore several deck features you could implement to transform your deck into the inviting space you dream of. 
Let's get started!
Put a Pergola On Your Deck
Nothing takes your deck to the next level quite as dramatically as a pergola. These beautiful structures instantly define your space, drawing people in.
What is a pergola?
A pergola is an outdoor structure consisting of columns that support beams and rafters, typically arranged in a lattice style. Traditionally, pergolas were garden features covered in vines or other climbing plants. 
Today, some people still use pergolas in the traditional way, as a garden feature covered in foliage. However, it's become more common to use a pergola to create an outdoor living area. Pergolas come in traditional or modern styles and are often built on a patio or deck adjacent to a home. 
Benefits of a pergola
Many people choose to build a pergola on their deck because a pergola offers the following three benefits:
Beauty

Partial shade

Space definition 
Pergolas are beautiful, eye-catching structures that come in multiple styles. Whether you like a sleek and modern look, a rustic look, or a traditional look, you can find a pergola that's right for you.
The most unique thing about pergolas is their roof, which is a series of rafters rather than a full-shade roof. Not only is this a striking look, but it offers shade without creating a dark, closed-off space. 
The lattice design allows for some shade and some light to filter through, but it also provides a framework if you wish to add more shade. For instance, many people grow plants on their pergola, which gives it a lush, natural feel and increases shade.
Others opt to add a sun shade to their pergola or cover it with reed mats. 
Finally, the posts and beams of a pergola evoke the feel of a room without blocking sunlight or views. By defining a space in this way and filling it with outdoor furniture, you create a living area that feels hospitable and even private while allowing you to enjoy the sunlight, fresh air, and gorgeous views of the outdoors, all from the comfort of your deck.
If you want more ideas for how to use a pergola to upgrade your deck space, check out our Decks With Pergolas Idea Gallery.
Cost of a pergola
Pergolas typically cost between $2,200 and $5,900 to construct. The cost will depend on what materials you use, how large of a pergola you want, and how many customized features you wish to add.
A pergola should net you a 50%-80% return on investment (ROI), although the ROI will vary depending on where you live and what the housing market looks like when you plan to sell. Typically, a pergola will net a higher ROI in a warmer climate than in a cooler one. 
Create a Modern Second-Story Deck
Do you ever find yourself wishing you could access a deck or porch space from your master bedroom or second-story family room? Or do you wish you had a really private, personal outdoor space? 
Or maybe you want to add shade and shelter to your deck but are uncertain about building a roof because you also enjoy lounging in the sun at times. 
If either of these scenarios describes your current deck situation, you may want to consider adding a second-story deck.
In homes where the main living space is on the second floor, homeowners love to construct second-story decks so they can access them straight from their living rooms or kitchens. 
However, you can also build a second-story deck on top of an existing deck, creating a shaded outdoor living space below and a sunny one above. 
Why second-story decks are popular
There are multiple reasons why creating a second-story deck is a popular way to utilize your space.
First, it increases your total deck space. And by building vertically instead of horizontally, you increase deck space without sacrificing yard space. 
A second-story deck also doubles as a roof for the deck below, sheltering it from sun or rain.
Finally, second-story decks are popular because they create outdoor access from multiple locations in the home. For instance, you could access your main deck from your living room but also have upper-level deck access from the master bedroom. Depending on how your home is situated, your second-story deck may also give you more privacy. It could even act as a sort of extension of your master suite, giving you a personal outdoor space to relax.  
Cost of a second-story deck
Adding a second story to your deck will typically cost $30-$75 per square foot. The cost of your project will vary based on the materials you choose and, of course, how large of a deck you're constructing. 
Other costs include stairs and any structural changes you may need to make to your home in order to accommodate a second-story deck, such as adding access doors on the second floor.
Adding a deck should net you about a 70% ROI. However, if your second-story deck increases the usability of your deck space and is a practical, unique, and attractive addition to your home, the ROI could be even higher.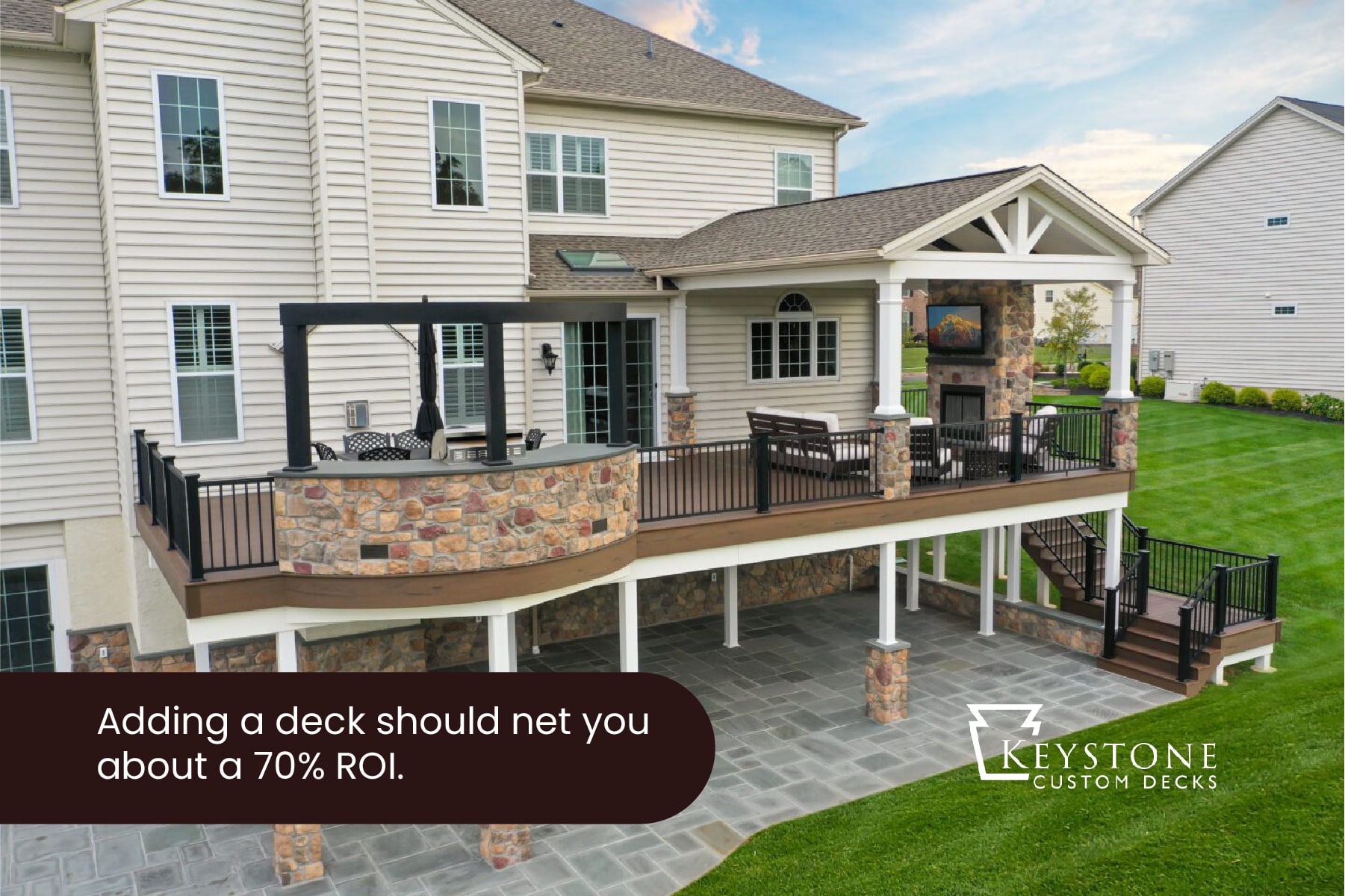 If taking on a large construction project like a second-story deck feels like it's not in the budget, don't worry! A transformed, inviting deck is still within your grasp. You can make over your deck space by simply adding fun deck accessories.
Outdoor furniture
The right outdoor furniture transforms your deck from a shabby space that collects junk into a hospitable space where your friends and family will joyfully gather.
Somehow, decks seem to collect scruffy furniture, faded and torn with rainwater pooling in the seat. Whether you've picked it up at a garage sale or simply had it so long it looks outdated, sad, and miss-matched, it's probably time to upgrade.
So what kind of furniture should you look for?
When shopping for furniture sets, keep the following three priorities in mind:
Choose beautiful furniture, so people will gather

Choose comfortable furniture, so people will stay

Choose practical furniture, so your deck will be a joy instead of a bother
Think about a style, theme, or deck color scheme you like, particularly paying attention to what complements the look of your home. If you don't know where to start, look on Pinterest for ideas, seeing what looks nice with your house color and decking.
Then, visit a furniture store and look for pieces in the styles you like. We recommend visiting a store in person so you can personally test your furniture to feel how comfortable it is.
If your outdoor furniture is uncomfortable, it will not create an inviting space, and it won't be worth the investment.
Finally, think about practicality. Do you have enough seating for your family or for the amount of people you typically invite over? Are there places for people to set their drinks? Do you need to buy furniture with built-in storage to keep your deck from becoming cluttered and untidy?
How high-maintenance is the furniture you wish to buy? Is it made of high-quality materials that stand up to the elements? Do you have garage space to store it during the winter? If not, or if you don't like hauling furniture around every time the seasons change, opt for robust pieces that can withstand various weather conditions.
With these priorities in mind, choose the furniture set that's right for you and transform your deck into an inviting, hospitable space. 
Lighting features
Another way to transform the look of your deck into a beautiful, inviting space is to add lighting features. 
Lighting features serve two purposes on your deck:
The first is purely practical: lighting helps you see at night. Install lighting features where people congregate or in areas that might pose a safety hazard, such as along a stairway. You may also consider adding floodlights to deter intruders and increase nighttime safety on your property.
But don't forget that lighting has an aesthetic purpose as well. The proper lighting creates an inviting mood on your deck.
Smaller lights on railings, steps, and walls create a softer, more enchanting light than one harsh overhead light. They can help create a relaxing, romantic atmosphere! 
Outdoor heaters
One of the problems with outdoor living spaces is that you rarely use them during the winter. Who wants to sit outside shivering in the cold? 
But it doesn't have to be that way. You can create a deck that's inviting in all seasons by adding an outdoor heater. 
When looking at ways to heat up the outdoors, you have multiple options. One of the most practical options is a portable outdoor heater. If you have a place to store it in the summer, a portable outdoor heater offers cozy warmth in the winter months without taking up extra space in the warmer months. 
It's also one of the more cost-effective ways to warm up the outdoors.
Another option is to add a fireplace or fire pit to your deck. While this takes up space year-round, there truly is nothing like the cozy crackle of a warm fire, and the beautiful stonework helps enhance the ambience and charm of your deck year round! 
Outdoor kitchen features
If you truly want to transform your deck into a welcoming outdoor living space, consider adding outdoor kitchen features so you can cook and host meals outside.
There truly is nothing like the connections we form by cooking and eating with our friends and family, and outdoor kitchen features allow you to develop these connections while making the most of your outdoor space. As the host, you'll appreciate not having to be stuck in the kitchen!
When choosing outdoor kitchen features to add to your deck, think critically about what you're looking for and what you can afford. Maybe you want to add a full outdoor kitchen, but if that isn't in the budget, you can opt for a nice grilling station and potentially a sink and some counter space. 
But whatever you decide fits your budget, rest assured that the new kitchen features will breathe new life into your deck as you grill kabobs and sip iced tea with your closest friends and family.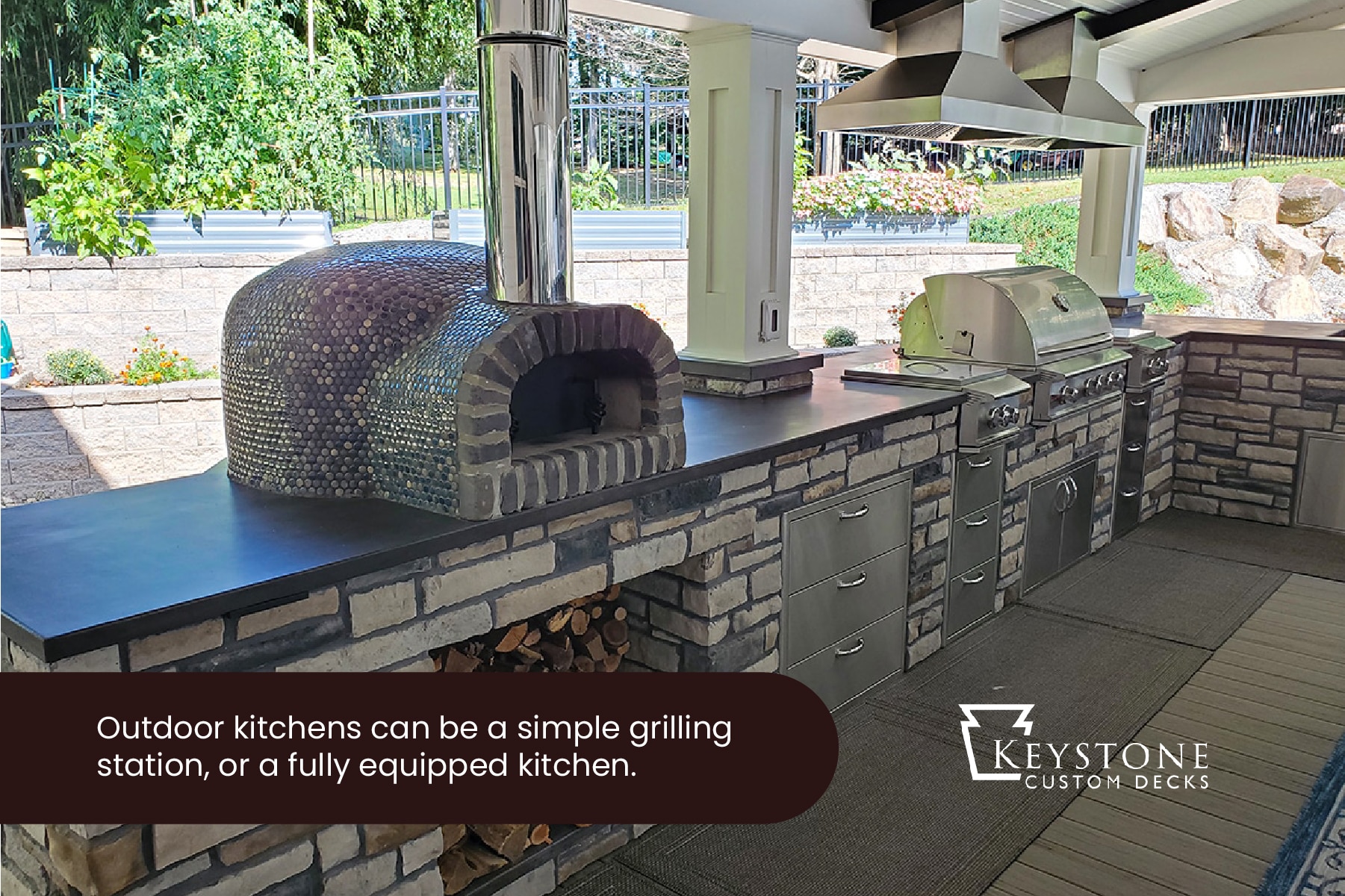 Make Your Deck Into A Covered Porch
If you're trying to give your deck a more distinguished look, you may want to consider adding a roof and converting it into a covered porch. 
Covered porches are popular because they add a look of distinction to a home and provide shade and shelter, which is particularly handy for people in rainy climates. It also allows you to use your deck in more seasons. 
Is a covered porch right for you? Let's take a closer look so you can decide for yourself!
Benefits of a covered porch
Covered porches add an undeniably beautiful touch of distinction to a home. Added to the front of a house, they increase curb appeal and give you a place to sit on your rocking chair sipping iced tea and watching the world go by.
A covered porch at the back of the house or off the side also enhances the look of a property, but here you can do a bit more with it without having to worry about curb appeal. If you find yourself loving the warm summer but dreading the swarms of bugs, you can solve this problem by installing screens to turn your porch into the ideal summer hangout spot: a screened-in porch.
But whether you decide to screen-in your porch or not, simply adding a roof to your deck offers plenty of benefits. It provides shade in the summer and shelter from the rain, but it also keeps your summer cooling costs down since it adds a layer of shade to that side of your house.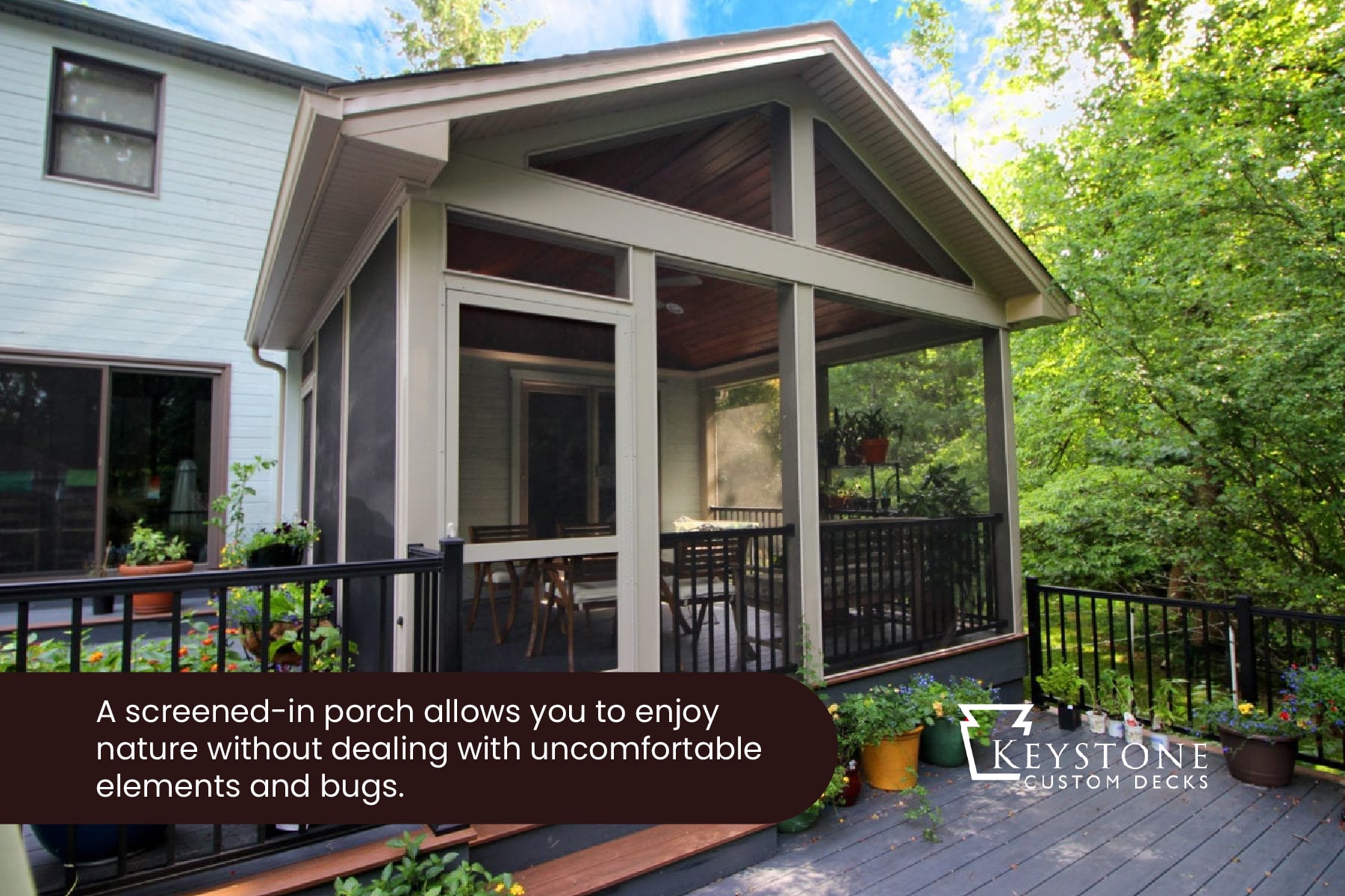 Cost of converting a deck into a covered porch
A porch roof should cost somewhere in the range of $16-$30 per square foot. Adding screens to the porch costs another $2,400 on average, although that will vary depending on the size of your porch. 
Bear in mind, though, that while you can expect some return on your investment, since decks are so much cheaper to build than porches, porches tend to have a lower overall ROI than decks.
Choose an Exquisite Deck Railing
Have you ever wondered why some decks have an inviting, hospitable feel while others don't?
While many factors go into creating a welcoming space, one quality keeps coming up again and again: definition. 
Wide-open spaces feel less cozy and inviting than defined spaces, so the key to creating hospitable outdoor living spaces is to add things that invoke the feel of a room without necessarily creating actual walls and roofs. 
While you can achieve this by adding a pergola, a porch roof, or a second-story deck, another simpler option is to add a rail to your deck.
Not only does a rail add definition to your deck, but it's also a safety feature, keeping small children and pets from falling off or running away. Alternatively, it can keep pets and other creatures off the porch if you live in an area with lots of critters. 
Adding a rail, or updating an existing rail, is also a simple way to completely change up your deck's style. Just like that, you can go from having a generic deck to having a sleek, modern-looking deck, an elegant deck, or a rustic deck. 
Cost of a railing:
There are so many options to choose from when it comes to a deck railing. The price of materials can be anywhere from $15-$200 per linear foot. Talk to your contractor about what different deck railing options will cost and how much they'll charge for installation.
Do you have a deck that's just begging for a transformation?
At Keystone Custom Decks, we specialize in creating exquisite outdoor living spaces, including:
We'd love to help you transform your deck into the inviting, hospitable space of your dreams. Contact us today for a free estimate! 
We can't wait to hear from you.