Combining an inground swimming pool with a stunning outdoor living space is one popular blue print for the ultimate outdoor oasis. The best pool deck design ideas present a unified visual to them — while making the entire pool area more fun and more functional.
Some of our deck ideas for inground pools utilize elevated decks and porches to build a layered theme, while others employ gorgeous hardscapes to match the pool itself. Like with any other outdoor living design, our inground pool decking ideas express the homeowner's personality while creating a space that the family can use for decades to come. Learn about the Keystone design philosophy and check out some of our swimming pool deck ideas!
Our Pool Decking Design Philosophy
When building a deck, porch, or patio around a pre-existing pool the goal is always synergy, making both spaces superior together than they would be apart. Simply put, we want our finished pool deck designs to look better — and be more fun, too!
Here are our two guiding principles for this type of project:
Connecting the Spaces — Your pool and your dream outdoor deck are massive investments for your backyard. The last thing we — or any homeowner — wants to see is that their project sticks out like a sore thumb. We accomplish this through our use of materials, complementary deck color schemes, and an overall unified vision.
Offering More Practical Space — Although our projects are gorgeous, they also have to serve a purpose, too. After all, a beautiful form is nothing without sensible function. For example, we often design new spaces that provide you a natural pathway from the house to the pool. In addition, we also construct areas that go hand-in-hand with the pool centerpiece, such as a deck overlook or a sun-shade alcove.
5 Inground Pool Deck Options to Consider
Dive into some of our inground pool deck ideas that we use to unify two great projects or to bring a one-of-a-kind life to your project. Just imagine how these swimming pool patio, deck, and porch ideas could transform your outdoor space.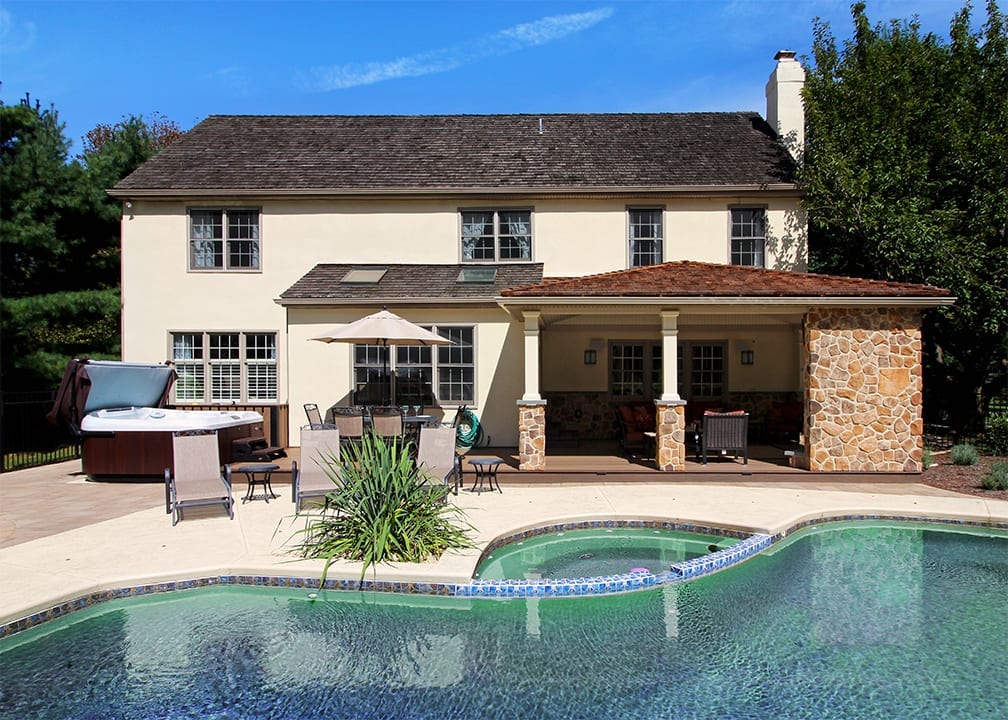 1. Pool Overlook
One of the best pool deck ideas, a pool overlook or an overlook bar connects the deck up above and the pool below. Thematically speaking, a tall, dramatic deck is an impressive sight when swimming in the pool. Practically speaking, this space is fantastic for allowing parents to keep an eye on children swimming in the pool while staying dry up above.
Plus, you're going to want to have a get together to show-off your gorgeous pool and new showpiece deck — pool overlooks were absolutely built for pool parties.
2. Color Coordination
Choosing your deck color scheme is complex and multifaceted when you're simply basing it on your house. Trying to highlight the tones of the pool while accessorizing your house can be a bit of a design balancing act.
Rich brown colors are a popular complement to the sandy concrete color of most pools. However, modern homes tend to have slate gray or even black colored pools. When designing around a gray pool, we employ light gray or arbor mist colored deck boards.
Read more about choosing deck color schemes.
3. Matching Deck and Patio Curve
When combining a deck and an inground pool, the Keystone mission is to create a built-in-one feel, ensuring that sections match so exactly it looks like they are from the same project. Matching or complementing the pools color palette is crucial, and we often start there. However, one of the subtler design strategies we use is matching the natural shape and curve of the pool with the shape of the outdoor living space.
This project is an example of an ambitious pool deck idea brought to life. Notice how it subtly curves and contours to the shape of the swimming pool.
4. Secluded Spaces Overlooking Pool
Your pool will be the vibrant center of your backyard oasis, but that doesn't mean you won't want to duck away for a little privacy. Consider adding a secluded nook onto your outdoor living space that affords you seclusion when you want it, but still overlooks the crown jewel of your backyard.
Check out the rendering of this nook centered on a fireplace, overlooking the pool.
5. Shade Structure
Some of the best pool deck design ideas give you an opportunity to get some shade, while staying close by the pool. Since we're all about incorporating practical space into our luxurious designs, we often incorporate shade structures by the pool. We install a variety of shade structures, ranging from covered pergolas to underdeck grottos.
See how the underside of this gorgeous tigerwood deck serves a practical purpose as a shade-hideaway.
Bring Your Pool Deck Ideas to Life
Have some inspiration for your dream pool deck design? Then let's start the conversation. Every single one of these showpiece decks grew out of a conversation between the designers at Keystone Custom Decks and a homeowner with a dream.
If you're ready to start the conversation about your backyard, contact us — we'd love to talk!