Deck accessories transform an already incredible project into a one-of-a-kind work of art. Whether your porch and deck accessories are simple (like planter pots) or more involved (like gazebos or fire features) finding the right ones makes the outdoor space truly your own.
Since we know how important deck accessories are to the overall character of your project, at Keystone Custom Decks, we always work to incorporate accessories into the 3D design and rendering. Explore the 10 hottest accessories, from the small touches you add yourself — to the grand structures we build!
The Hottest Porch and Deck Accessories
Some accessories throw an exciting visual flair into the deck color scheme while other choices add a brand-new way to enjoy your outdoor space.
Here are the top ten hottest deck accessories, in no particular order:
1. Televisions
The essential indoor living room fixture becomes an essential outside living room fixture. We often install fully-weatherproof televisions on brick and stone features. TV deck accessories are so hot right now that we practically never design an outdoor fireplace or stone feature without including one!
2. Built-in Grills
Grilling and decks have gone hand-in-hand practically since the beginning of time. Now, we're taking it a step further with grills and outdoor kitchens built directly into the stone work of the deck itself. These are must-have deck accessories for grill masters and gourmet chefs everywhere.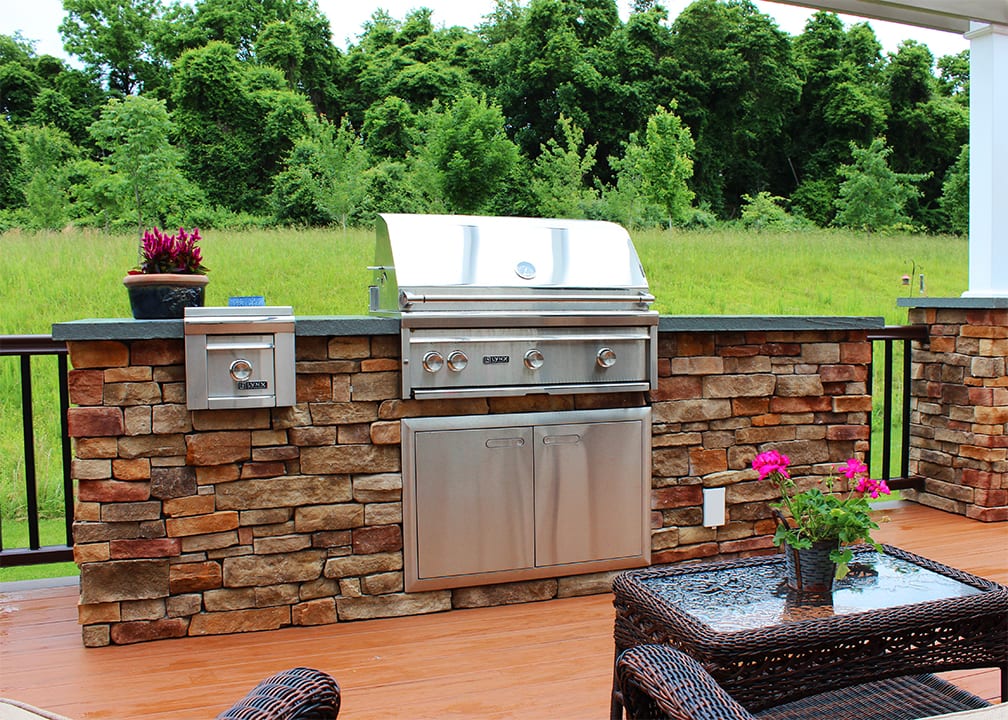 3. Drink Rails
Take your outdoor entertaining game to the next level. By turning the top of your deck railing into a flat and usable surface, you create the perfect place to pull up a stool and unwind. The drink rail visual style is also popular too, creating a clean finish as opposed to staggered post caps.
4. Area Rugs
An area rug is one of the simplest and most popular deck accessories we see on our projects. As gorgeous as the composite deck boards are, injecting the bright colors of an area rug can really tie the deck together.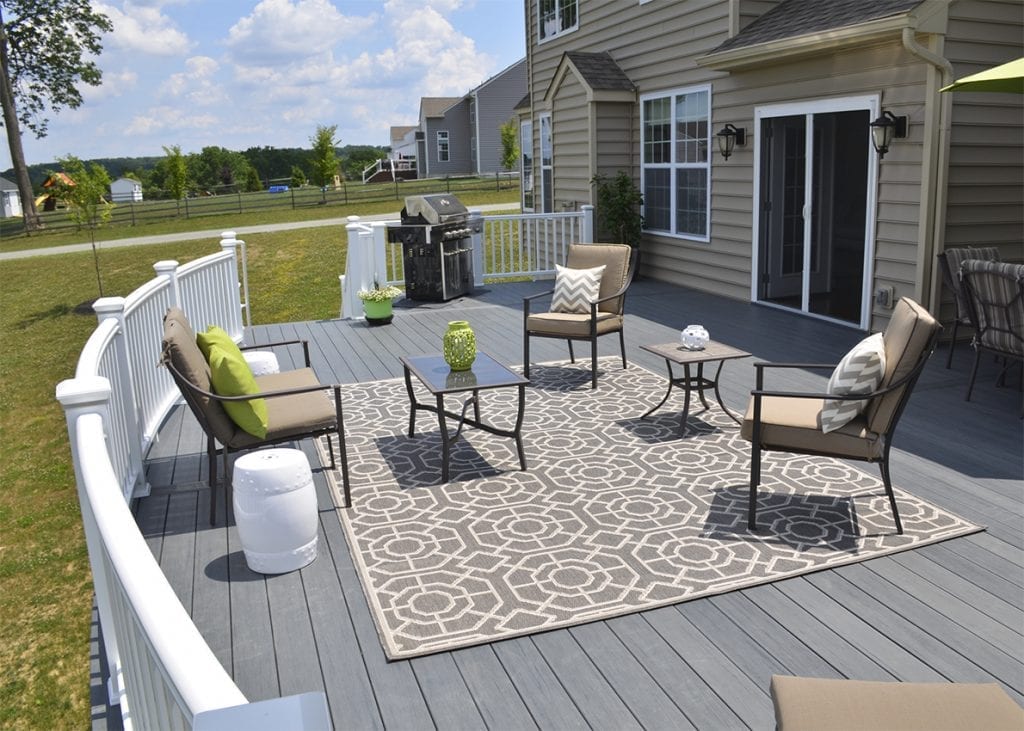 5. Fire Features
Quite possibly the hottest of our deck accessories — and in more ways than one! Time and time again, fire features become the centerpieces of decks both visually and as far as where your family will congregate.
6. Ceiling Fans
Only an option for covered spaces, ceiling fans are a great way to keep cool on a hot day. Since you want to get the most from your outdoor living space no matter the temperature, ceiling fans are a fantastic covered deck accessory to include.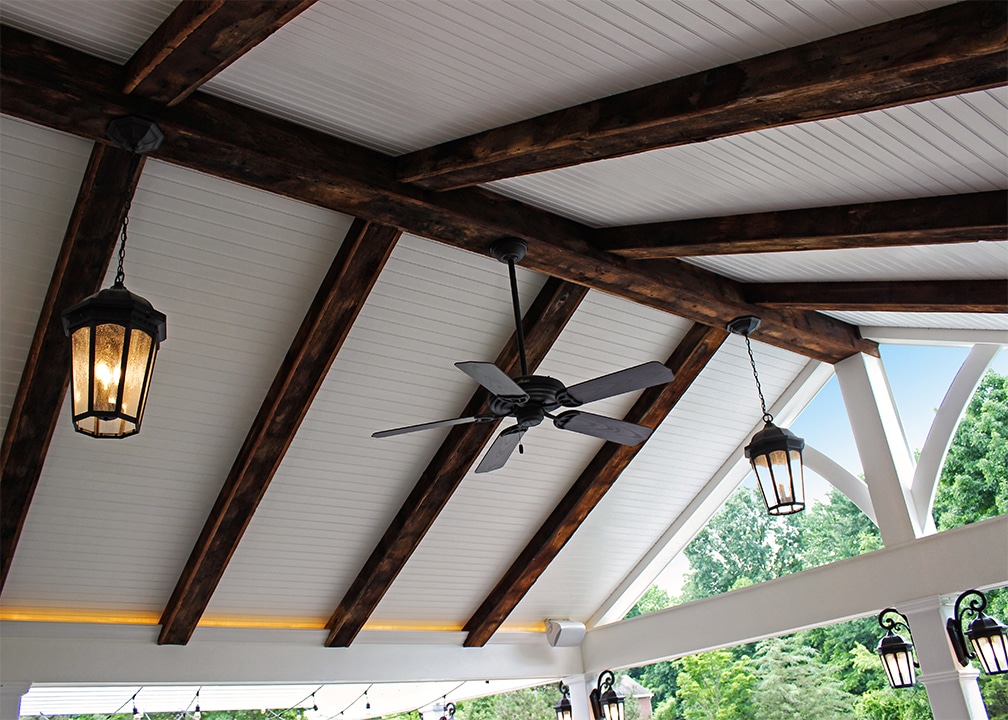 7. Umbrellas
You built a stunning deck, so don't let the sun keep you from enjoying it for a minute. Umbrellas make for great deck accessories because they look stylish and do an important job. While deck umbrellas have ALWAYS been popular, they've recently graduated into a truly must-have deck accessory — we even build them into our designs.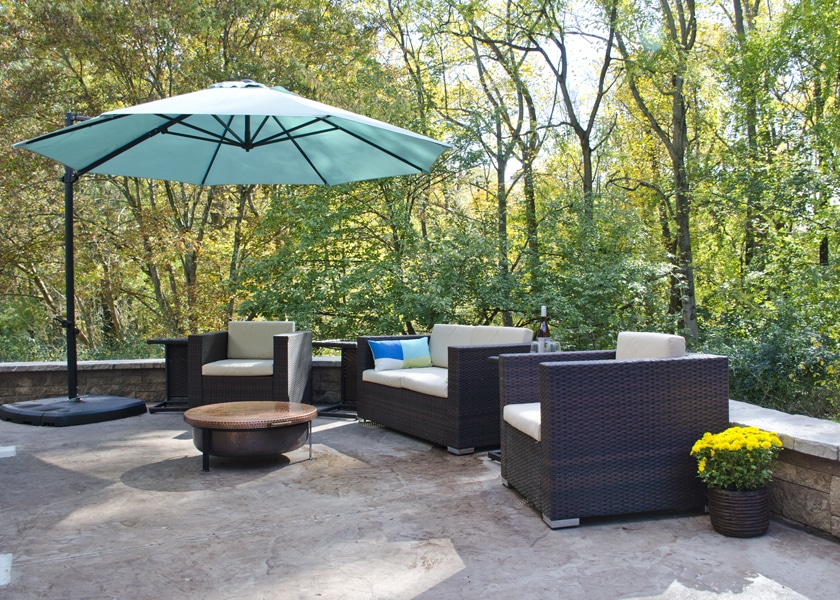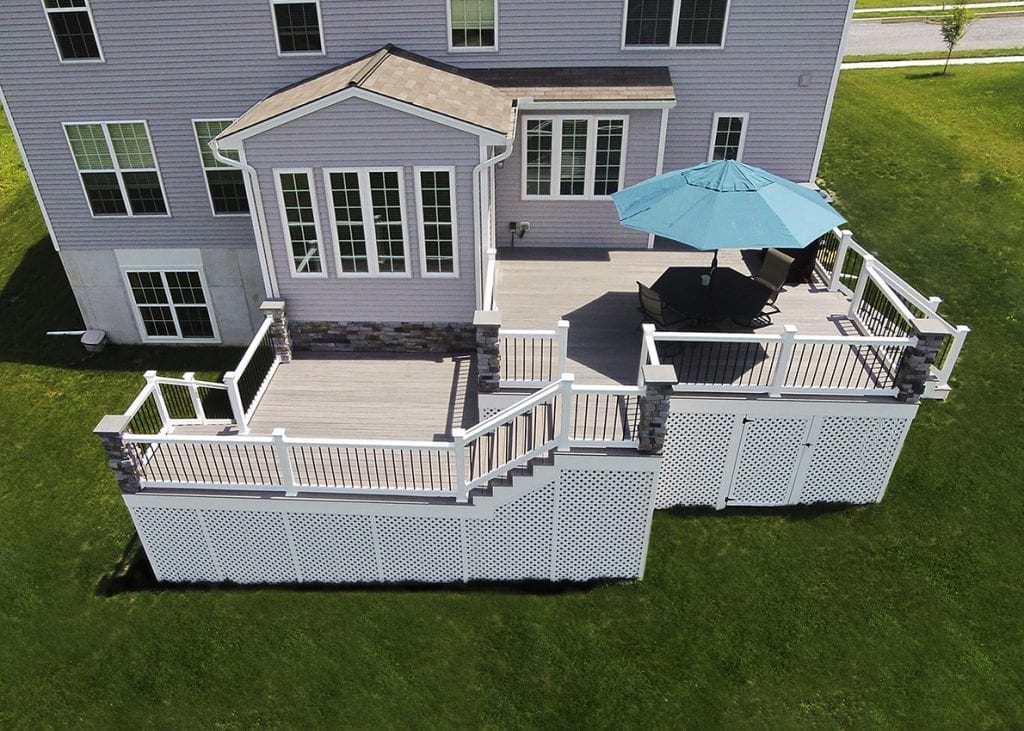 8. Pergolas and Gazebos
The deck accessories for when you want to make shade protection into a jaw-dropping showpiece. See how gazebos and pergolas create a unique profile for the decks they complete.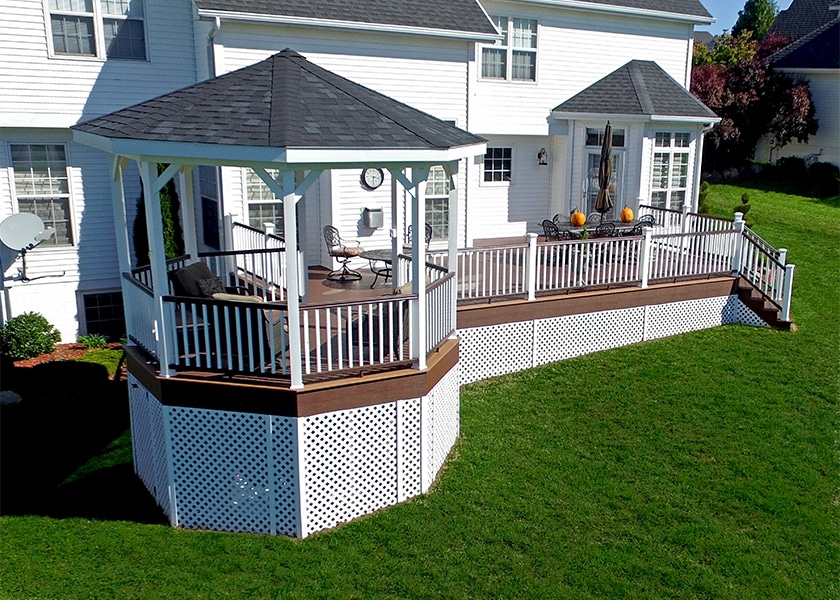 9. Potted Plants
One of the best accessories is also one of the least expensive. Incorporating potted plants into your deck design adds an undeniable splash of color and life to your outdoor space. We've seen homeowners grow everything from a mini-herb garden to a collection of potted ferns.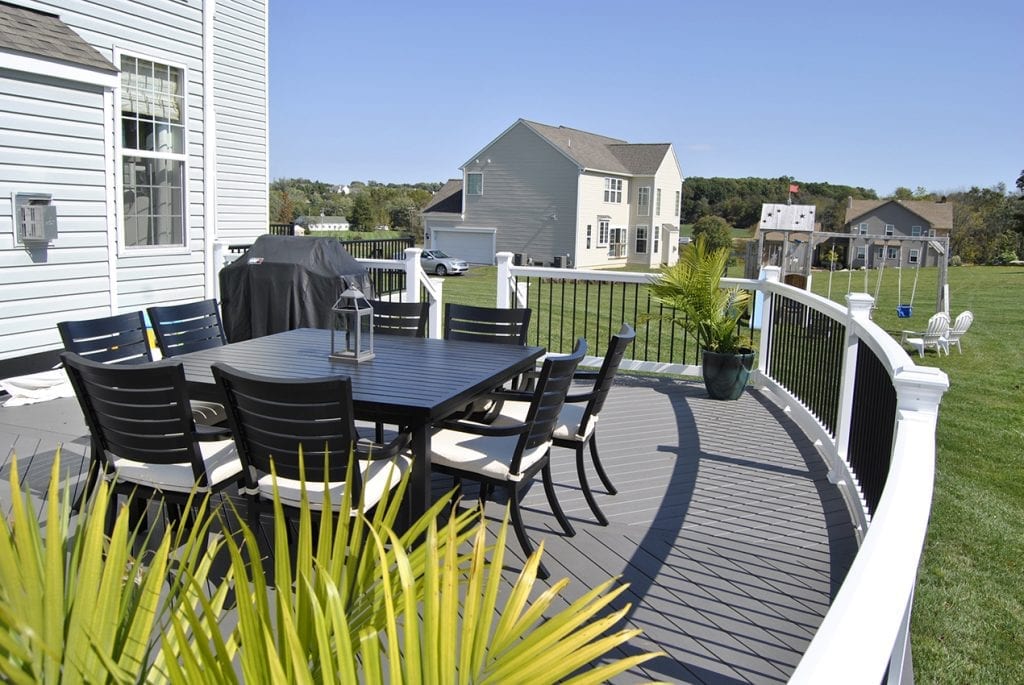 10. Lighting
A classic example of form meeting function, deck lighting makes your space both more beautiful and more usable at night. Some of the most common lighting schemes we create for decks include accent lighting, perimeter lighting, and decorative lighting.
Our lighting schemes can range from low profile led lights embedded on a staircase all the way to ornately designed lantern style lights.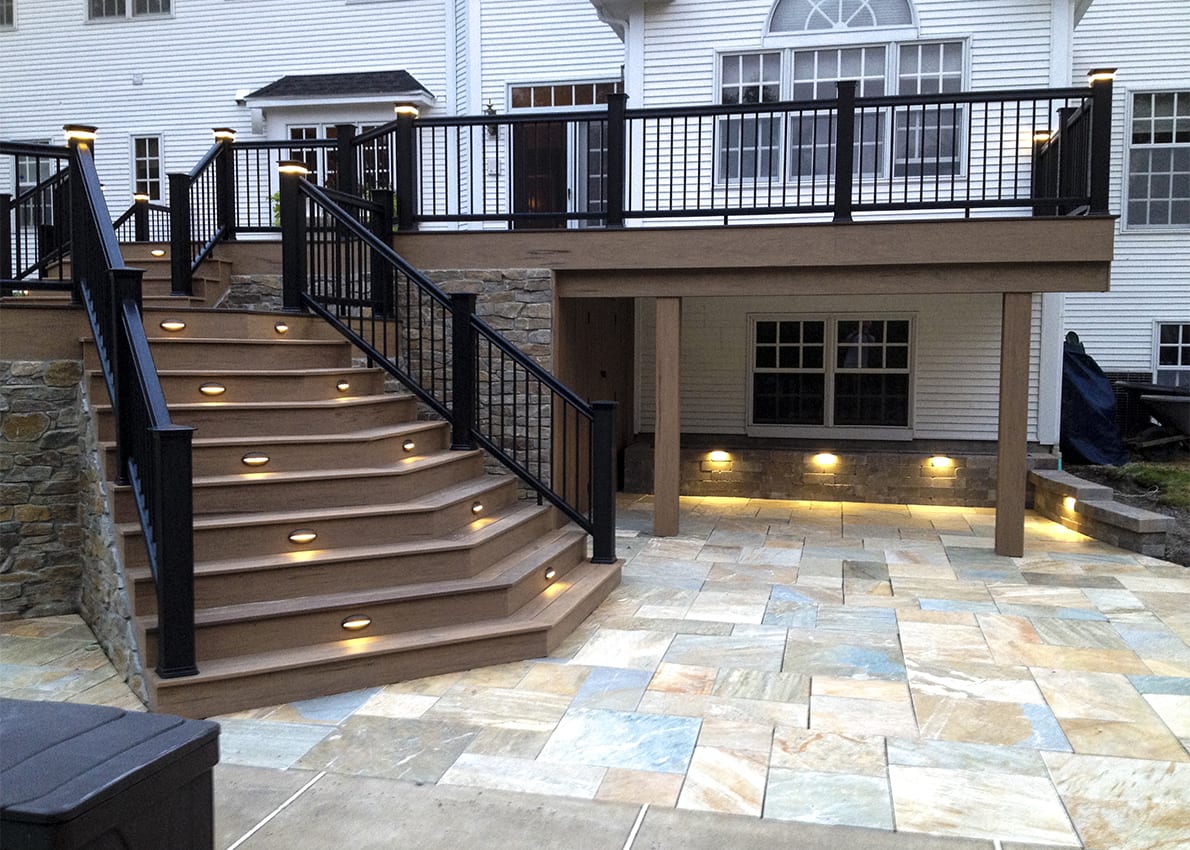 Custom Deck Builder for Gorgeous Designs and Accessories
Inspired? Let's have a conversation. Whether a particular deck accessory caught your eye, or you were drawn in by the overall look of these luxury decks, we can make it a reality for you.
At Keystone Custom Decks, we build dream-come-true outdoor living spaces — complete with the hottest deck accessories. See our full project catalog right here.
If you'd like to have a conversation about making your dream deck a reality, get in contact with us today.