Safe to say, the covered back porch is having its moment. This outdoor space is emerging as a cornerstone in the majority of our multi-faceted projects — and it is a great stand-alone addition to your backyard. Here are the red-hot covered back porch ideas and designs you can incorporate into your backyard project.
Once upon a time, porches were simply decks with roofs dropped on top — that's not the case anymore. Truly inspiring back porch designs and accessories have brought these covered spaces into prominence. Explore the up-and-coming covered back porch ideas — and see how Keystone Custom Decks has brought them to life!
7 Headline-Grabbing Porch Designs and Accessories
The porch ideas and designs we highlight range from stylistic philosophies to can't-miss features that homeowners love. Big or small, if it's making waves in the world of covered porch design, you'll find it right here:
1. Ground Floor or Elevated Location
In addition to their versatile sense of style, covered porches have flexibility regarding where they are used in an outdoor space's design. We've built beloved ground-floor porches as well as dramatic elevated ones. Some homeowners even use the area beneath an elevated porch by building a secluded grotto or an outdoor kitchen.
2. Gable Ends
Another jaw-dropping covered back porch idea, gable ends are a popular addition to A-frame roofs. This patterned touch adds another bit of character to your already exciting covered porch and is a hand-in-hand complement to the rustic style.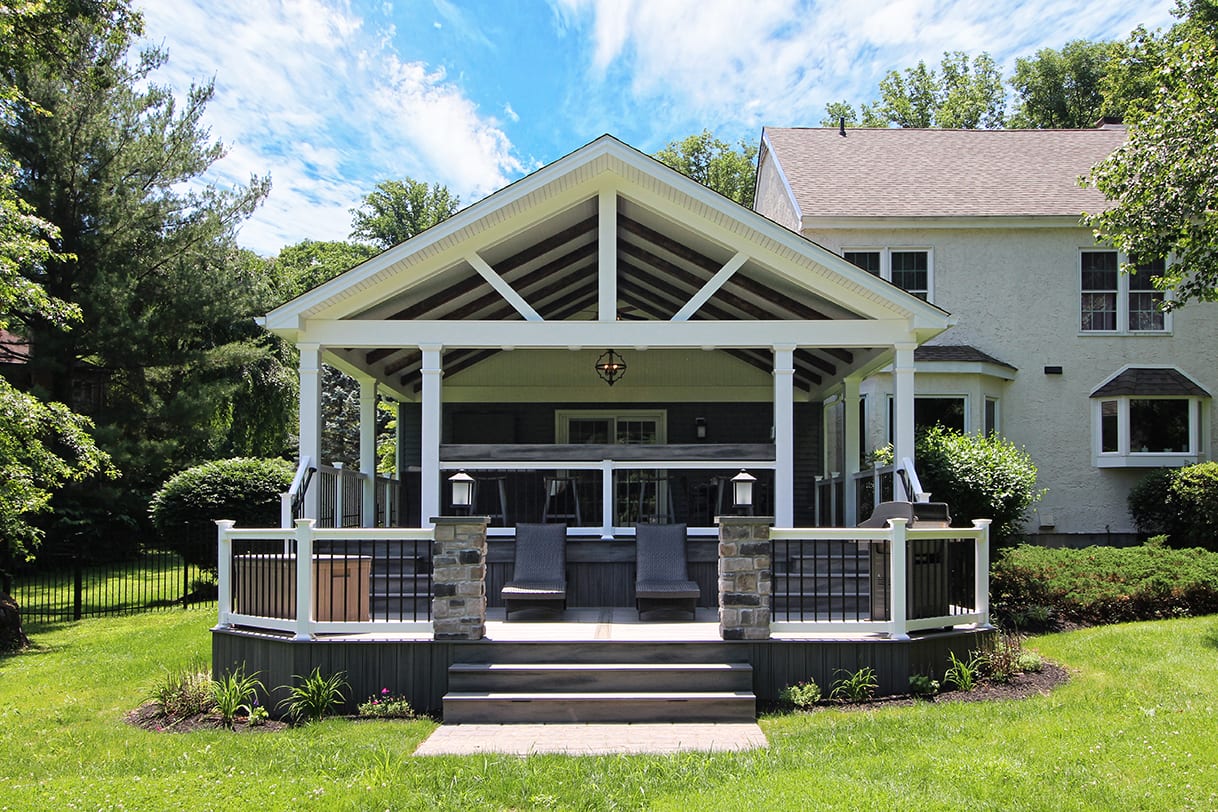 3. Porch Ceiling Choices
Every aspect of your covered porch design can be customized to meet your needs, including the shape of the ceiling. The most popular porch ceiling styles are barrel ceilings, which are rounded, and more traditional A-frame ceilings. While A-frame ceilings still stand as the most dominant style on the market, barrel ceilings are gaining popularity. Barreled ceilings do serve as an absolutely awe-inducing wow factor.
4. Fireplace and Ceiling Fans
These must-have features are a part of so many back porch designs because they are stylish and functional. These features evoke a luxurious ambiance in whatever space you include them in. More than just looking gorgeous, these accessories have a job to do. Fireplaces keep you warm in the winter, and ceiling fans help you stay cool in the summer, extending how much use you'll get from your outdoor space.
5. Rustic Style
While we build covered porches highlighting every aesthetic theme you can imagine, rustic themes are a clear favorite. Popular rustic back porch ideas include using rich natural wood colors, incorporating a weathered style, and adding touches of reclaimed barn wood and other historical relics.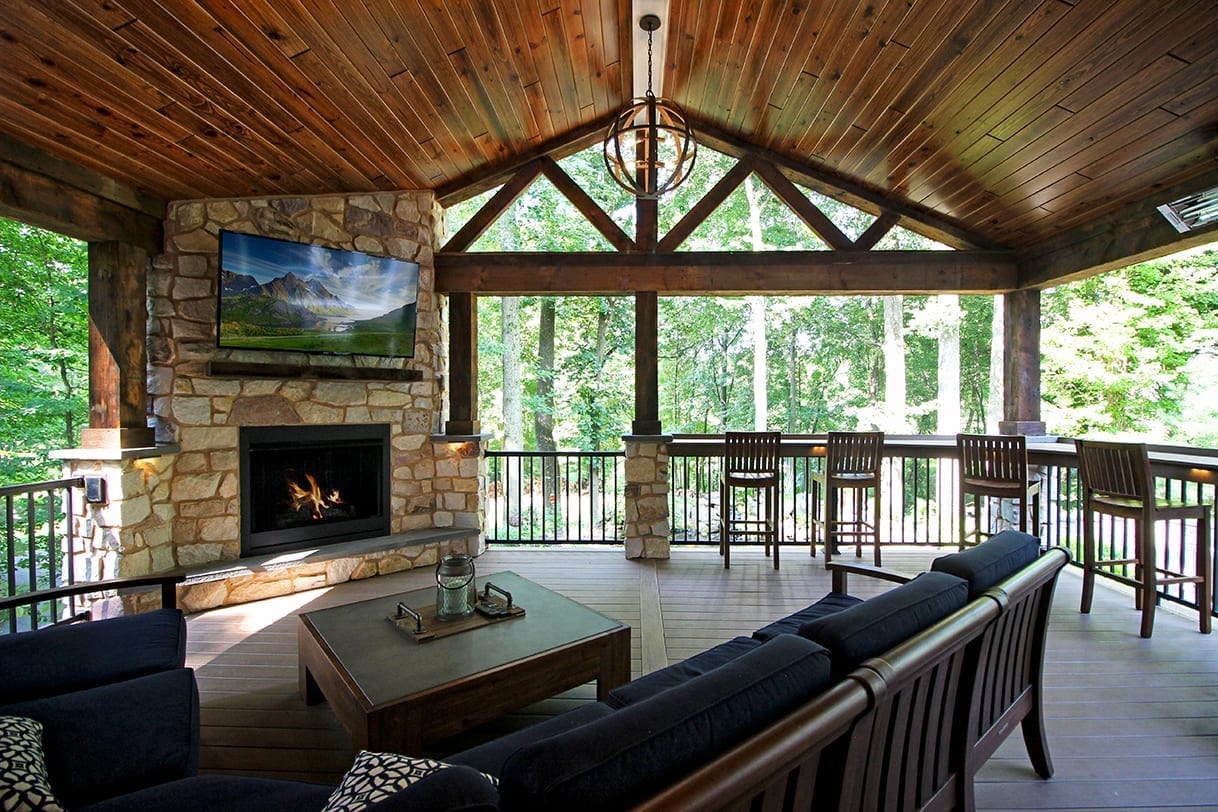 6. Exposed Beams
A gorgeous complement to both the A-frame porch roof and the rustic style, leaving support beams exposed creates an elaborate and striking interior profile. Exposed beams are a true hallmark of the rustic design style.
7. Feeling of the Inside, Outside
The back porch of old used to be simple and sparse. No longer! The goal of covered porch design is to create spaces for people to truly live outdoors. That can especially be seen in the outdoor accessories installed within the space and the furniture and décor used to complete the area.
3D Renderings Available with Every Project
When dreaming of your outdoor living space, the choices can feel overwhelming. Anything and everything from the materials to patterns to the big-picture aesthetic is up to you. That's why to ensure that you love your dream outdoor space, our designers ALWAYS present you with a 3D rendering, showing your current home complete with the space you've envisioned.
Learn more about our 3D renderings.
Bringing Your Covered Back Porch Ideas to Life
Rustic or modern, barrel ceiling or A-frame, Keystone Custom Decks brings your dreams of a covered back porch to life. Build the outdoor space in your backyard to make the style headlines in 2019 and beyond!
We also offer other services, including:
Check them out at Keystone Custom Decks!
Let's work together to create a covered back porch design that you and your family will love. Contact us today to start the conversation about your dream covered porch — and to schedule your free consultation.