At Keystone Custom Decks, we're known for building extraordinary outdoor living spaces because we use deluxe materials and cutting-edge tools, including 3D deck design software. This software is a cornerstone of our building process as it allows us to showcase the ambitious final project before cutting a single board to build it.
When you work with Keystone Custom Decks, we provide every client a 3D rendering of what their dream project will look like alongside their current house — before they ever sign a contract. See some of our most extraordinary projects and learn more about how our deck design software is a crucial part of our dream-come-true designs.
Why We Love 3D Rendering Software
Building ambitious, high-end outdoor living spaces requires precise planning. Our porch and deck designers need to create a distinct visual look while building spaces that work with a real, pre-existing space. Our deck design software allows our projects to look amazing and be 100% build-able in the real world.
1. Perfect Planning
The more complicated the space, the more necessary deck design software becomes. When we are building around your home, your pool, and your landscaping, we need to be able to see how your addition will match and enhance those spaces.
For this standout outdoor space, we built a secluded pavilion and created a swim-up bar that was accessible both in the pool and on dry land. Since our designers had to work with the pre-existing pool to build both the bar and the covered space, our 3D deck design software proved essential in allowing us to map out the spacing of everything. Practically speaking, seeing the space fully rendered makes us better builders, allowing us to anticipate hiccups and provide the most accurate time estimates.
2. Embrace the Bold
Whether we're talking about outdoor living spaces or anything else, ambitious designs can be polarizing. While building bold is a popular decision, as a homeowner, you need to know you're going to love the finished space before you sign off. Our 3D renderings allow us to showcase the truly unique look and feel of your project.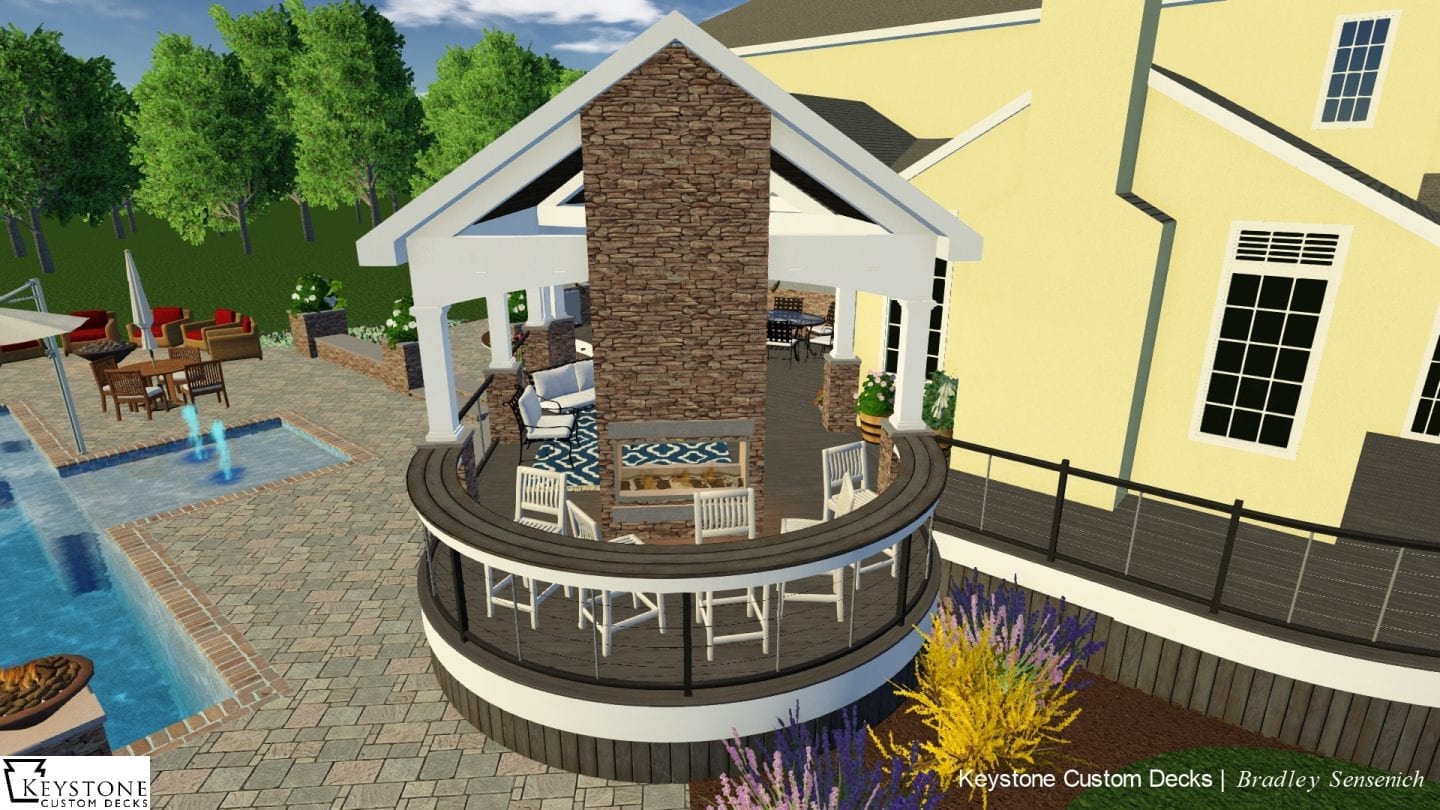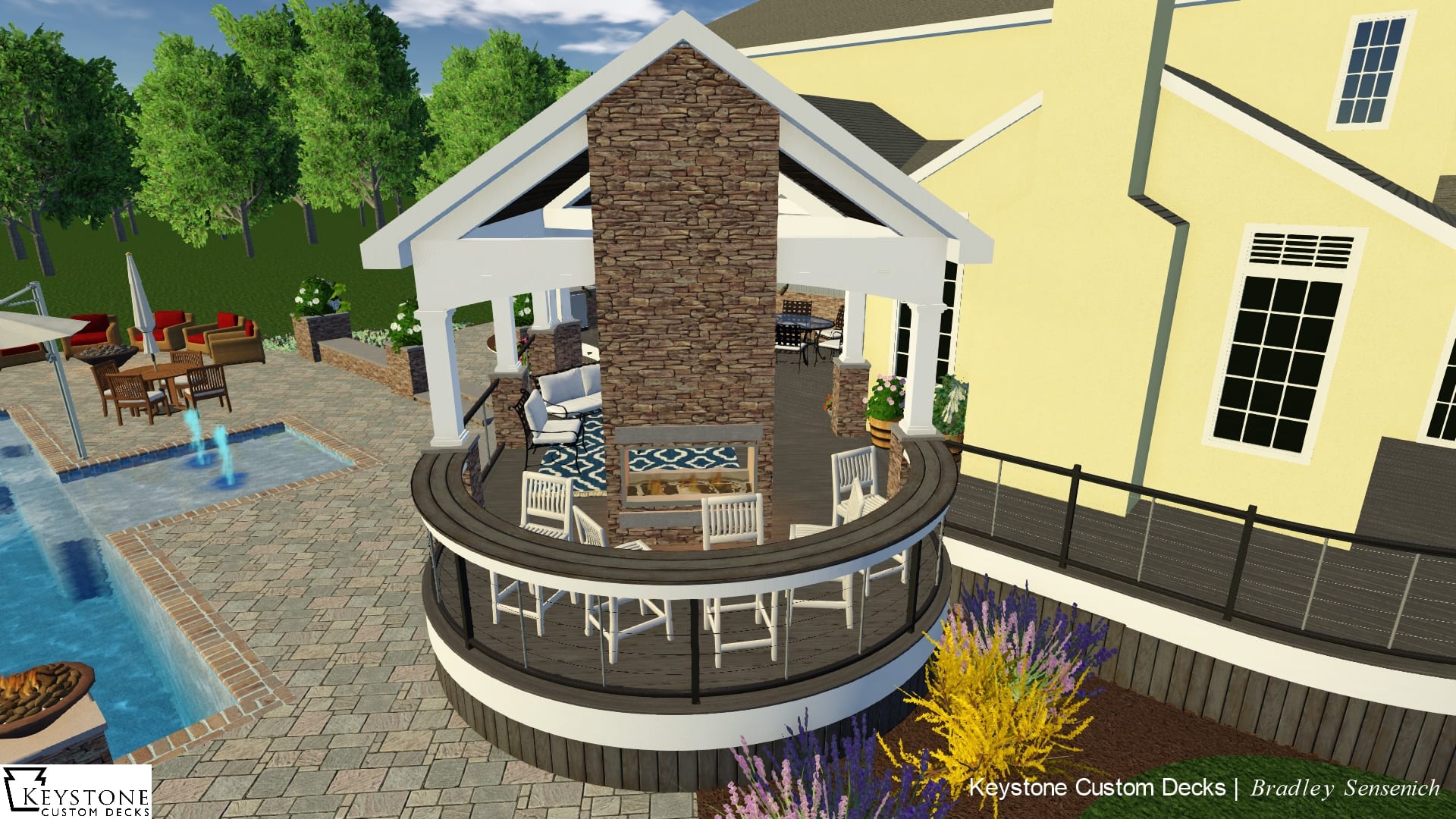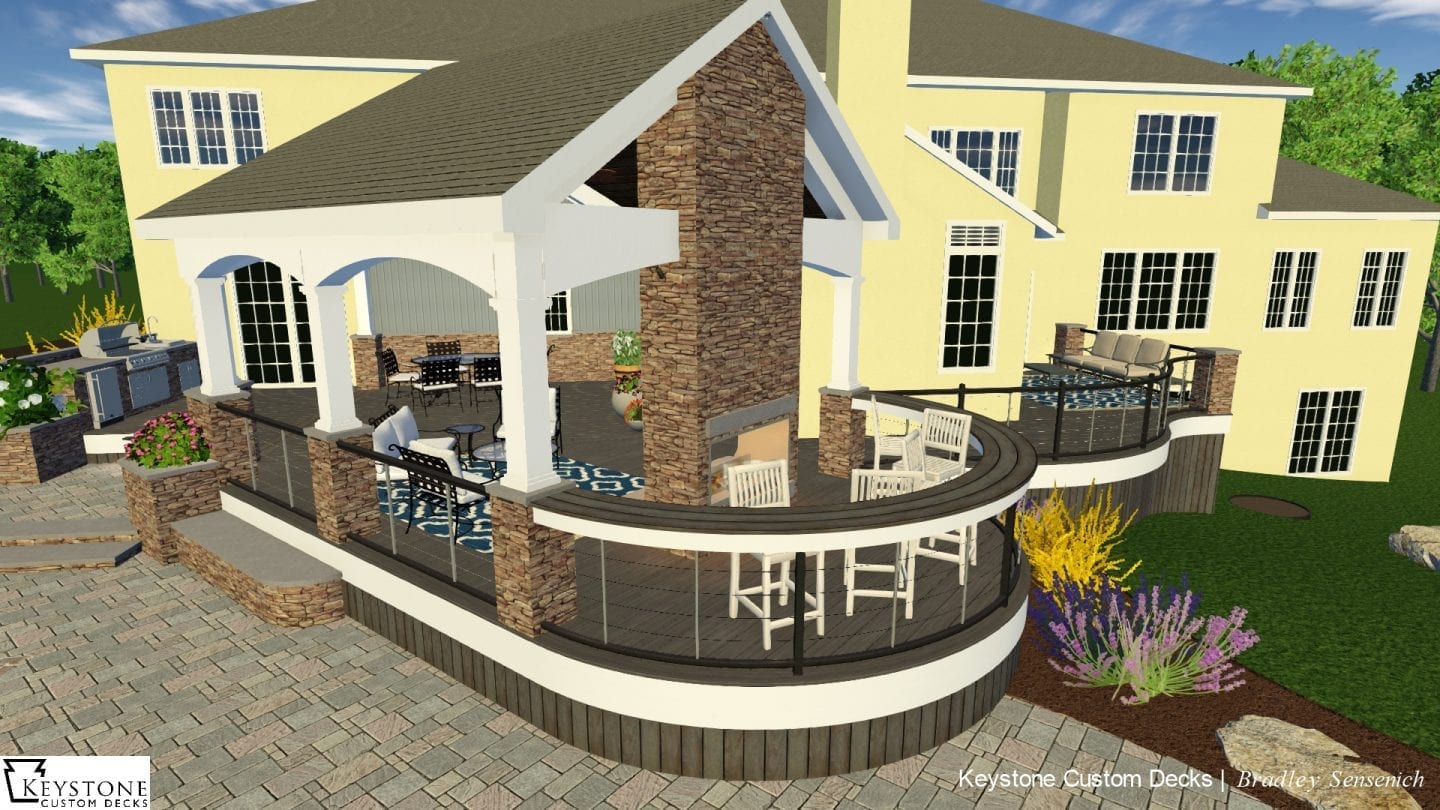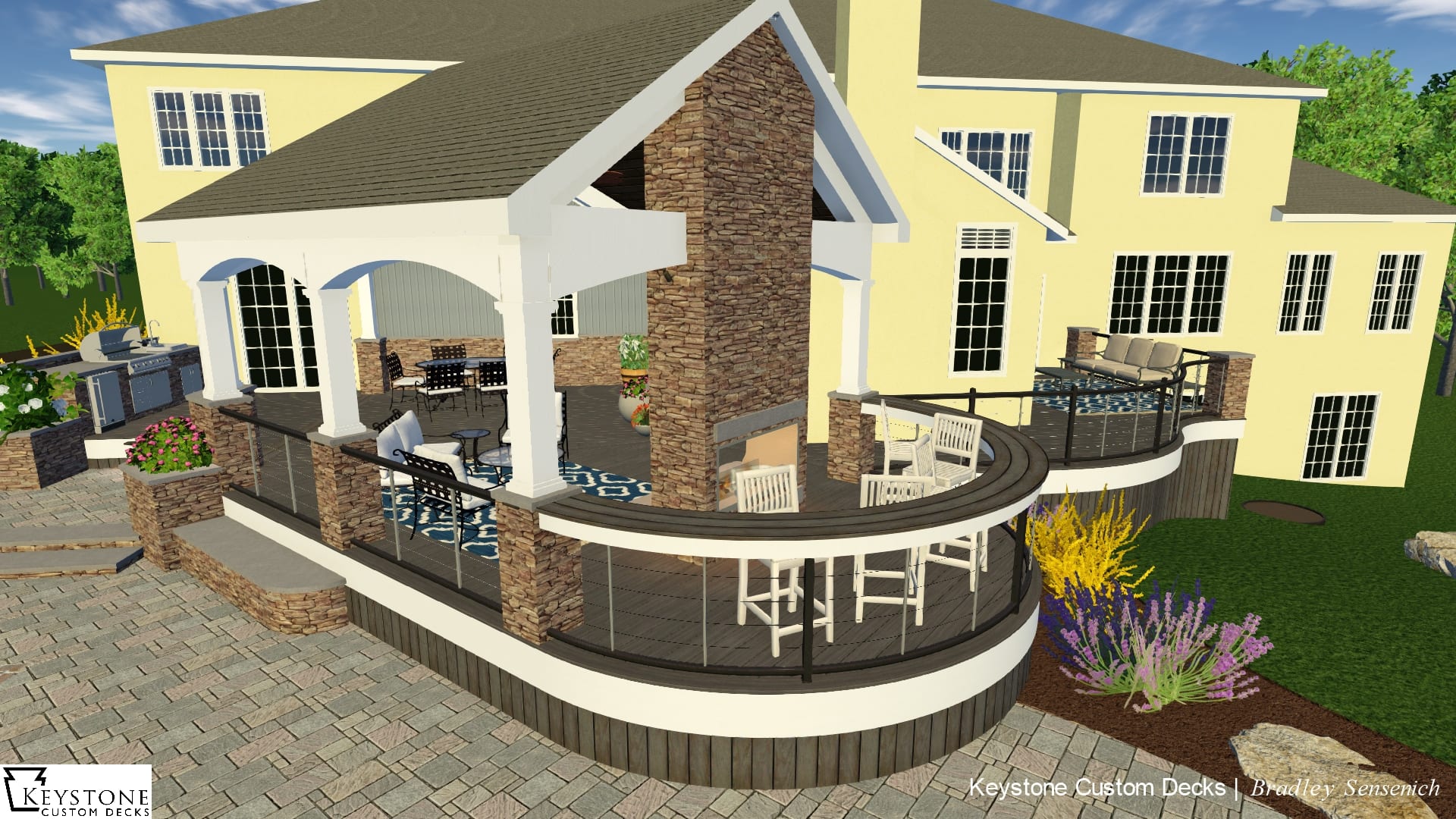 For this partially covered porch, we built a one-of-a-kind double-sided fireplace. Since this was unlike anything the client had ever seen before, they didn't know if they'd like it — or if it would match their home. The 3D deck design software was essential in assuring them that this was the dream space they'd cherish for years to come. In addition, since this was groundbreaking for us as well, our software ensured our builders that the design would work from a stylistic and a practical standpoint.
Learn more about bold and modern deck designs.
3. Client Collaboration
At Keystone Custom Decks, working closely with our clients during the design phase is a hallmark of the Keystone experience — and it's how we so accurately transpose their dreams into their backyards.
Our deck design software is the foundation of all client collaboration. Before the software, our designers had to use 2D drawings to showcase their ideas. While technical drawings serve their purpose, they don't facilitate the same type of client conversation as a fully-rendered space. Our renderings show your existing house, complete with your dream outdoor space. This makes it much easier for homeowners to decide if the design is right — and if it's not, they can suggest new colors, features, and more.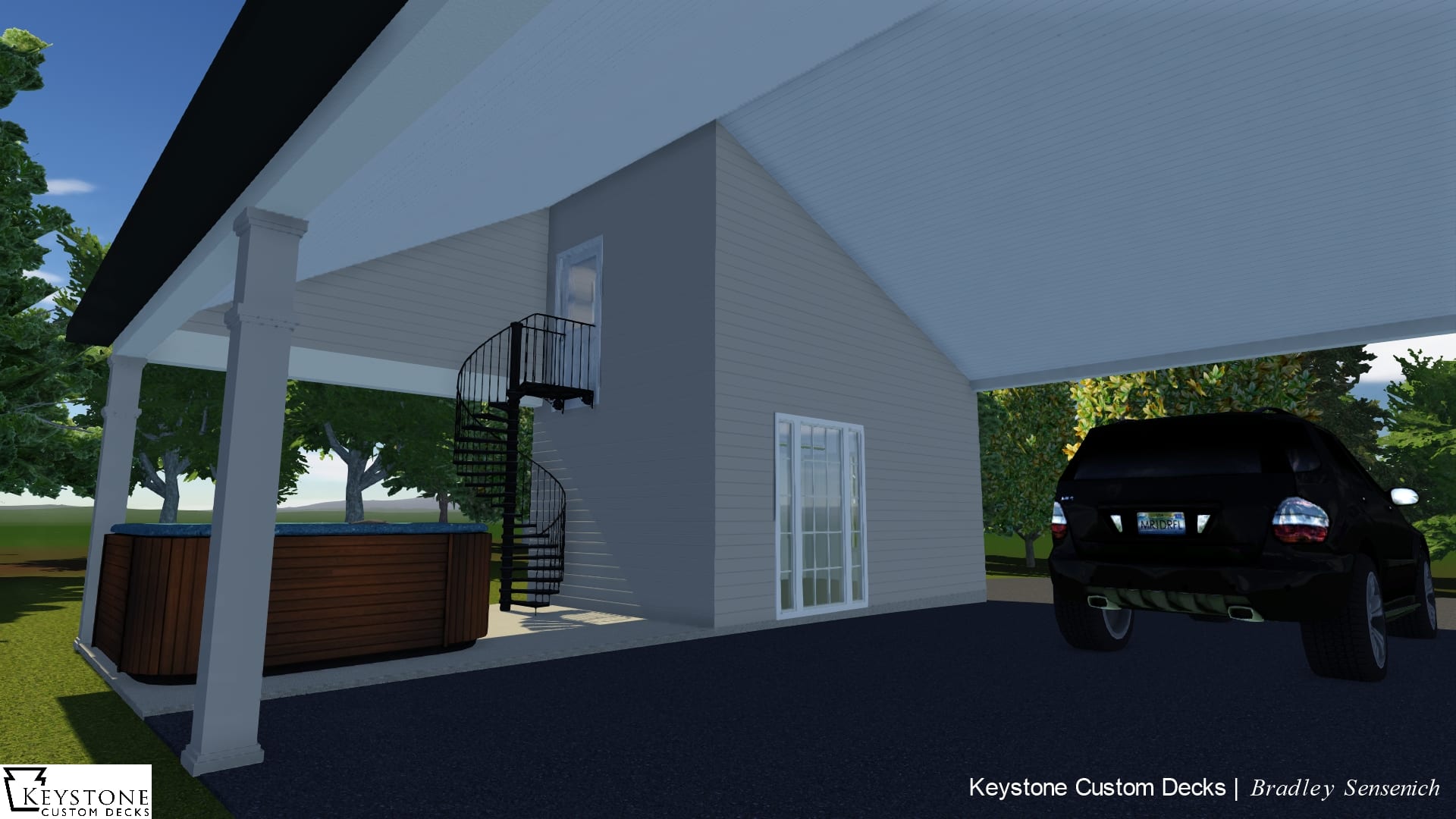 This covered carport was outside of the norm of what we typically build. However, we approached it with the same commitment to exquisite construction and the client's particular vision. Our deck design software allowed us to render this space and collaborate back and forth with the client to achieve the exact look and layout they wanted.
See more of our stunning 3D porch and deck renderings.
Get Your 3D Rendering and Quote
Have you always envisioned your home complete with a stunning patio, deck, or porch? This is the perfect time to start planning. Since our deck design software is so crucial to our process, we use it on every single project. Work with us and you'll see your house transformed by the outdoor living space of your dreams.
One of the first steps is to schedule an at-home consultation with one of our designers — contact us to start the conversation today.