Curved deck designs are quickly becoming one of the most in-demand styles for new outdoor living spaces — and it isn't hard to see why. Curved styles not only add an eye-catching aesthetic to your outdoor living space but can change the way you enjoy your deck every day.
At Keystone Custom Decks, we've been buildings decks with curves for years — and these are some of our favorites. Dive deeper into each of these showpiece projects and learn why a curved deck was the perfect choice for each!
5 Decks with Curves to Spark Your Imagination
From a centerpiece seating area to the feature that defines the space, these decks with curves all highlight something different yet equally beautiful! Draw inspiration from these curved deck plans or envision how you'll build something totally your own.
1. Reverse Bar Counter with Curve
A deck and porch that looks intriguing from a distance with a practical advantage up close. This porch and deck overlooking an in-ground pool features a section of curved deck tied into a reverse bar counter. More than just an eye-grabbing flourish, the reverse bar allows everyone, no matter where they're sitting, to stay involved in the conversation.
2. Circular Seating Area
An all-around beautiful deck with a distinct centerpiece. The circular seating area not only dominates the eye when looking at the picture, but also proves to be the most popular space for entertaining as well. Centered on a custom fire feature, this big circular curve makes for an extra-secluded conversation nook in an already perfect backyard oasis. The curved deck design was fantastic for this project as it creates the unique style and the party-ready space.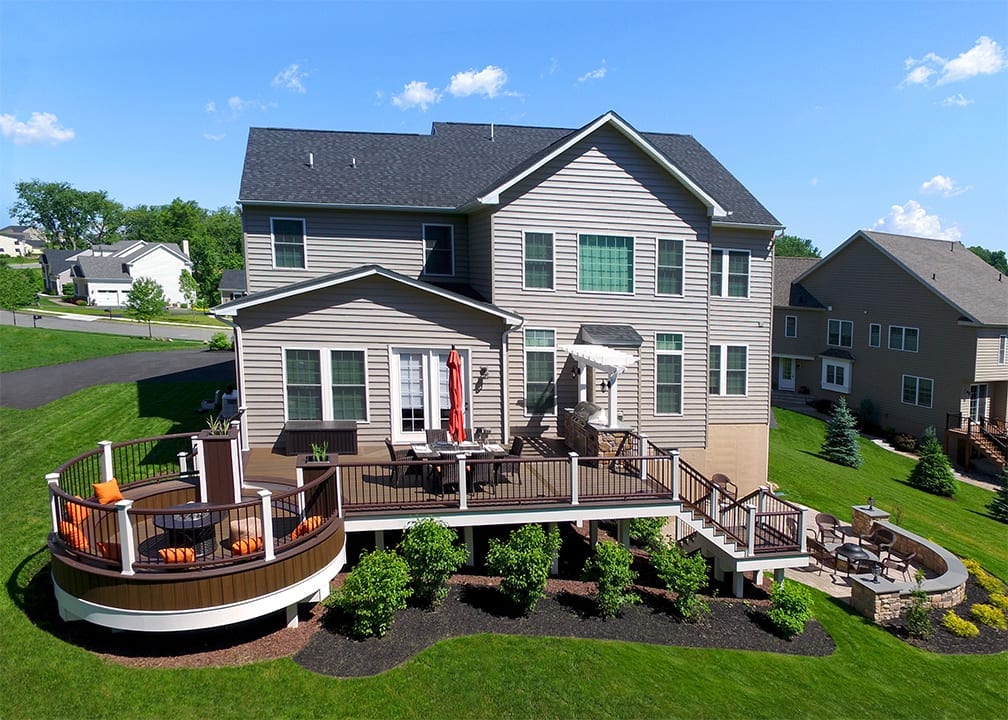 3. The Showpiece Accessory
The pergola accent on this open deck is the undisputed signature touch of the space. While the bold look of this bespoke pergola provides a real flair, matching it to the curved deck design amplifies that look. Just imagine this deck without those curves — it wouldn't be quite the same.
4. Every Extra Foot Counts
One of the few drawbacks about a square deck and porch design is that it can leave the corners as unusable space. Choosing a curved deck design over a traditional shape allows homeowners to get the very most out of every square foot of deck. See how the bump-out curve on this deck allows for a much bigger seating area that would have been lost with a simple square design. At Keystone Custom Decks, we love projects like this where innovations don't just look attractive, but give the homeowner more.
See the hottest outdoor living trends for 2019.
5. Pavilion Possibilities
Designing decks with curves opens up the creative possibilities to include more shapes and more features. This small but stunning deck is a perfect example of that principle. By adding the curved seating area, the homeowner was able to accessorize with a dramatic open pavilion that defines the space. This design touch creates a space that looks one of a kind from both the outside and the inside.
3D Project Rendering
Building bold is always encouraged at Keystone Custom Decks. We do know, though, that bold ideas oftentimes need to be seen to be believed. That's why our designers always provide homeowners with a FREE 3D rendering of what their dream outdoor living space will look like — before a contract is ever signed.
This allows the designer and homeowners to work together to make the final touches, ensuring that the space is absolutely perfect.
Learn more about our 3D rendering software.
Bring Your Curved Deck Designs to Life with Keystone
All of these remarkable projects and their unique, curved deck designs began the same way: a conversation between the homeowners and the Keystone Custom Decks designer. We encourage you to call our design team to schedule your complimentary in-home consultation.
Discuss your dream space and refine your vision with our experienced designers. We have a history of working with countless homeowners throughout the Pennsylvania and New York areas to build truly stunning decks with curves, amazing patios, and full covered porches.