Bathed in sunlight during the day, and cast in a resplendent light at night, your deck will look stunning anytime. Practically speaking, porch and deck lighting keeps your outdoor space usable into the late hours. From a design standpoint, the right deck lighting ideas are as important as any other aesthetic element, like deck colors or accessories.
The outdoor lighting options you have access to are determined by the space you're building, your personal style, and so much more. At Keystone Custom Decks, we partner with you to plan every single aspect of your space, including the lighting. See some of our favorite deck and porch lighting ideas that truly enhance your deck.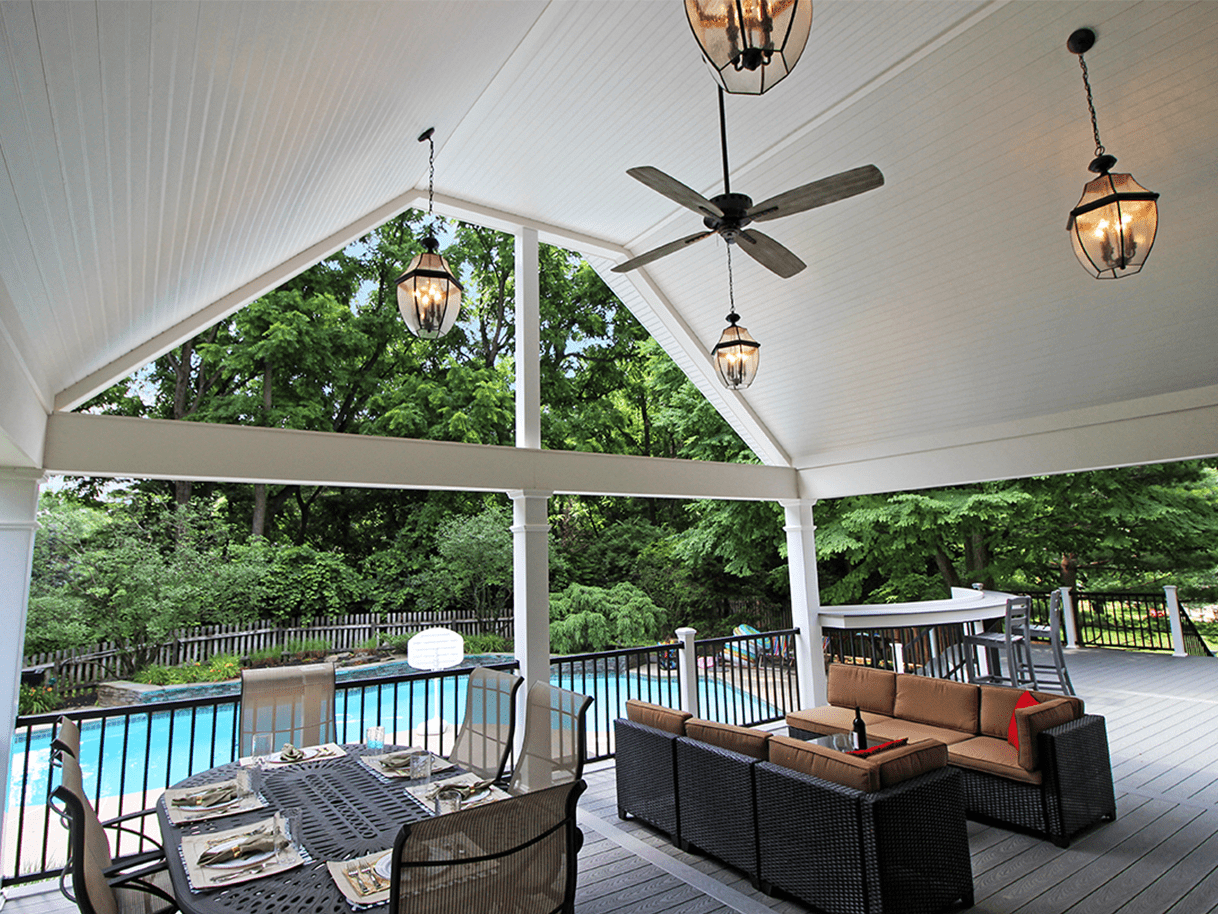 5 Most Popular Deck Lighting Options
Whether you want lighting that blends with your other deck decorations or you prefer your fixtures front and center, you'll find all the most popular deck lighting options right here. From built-in options like under deck lighting and step lighting, to lights you change with the seasons like string lighting, we've compiled a list of some of the best-loved lighting options and how to use them.
1. Deck Post Lighting
One of the most natural ways to infuse your outdoor space with even, natural lighting is to use the posts of your deck railing. Some or all of the posts can be outfitted with LED lights to cast a glow across the space. This deck lighting option provides soft, well-spaced illumination and gives the deck perimeter a distinct look at night. Adding lighting onto stone deck posts creates a truly distinct look and an upscale aesthetic.
2. String Lighting
A white-hot 2019 outdoor living trend, using string lighting (specifically Edison lights) brings a sought-after ambiance and a real sense of character to your outdoor space. String lights are often draped from your home siding over to another elevated space like a porch roof or a pergola. Speaking of which, a simple DIY lighting choice involves weaving strands of Christmas lights through the beams of your pergola.
3. Under Deck Lighting
On elevated decks and porches, the underside can serve as a roof for a whole new seating area. Plus, on both one and two-story spaces, the underside of your deck surface can serve as the perfect place to mount your lighting scheme. Adding LED lights underneath the deck surface can allow ambient light to pour up from the boards, creating a one-of-a-kind lighting scheme.
4. Hanging Lighting Fixtures
Covered porches are becoming more popular than ever, serving as a true outdoor living room. Complete with real roofs, these covered spaces expand your deck and porch lighting options. Whether you prefer one central fixture or several hanging lamps, we've built a wide variety of permanent hanging fixtures that complete covered porches.
5. Deck Step Lighting
A subtle touch with a practical purpose. Installing LED lights on the stairs of your deck or porch provides illumination and makes your deck safer as well. This touch often pairs well with one or more of our deck lighting ideas. You can match the stair mounted lights to other fixtures throughout your space for true aesthetic continuity.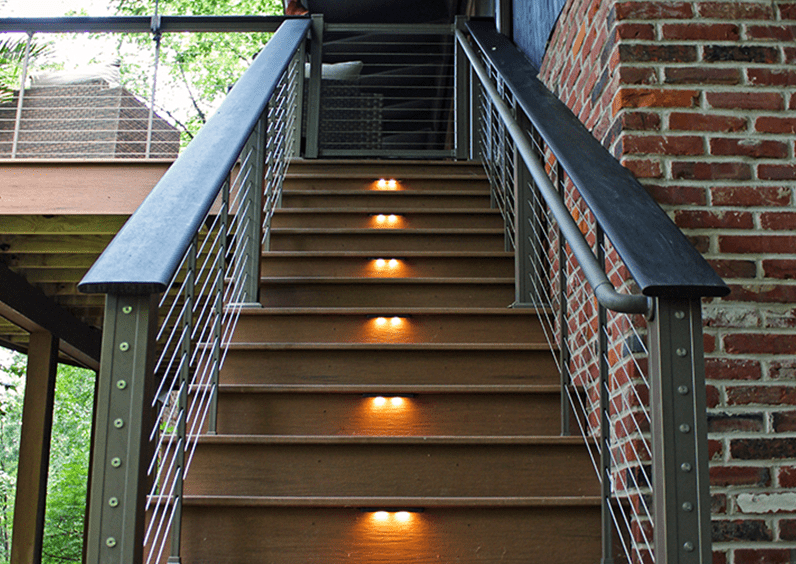 Deciding on the specific deck lighting choices you like and where you'll place them can feel a little overwhelming. That's why Keystone's experienced deck designers work with you to bring every element of your perfect outdoor space to life — including where you'll put the lights.
3D Rendering of Every Project
When designing a dream-come-true outdoor space, every detail counts — whether it's the exact shade of deck board you pick or it's the lighting options you choose. Since some bold design decisions need to be seen to be believed, we present every homeowner with a full 3D rendering of what their project will look like alongside their current home.
These detailed renderings show every crucial feature up close. This allows you to design big with full confidence, ensuring you'll love your outdoor space — and that's why we include these renderings FREE with every single quote we provide.
Learn more about our 3D renderings.
Bring Your Deck Lighting Ideas and More to Life
At Keystone Custom Decks, we welcome your design ambitions and your dreams. We work with homeowners just like you to build their perfect outdoor living spaces complete with the deck lighting ideas and options to make it amazing anytime of day or night.
See some examples of our work.
Every single project we build begins with a conversation. Contact us today to start discussing your perfect outdoor living space — and to schedule your FREE consultation.