If you're bringing your dream deck to life in 2020, these are the deck design trends that you need to see. While all 5 of these deck trends for 2020 might not match your project and your sense of style, you just might find the idea that truly brings the space together.
Read our blog to see five of our favorite deck trends for 2020 — and see how they can make an impact on your outdoor space.
5 Trending Deck Ideas that We Love
These deck trends for 2020 include a mix of in-demand add-ons and big-picture styles. Imagine how each of these ideas could have a home on your dream deck and porch:
1. Outdoor Televisions
A trend that many people are including on their decks this year and next, outdoor televisions provide a great way to relax while taking in some of your favorite shows, or possibly the evening news. Just imagine sitting outside on a nice evening and feeling the breeze while enjoying a movie or the game. Adding a weather-proof outdoor TV lets you bring the feel of your indoor living room to your outdoor space. The outdoor TVs we use can survive outside all year long, completely immune to snow, wind, rain and more.
2. Modern-Looking Stone
Everyone likes the permanence of stone, and it has an appeal which makes anything feel like it's going to last for decades. Whether you use actual cut stone or stone veneer, the appeal will still be there — and it will be a good contrast to the composite which comprises most of the deck area. While most stones have a more rustic look, modern-looking profile stones are one of the deck trends for 2020.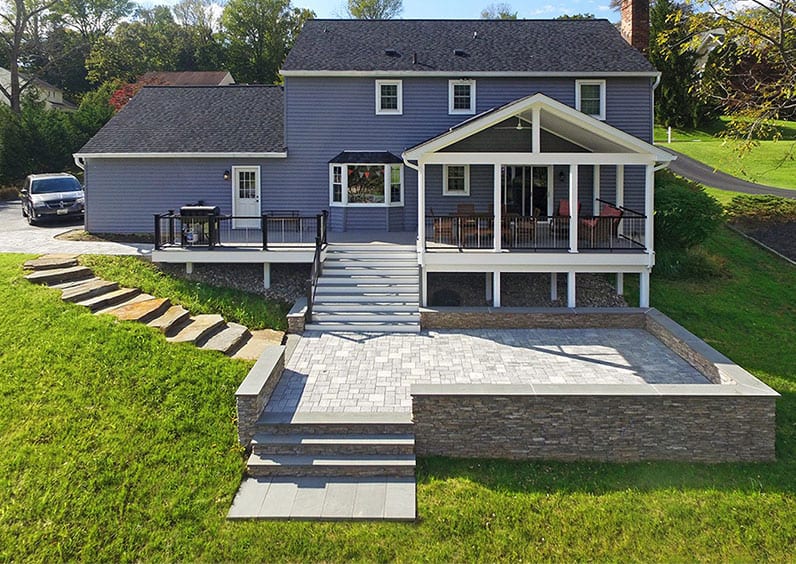 3. Unique Lighting Fixtures
An essential for almost any outdoor space, distinct lighting fixtures are a deck trend for 2020. Whether you want hanging lights, deck-mounted lights or house-mounted lights, you want a truly unique look. This not only provides great lighting in the dark so no one will ever trip, but it also adds a beautiful, mysterious kind of atmosphere to the entire space.
4. Under Deck Spaces
If you have a raised deck, there will undoubtedly be some space underneath that you can use as well. While once people only used it for storage, the design trend for 2020 is to turn it into another seating area. This trend is great as it allows you to maximize your space and provides convenient cover from the sun.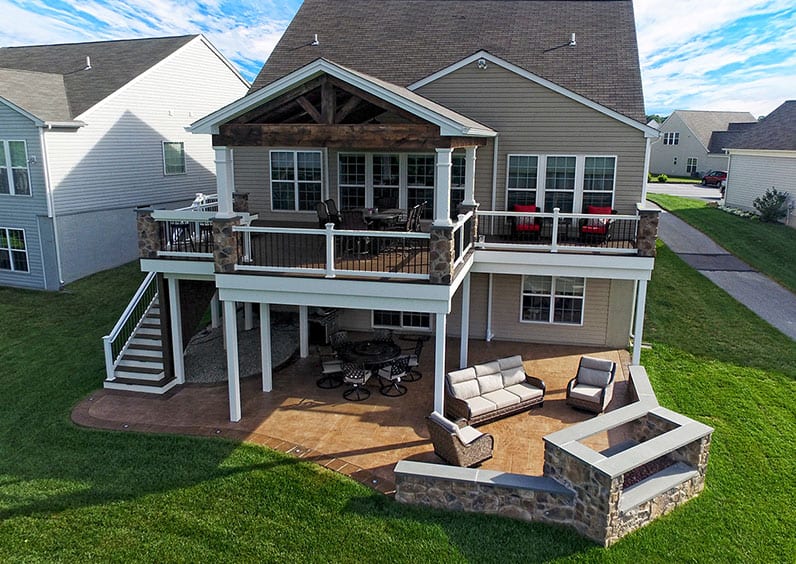 5. A Modern/Industrial Feel
One of the new trending styles that we expect to see in 2020 is a more modern feel. While there will always be a place for the rustic porch and deck, we expect to see more and more people gravitate towards a modern or contemporary look for their outdoor space. This modern style is most evident in the color schemes, the angular shapes and even in the materials you'll use. At Keystone Custom Decks we have experience building both rustic and modern spaces — as well as transitional spaces that combine the two styles.
When it comes to designing your custom outdoor space, these ideas are just the tip of the iceberg. One of the best ways to refine your sense of style is to get inspired by looking at some of our other projects — explore our project gallery.
Reach Out for a Free Design Consultation
If you're ready to build your dream space, possibly using some of these deck trends for 2020, we're the team to trust.
All Keystone projects begin the same way: a conversation. We encourage you to reach out to discuss your project and to schedule your in-home conversation.
Contact us to request your no-obligation design consultation today.