The custom touches you build into your outdoor space make it your own. Not only will your design truly be one-of-a-kind but it'll also be tailored to exactly how you'll use it. Whether it's built-in deck seating, a grill, or a hot tub, the right add-ons make your outdoor living space your own.
As a premier custom deck builder, every outdoor space we create is built to suit our clients' individual tastes. If you're looking for inspiration for your own outdoor space, then you're in the right place! See some of our favorite projects with standout deck add-ons, featuring built-in deck seating, grills, and even outdoor televisions.
Luxury Deck Add-Ons
Your dream outdoor space shouldn't just look gorgeous to impress your fanciest, most-sophisticated friend, it should be tailored to the ways you'll enjoy it most, day after day, year after year. Whether you love to grill, lounge by a fireplace, or watch the big game, your deck is where it all happens.
The deck add-ons you choose make unwinding with family or coming together with your close circle truly satisfying. Any luxury composite deck you build will be absolutely stunning; however, it's the add-ons and deck accessories that make your deck truly a space you love.
Built-in Deck Seating
It all starts with comfort. Built-in deck seating is one of the most popular and most import additions we include. While built-in seating doesn't replace deck furniture, it is an excellent complement to it. Our designers incorporate built-in deck seating in two distinct ways: one, through standalone seating fixtures such as stone or wooden benches; and two, through built-in table and chairs like these authentic Jack Daniel's whiskey barrel tables.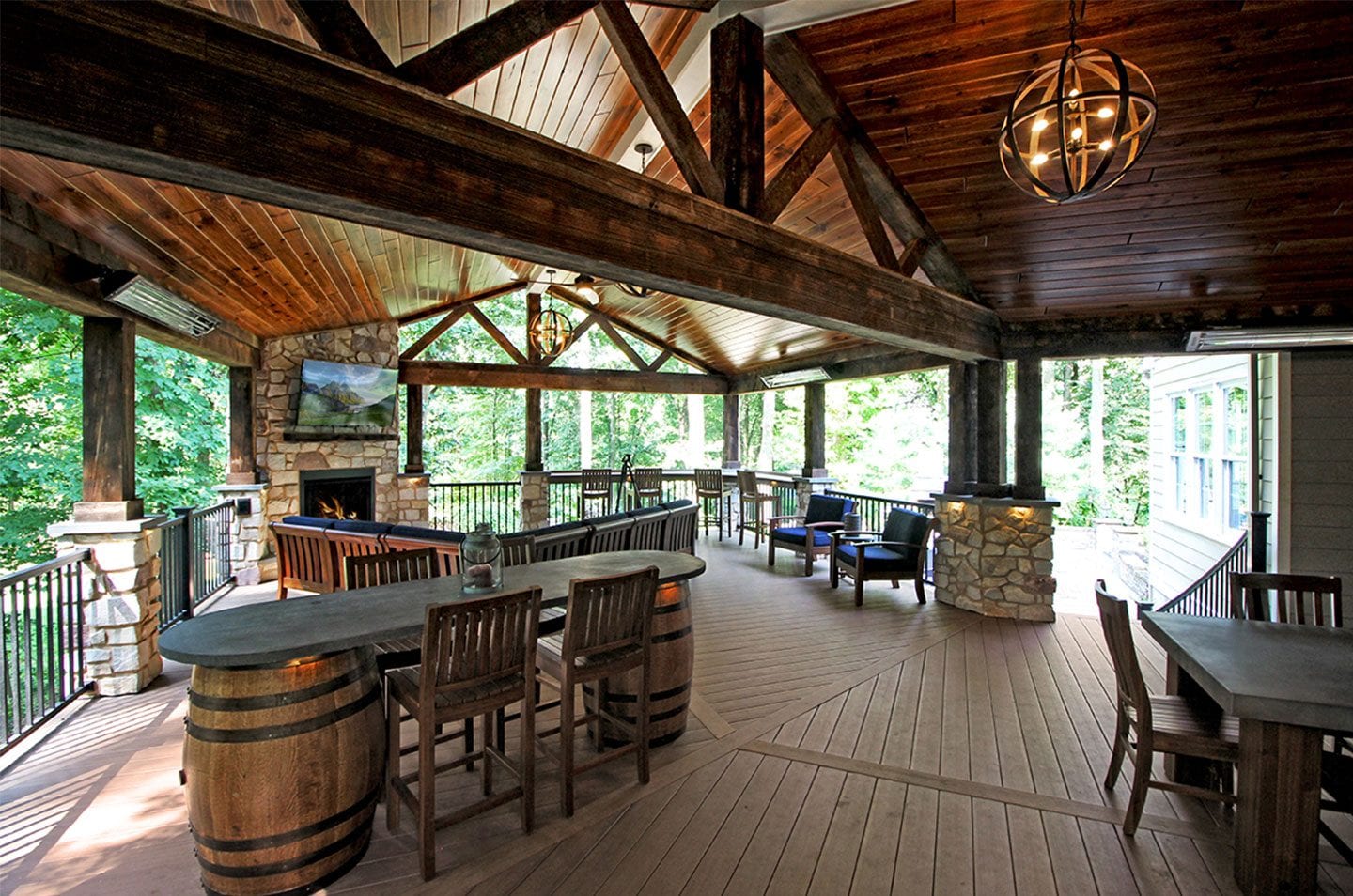 Outdoor Televisions
The outdoor living philosophy is all about enjoying everything you love to do inside your home…outside. Getting together with friends to watch the game or a movie is even more fun on your deck, porch, or patio. That's why outdoor televisions are a much-loved deck add-on for numerous types of spaces. Our outdoor-tough televisions are popular both on exposed decks and under covered patios.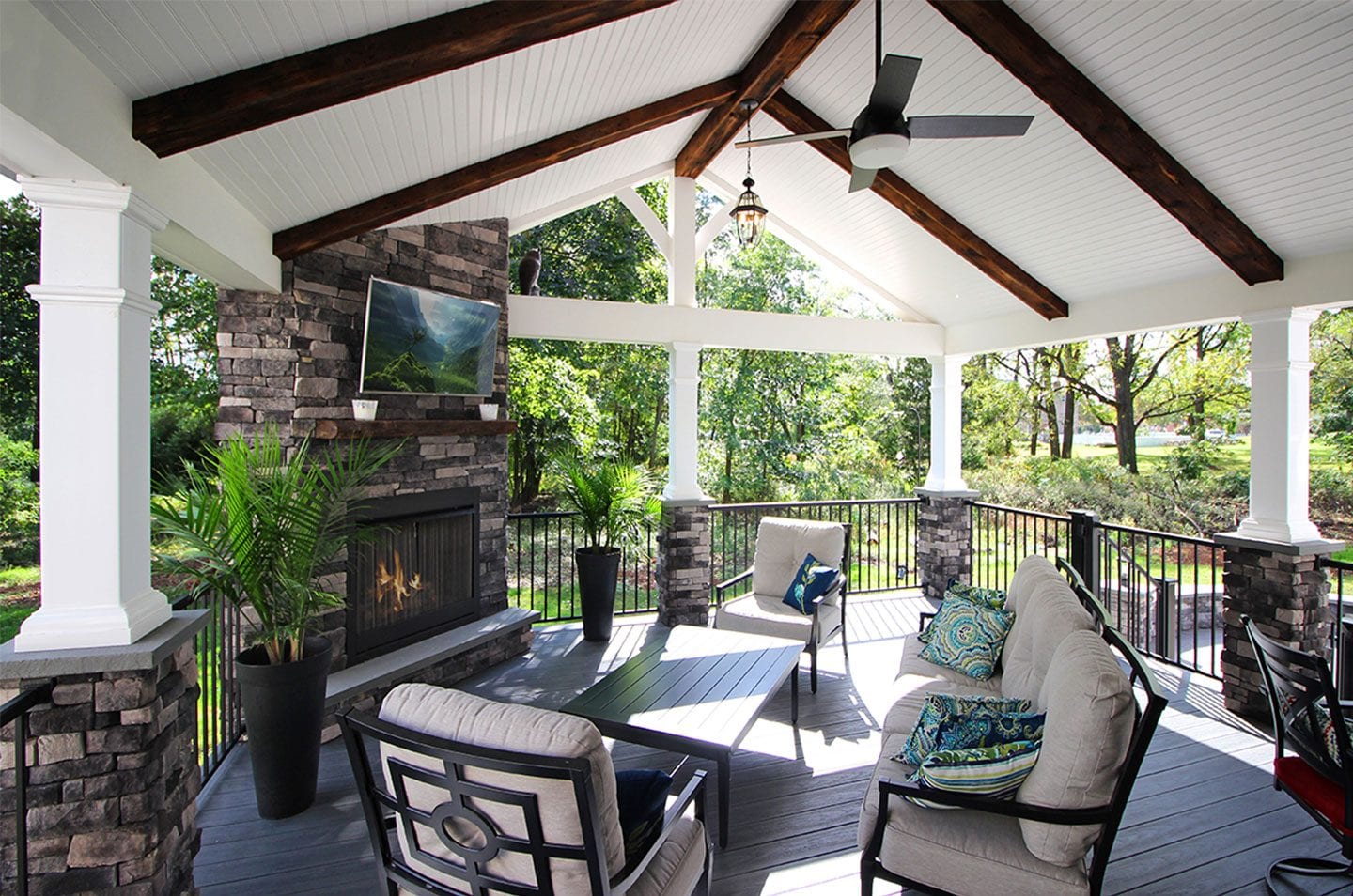 Built-In Grills on Decks
Before, you would have to roll your charcoal grill out onto your deck when you wanted to barbecue. Now, grill masters can enjoy a built-in grill on their decks and so much more! While a built-in grill is undeniably the most popular culinary add-on, we have built kitchens for outdoor chefs that include pizza ovens, griddles, side burners, refrigerators, and almost anything else you can imagine! Combine one or more of these with built-in deck seating for the feel of your own personal backyard restaurant.
See more of our outdoor kitchen designs.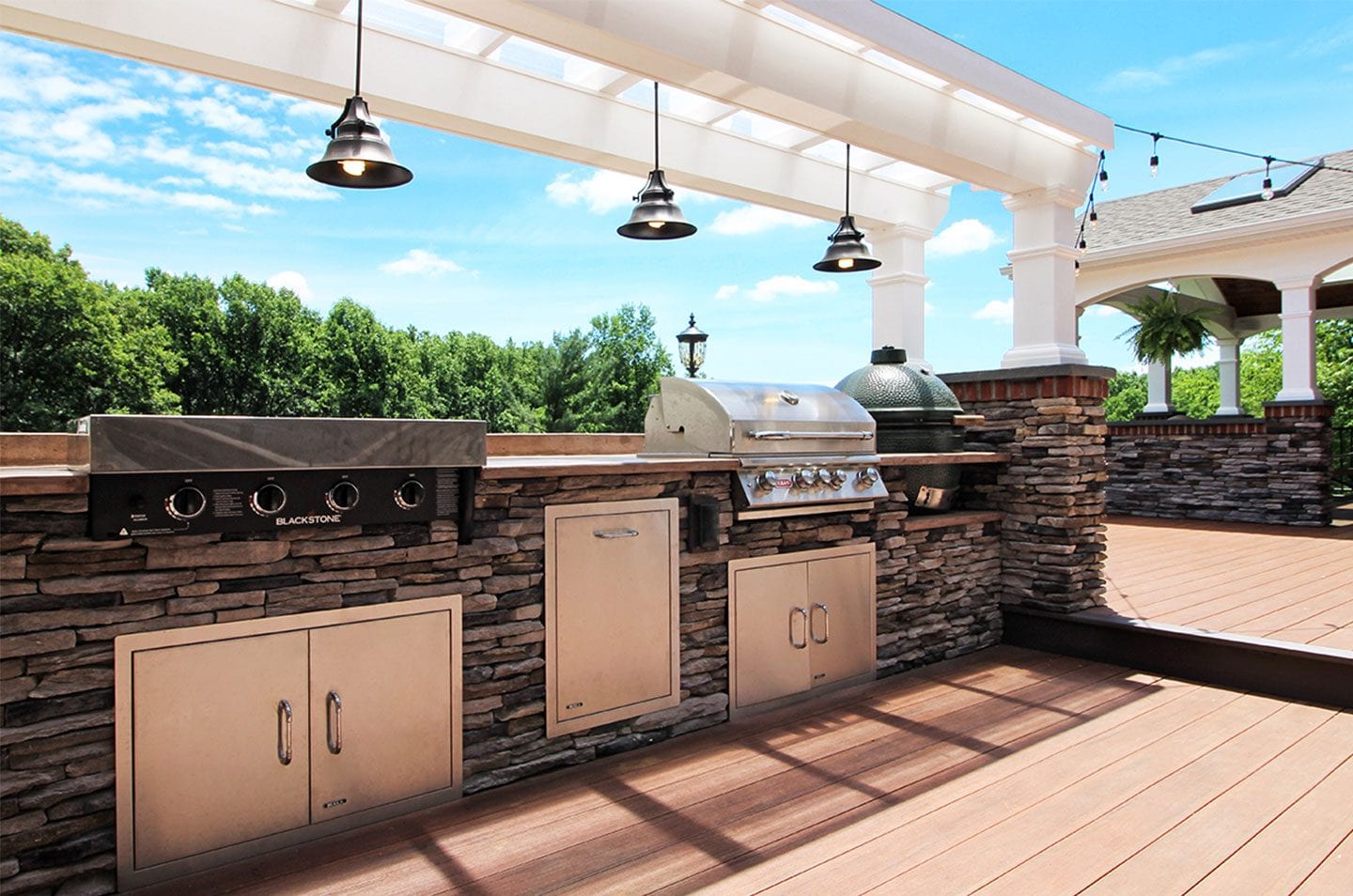 Hot Tubs
A true staple of outdoor living luxury, a hot tub is a dream-come-true addition for many homeowners. Simply put, nothing melts away the stress from a long day quite like relaxing in your hot tub on your secluded deck, taking in an amazing view. We've included numerous built-in hot tubs on a wide variety of porches, patios, and decks. Due to the structural challenges of building a hot tub off the ground, this is one deck add-on that few deck contractors attempt — but we love to incorporate it for our clients!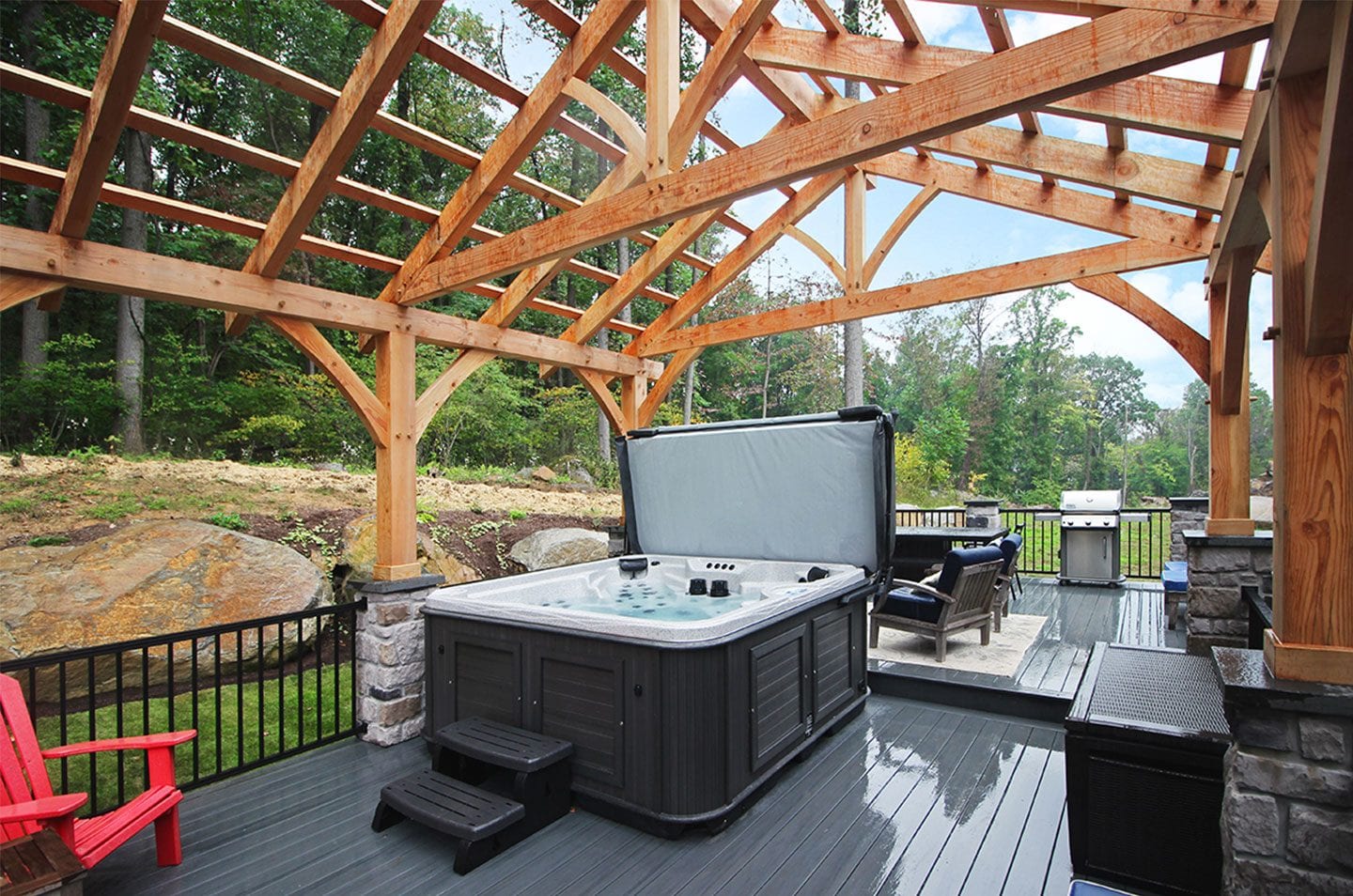 Fireplaces
Unbeatable ambiance with the option to roast marshmallows. Adding fireplaces and fire features is a small touch that can quickly become the focal point of your whole outdoor space. While buying a portable fireplace after the fact is always an option, you lose the ability to incorporate it in your design. Whether the fireplace is the cornerstone of your outdoor living space under a covered porch — or the showpiece of your gorgeous hardscape — building it right adds so much value to your space.
If you have an idea for a deck addition you didn't see here, just ask about it. Whether it's a sophisticated solution for built-in deck seating, another kitchen accessory, or something else, we'd love to hear your ideas!
Bring Your Deck and Deck Add-Ons to Life with Keystone
Every single one of these HGTV-worthy decks started the same way: a conversation. From the overall style to the individual deck add-ons, we discuss every touch with our customers. The first step towards your dream-come-true deck is a free in-home consultation with one of our skilled exterior designers.
Reach out today to start the conversation — and to request your FREE consultation!