Elevated decks and porches can bring a fantastic outdoor living style to your home. If you need proof, just feast your eyes on this stunning elevated deck and porch combo.
However, along with that one-of-a-kind style, two-story decks also bring questions like: are elevated decks safe — and what can I do with one? As one of the premier luxury outdoor living companies, we've installed more second story decks than anyone — we're the perfect resource to answer your questions.
First of all, let us put your mind at ease: elevated and two-story decks are perfectly safe. Learn about all of the options and styles that are only possible with a custom above ground deck!
Elevated Deck Styles and Uses
An elevated deck has the potential to provide a nuanced style through the multi-level design. In addition to that, an above ground deck provides you with more ways to enjoy your outdoor space. Here are some of the main styles and uses for these two-story designs:
Sundeck + Shaded Sitting Area
While your main sundeck will earn the majority of the attention, the underside of your above ground deck can serve as a great secondary seating area. This combination is the most common style for two-story decks. At Keystone Custom Decks, we install our elevated decks with water diversion systems to keep the underside of our decks 100% dry and perfect for entertaining. See how this first floor sitting area complements the elevated portion of the deck.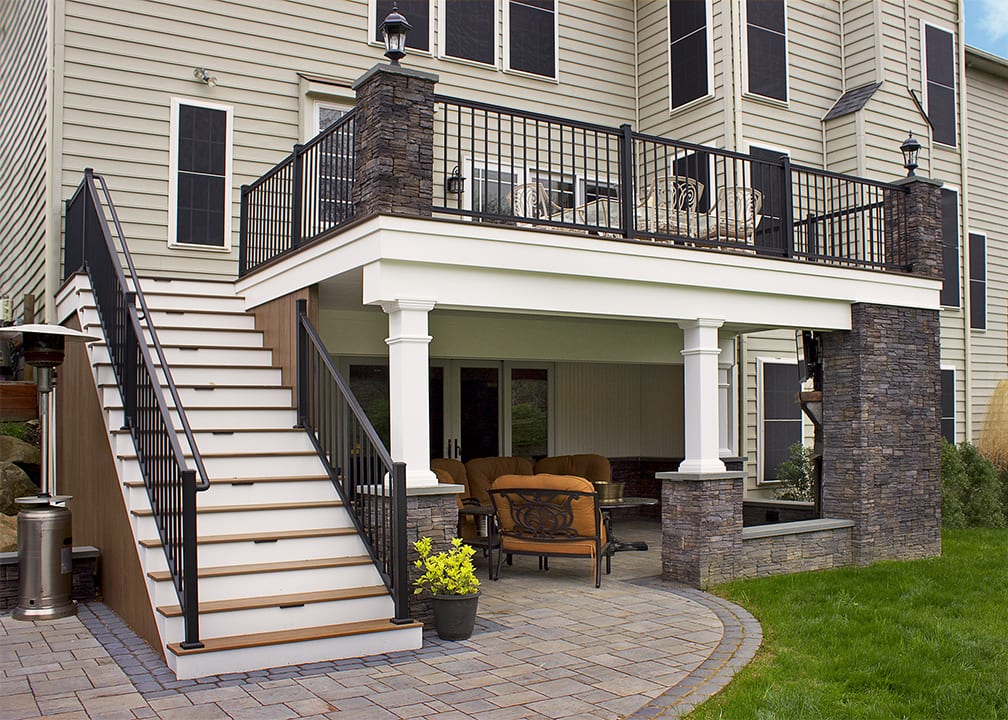 In addition, having an elevated screened-in porch is another great twist on this classic above ground style.
Elevated Perspective on Your Backyard
An elevated deck can bring you a new perspective on your outdoor property. Your outdoor space is all about relaxing outside and getting the most of everything your property has to offer — the right elevation can make that happen. See how this above-ground deck provides a great vantage point to enjoy the greenery of this beautiful property.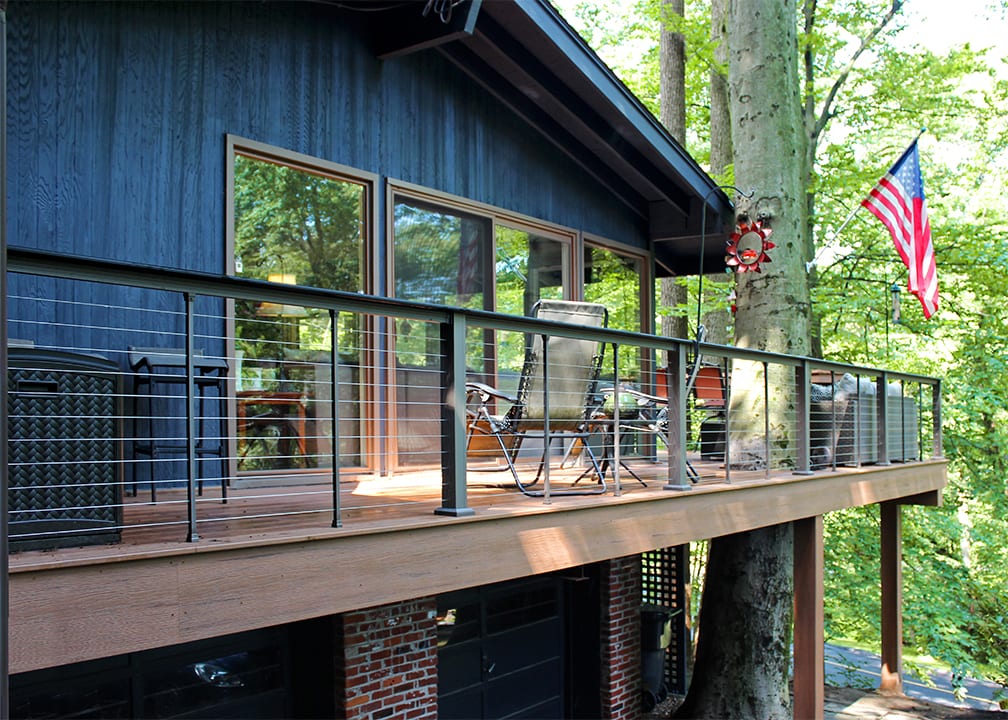 Outdoor Storage Space
Not only will your above ground deck or porch look stunning — it can also serve as much-needed outdoor storage. Unless you utilize your ground-level space as a sitting area, it may go to waste. Many homeowners like to stash lawn furniture, tools, and outdoor games under their decks. See how this deck is the ideal height to be a peak entertainment destination — and a bonus storage space.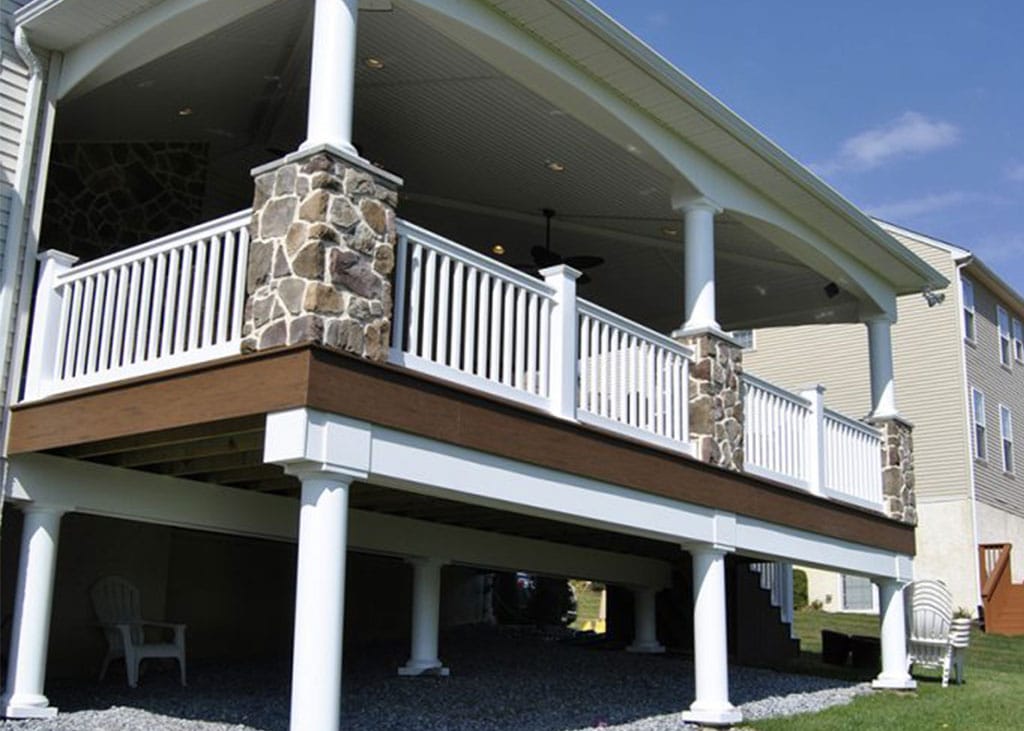 Ground Floor Porch
While the most popular style of elevated decks features an open first floor, sometimes homeowners like to flip the script. In this case, homeowners complete their two-story decks with an enclosed ground floor porch. This allows full sun exposure on the main deck and a weather protected sitting area down below.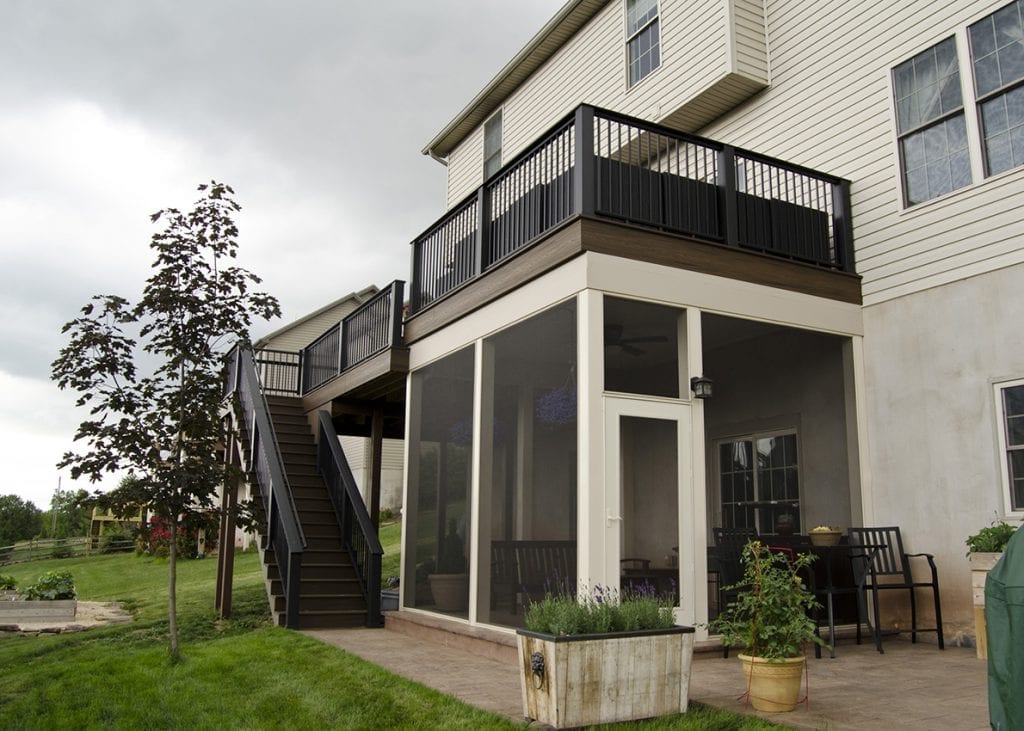 Safety Features for Elevated Decks and Porches
Deck Railing System — This is one of the most important safety features for elevated outdoor structures. In order to prevent falling, the rail height must stand at least 36 inches high. Official requirements say that railings must be able to withstand 40 pounds of direct pressure per square foot. To maximize safety, Keystone Custom Decks mounts the railing system to the deck frame using a steel plate attachment. This reinforces the railing to be able to support more direct weight. See some of our stylish railing options.
Pressure Treated Frame — The frame of your deck needs to be durable enough to handle decades of foot traffic. Even for composite decks, pressure treated lumber is the frame material. This is another place that Keystone Custom Decks exceeds the basic requirements. While most deck installers use basic UC4B rated lumber, we use the heavy-duty UC4A lumber for the foundations on all of our decks.

Higher grade pressure treatment allows the deck frame to stand up to rot and decay. This is a crucial advantage for your deck in wet conditions. In addition, for both style and water resistance, we wrap all of our pressure treated supports in vinyl sheathing. Inferior wooden foundations start to break down and rot out — while the composite or vinyl deck boards are going strong. Simply put, we build our decks to last for decades — our deck frames need to have the durability to match.

Joint Spans — The joints do the crucial job of supporting weight on the deck itself. If the joints are placed too sparingly or too far apart, the deck floor itself can bow downward. That's why elevated deck building codes set values for the span of floor joints. At Keystone Custom Decks, we far exceed the safety precautions set by building codes. Our joints span 75% of what is allowed, meaning more complete coverage — and the safest elevated structure.
Attachment to Home — While we want you to feel like your outdoor living space is an extension of your home, it is a separate structure that does need to be firmly attached to your house — or the results can be disastrous. Elevated structures are at a greater risk to come apart from the house than ground level decks.

At Keystone Custom Decks, we utilize ultra-durable Simpson Screws and Simpson Fasteners to secure the elevated structure to your home. Using insufficient fastening methods such as nails or improper screws leaves your renovation project in serious jeopardy. If you're building the two-story deck of your dreams, this is no place to skimp on quality.

Concrete Footing — So much of the strength of a wooden frame comes from the concrete footing around each post. This allows the posts to remain stationary regardless of stress or wind conditions. This is one other aspect in which we go above and beyond what is required and what is typical of the industry. Standard concrete footings are 8 inches thick — our concrete footings are 12 inches thick. The added thickness ensures better overall performance of the important footings.
What if a Deck Contractor Doesn't Follow Building Codes?
Every single one of our outdoor structures — elevated or not — meets or exceeds local building codes. However, smaller contractors who don't install many decks or porches might not be as familiar with the nuances of the code. They're glad for the work but might not have the expertise to make sure the project is legal and safe. When you apply for a building permit, you sign a contract agreeing to adhere to relevant building codes.
So, what happens if your deck violates building codes? First and foremost, building codes are designed to keep people safe. If your project is built below the standard of building codes, it may not be safe for you and your guests. Secondly, if your project doesn't comply with building codes, it will likely fail the final inspection. If the inspector doesn't approve your project, you will be legally required to make improvements before you can use your deck or porch. Few things can be as frustrating as investing time and money into your deck, only to learn you can't legally use it.
Learn more about how we help you apply for a building permit.
Elevated Deck and Porch Installers
If you're looking for a partner to build your elevated deck or above ground porch, you've found one. Not only do we build the most visually stunning decks, but we build the safest ones as well. Few deck builders feel comfortable tackling ambitious elevated or two-story projects. We love it.
See more of our gorgeous finished decks — and start the conversation today!