Choosing the Right Deck Size and Height
Designing and planning your perfect deck takes careful consideration. You want your outdoor space to be a magazine-worthy showpiece that impresses everyone who sees it, but you also want the dimensions to be a good match for your home and how you'll use the space.
At Keystone Custom Decks, we help homeowners conceptualize and design every aspect of their dream-come-true outdoor living spaces. Selecting your deck height and deck size may not be as exciting as deciding on the style or the deck color scheme, but it is just as important.
Learn how to estimate the deck size and height you need — and start planning today.
Selecting Deck Size Based on Your Needs
"Custom decks" is in our name because every single project we build is custom. How you plan to use your deck is the primary factor in determining the right deck size for your project. Whether you want to build an outdoor kitchen and dining room to rival your indoor rooms, or you'd rather build an in-demand space to entertain your friends, your new deck's purpose will determine its dimensions.
One of the best ways to start estimating the deck size is by adding up requirements for all of the different features you plan to use.
If you want to incorporate a full dining room table for 6 to 8 people onto the deck, you'll want a minimum of a 12'X14' section for that.
Another popular feature is a multi-piece outdoor kitchen. While the dimensions vary depending on how many cooking stations and add-ons you plan for, we say that an outdoor kitchen will add about a 10'X6' section onto your deck size.
However, if you just want a grill, you only need to add an extra 3 square feet onto the deck. See how this small grill works well with the rest of the deck.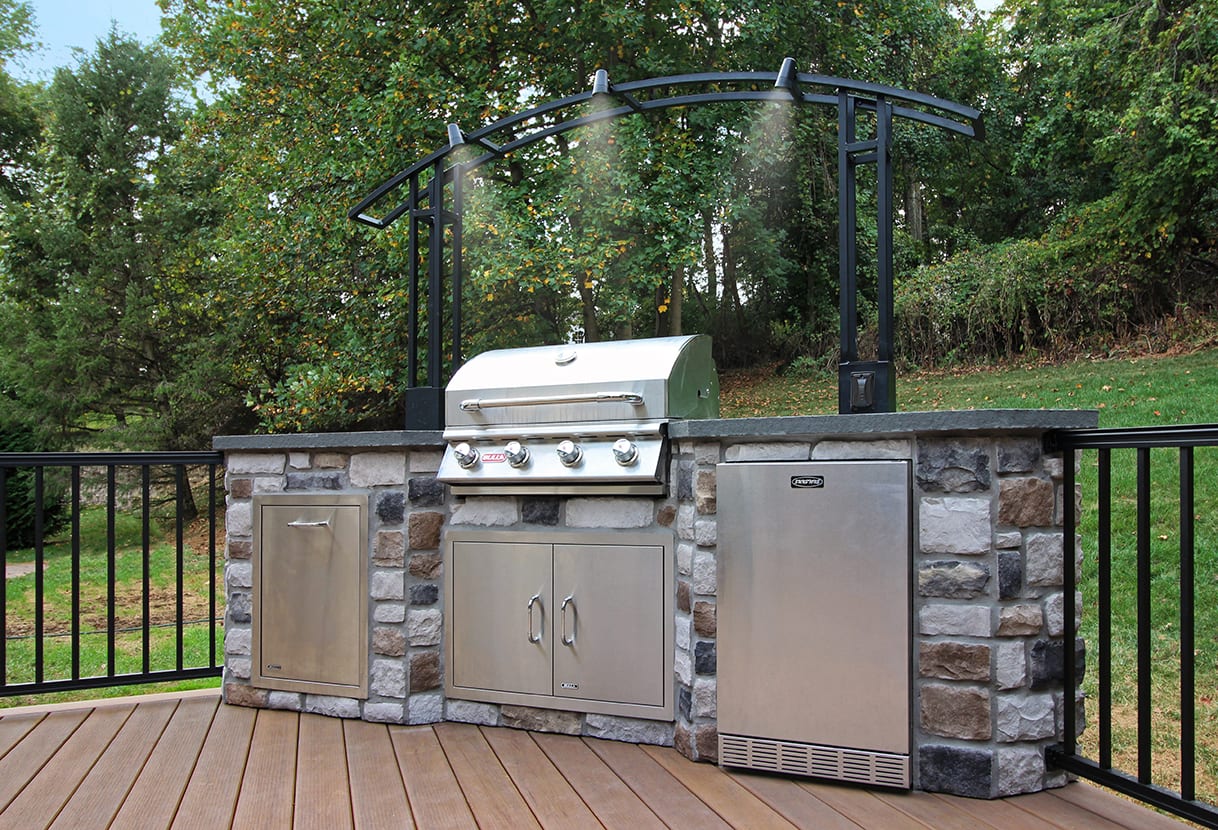 Adding an in-ground or above-ground hot tub to your deck is one of the most exciting possibilities. However, you'll need to account for the space when planning your overall deck size. The average hot tub is about 7 or 8 feet on each side, and we recommend at least 2 feet of clearance around it. This adds approximately an extra 12'X12' space onto your deck.
Fire features are an increasingly in-demand deck accessory that enhances how you and your guests will enjoy your space. Adding a fire feature and seating around it generally increases the deck footprint by 12X14 feet.
When designing a deck for entertaining, some homeowners feel inspired to add these unique circular conversation nooks onto the main deck surface. This area provides a place to get away for some quiet conversation — and it is a fantastic spot for additional seating and a fire feature. We recommend planning for an additional 16X3 feet onto the overall deck size.
Picking Deck Height Based on Your Home
While selecting the deck size is a matter of planning out what features you can't live without, choosing the right deck height is more about creating a design that flows well with your existing house. Generally, you'll want to design a deck at a height that is flush with the floor inside your home.
If you're building a ground level deck, you'll most likely want to connect it to a walkout basement or the first floor living space. If you're planning to build an elevated deck, you'll want to have a second story exterior door to connect to it. Building a two-story deck essentially requires that you match both levels to a floor in your home.
We often warn homeowners against connecting an elevated deck to a walkout basement. While the vast majority of bold custom designs are fantastic, this one creates a serious deck height challenge. Having a steep set of stairs jutting from the basement creates an odd look and feel, as well as poses a safety risk. However, our skilled deck designers can always see your specific space and work with you to create a unique deck height that is natural to use and at the right height for you.
Free Deck Design Consultation and Rendering
At Keystone Custom Decks, we start every project with a conversation and consultation. After the in-person meeting, our deck designers can create a custom outdoor space tailored to your style and how you'll use the space. In addition, to present you our ideas, we provide every homeowner with a full 3D rendering of their deck showcasing what their house will look like complete with their dream outdoor space.