While you might spend more time planning your deck's color scheme or sense of style, porch and deck seating options are a key element of deck design. After all, if you're building a stunning outdoor space to relax, you're going to need a place to sit down... and relax.
At Keystone Custom Decks, we design outdoor spaces that not only look as amazing as what you'd see on HGTV, but that you'll really enjoy almost every day. The right deck and porch seating is a crucial component of how you'll use your deck, porch, or patio every day. See the most popular options for seating — and how they enhance your overall design!
5 of Our Favorite Outdoor Seating Options
Comfort can be a thing of real beauty. Whether it's built into the custom deck or it's the perfect furniture find, the right deck seating contributes to the magazine-worthy look of your space — and makes it even easier to spend all of your time there. See some of our favorite outdoor seating options and get inspired!
[faux-h2-blue]1. Stone Bar and Bar Stools[/faux-h2-blue]
Truly classic, a built-in bar is an anchor for all your outdoor entertaining — and it solves your seating problem, too. Whether you serve up cocktails or burgers, your guests will love having a seat at the bar. A stone bar is an ideal choice as it will last as long as the deck itself and will look gorgeous the entire time.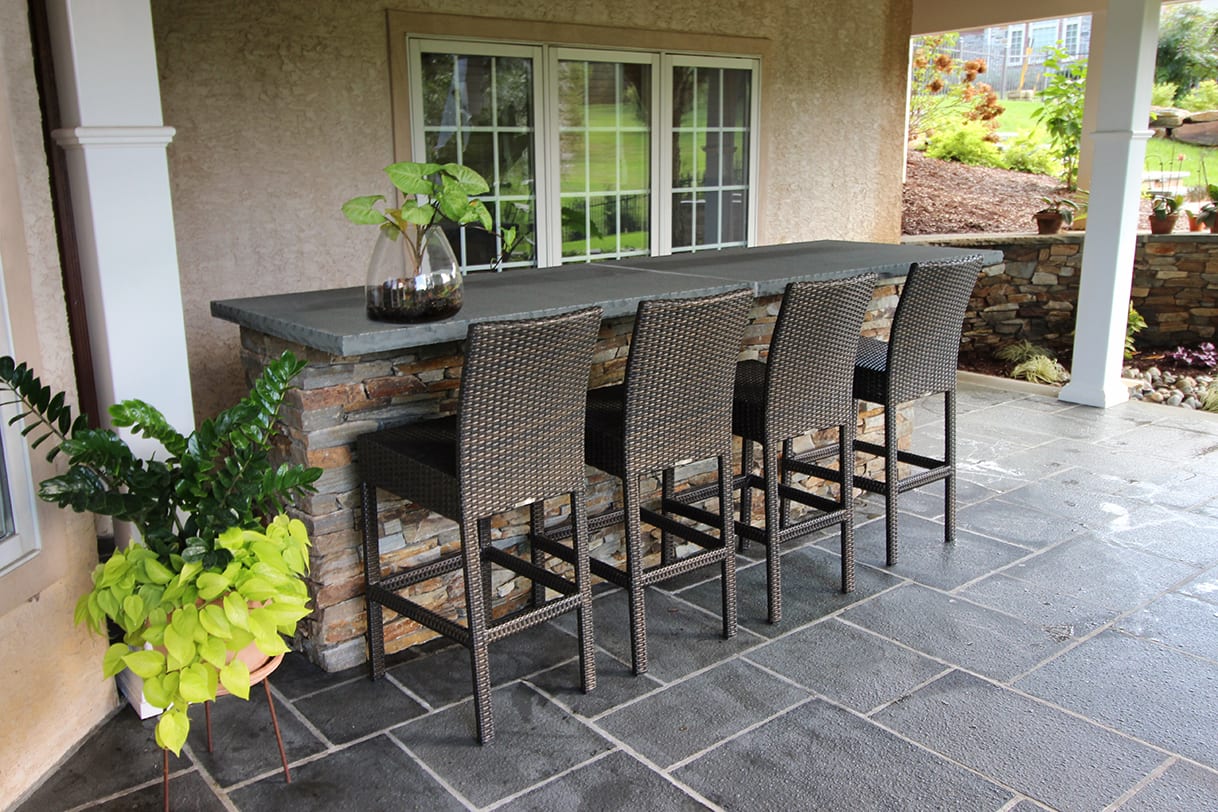 [faux-h2-blue]2. Wicker Outdoor Furniture[/faux-h2-blue]
A practical and stylish choice, a wicker outdoor furniture set is one of the best deck accessories for seating. Since it's made for the outdoors, this furniture can survive years in the sun and the rain and still keep its color and good condition. This wicker outdoor furniture can make an eye-catching addition to more neutral colored decks and patios.
[faux-h2-blue]3. Built-in Benches[/faux-h2-blue]
This one-of-a-kind deck seating option comes built into your space, providing you with a unique seating option as well as a striking aesthetic touch. This wood and stone bench plays off the main material themes of the covered porch. Our favorite porch seating options always have an element of stylistic enhancement — after all, practicality and style are our guiding principles.
[faux-h2-blue]4. Covered Space Couches[/faux-h2-blue]
The philosophy behind the outdoor living movement is to bring the comfort of the indoors outside. If you're building an outdoor living room, you're going to need a big and comfy couch. When protected from the wind and rain by a covered porch, you can decorate your space with an indoor luxury couch. For even more of a living room feel, complete your space with a TV and a fireplace!
Learn more about popular covered porch ideas.
See more elevated deck designs.
[faux-h2-blue]5. Aluminum Furniture[/faux-h2-blue]
An elegantly simple solution, aluminum furniture solves the problem of deck seating and provides a stylish cool color palate. In addition, this resilient type of furniture is easy to move, so you can change-up the seating arrangement on the spot. Whether you opt for traditional black aluminum or another shade like this gorgeous crème hue, you'll appreciate the look and the practicality.
Visualize Your Deck in 3D
When you're building a dream-come-true outdoor living space, every detail matters. From the huge choices like deck color scheme to the small ones like porch seating, you make every choice carefully. That's why we always provide our clients with a full 3D rendering of what their project will look like when finished — that way they know they'll love it, down to the smallest detail!
Discover ALL of Your Deck Seating Options
Whether you're in the initial design phase or you're planning out the minute details like deck seating, we'd love to have a conversation. Feel free to give us a call, drop us a line, or visit our brand-new showroom. Our deck designers are standing by to work with you to bring your dream-come-true space to life!