When you're planning your dream outdoor space, one of the best ways to get started is by looking at other deck projects you love. You'll want to do your research, noticing the big and little things alike that you'll want to incorporate in your own space. If you need some porch and deck inspiration, you're in the right place — feast your eyes on some of our favorite projects!
At Keystone Custom Decks, we build luxury outdoor spaces for homeowners throughout Pennsylvania and New York. Every single deck, porch, and patio is a dream come true for our clients. While we consider every project to be a masterpiece, we picked a handful of our favorite designs to excite your imagination!
7 Deck Projects We Love — And You Will, Too!
We build outdoor living spaces that look absolutely stunning and change the ways people spend their time outside. Every single one of our designs is meant to showcase the client's personality and tastes — as well as what they like to do. See some of our favorite porch, patio, and deck projects, ranging from simple to sprawling:
1. Paver Patio and Elevated Deck Combo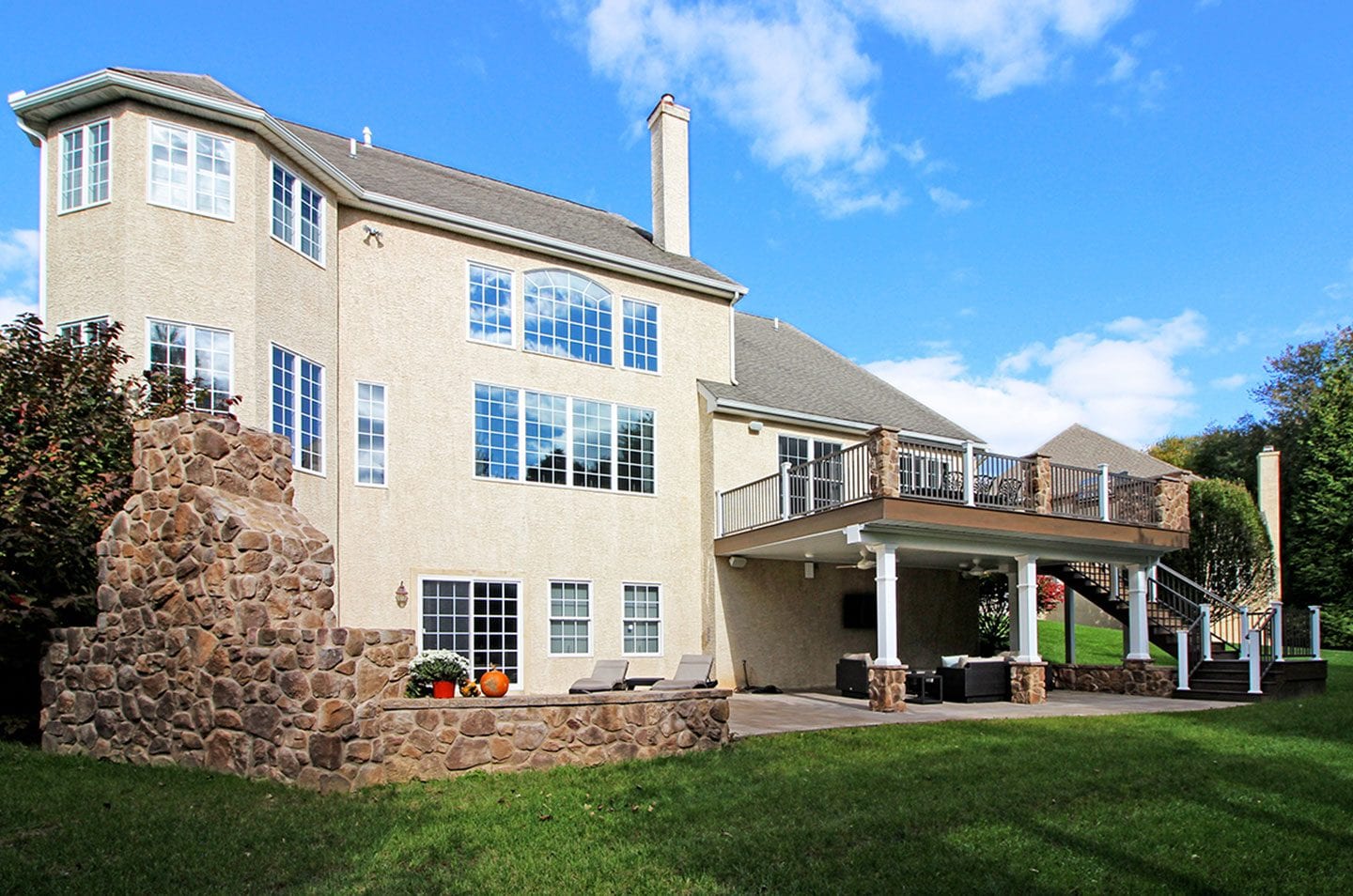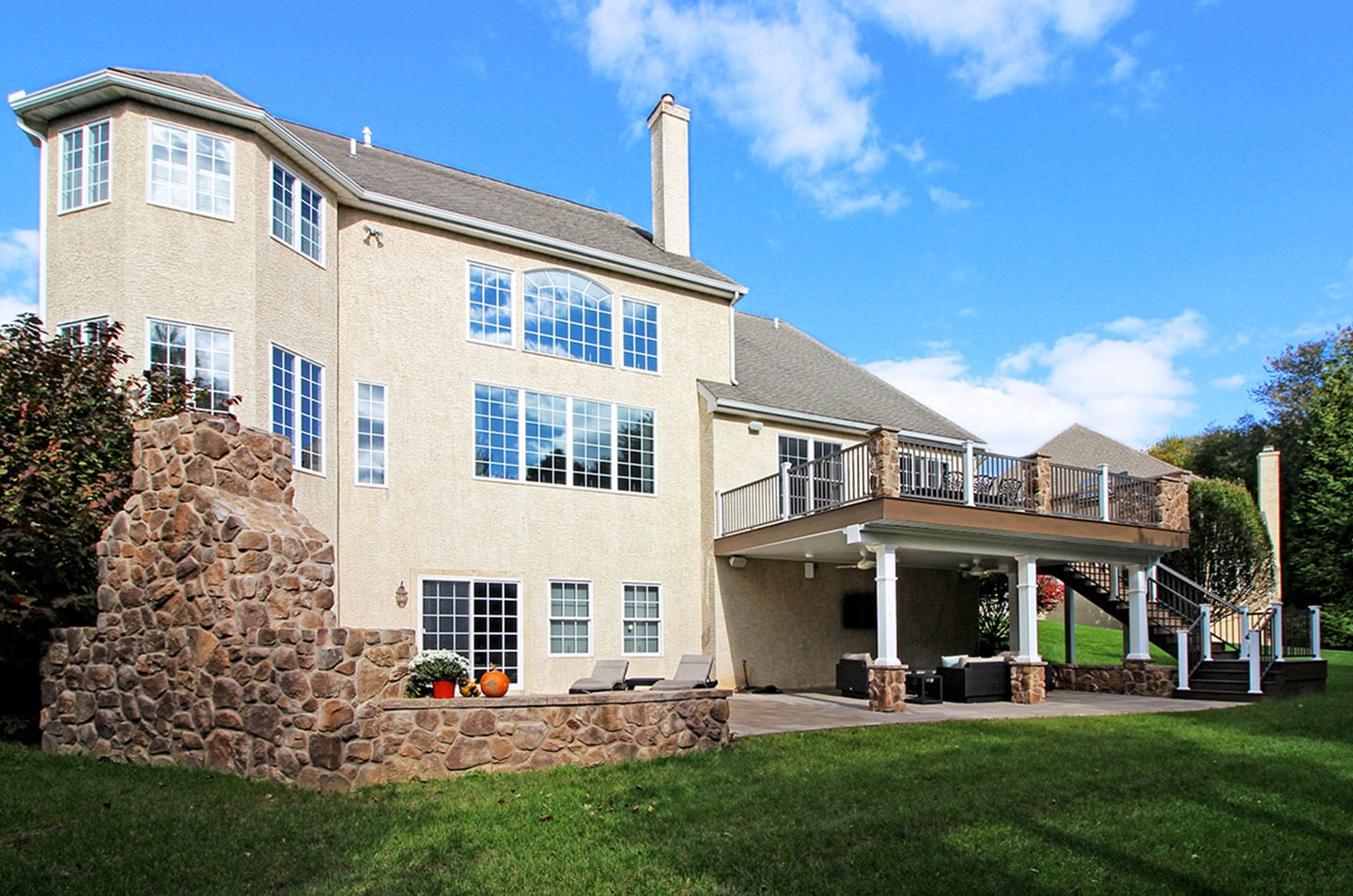 One gorgeous deck project with three unique ways to spend your time outside. On the sundeck, on the exposed hardscape, and on the outdoor living room under the deck itself — all three spaces are beautiful yet practical. Pay close attention to some of the smaller details such as the firepit and fireplace on the patio and the built-in grill!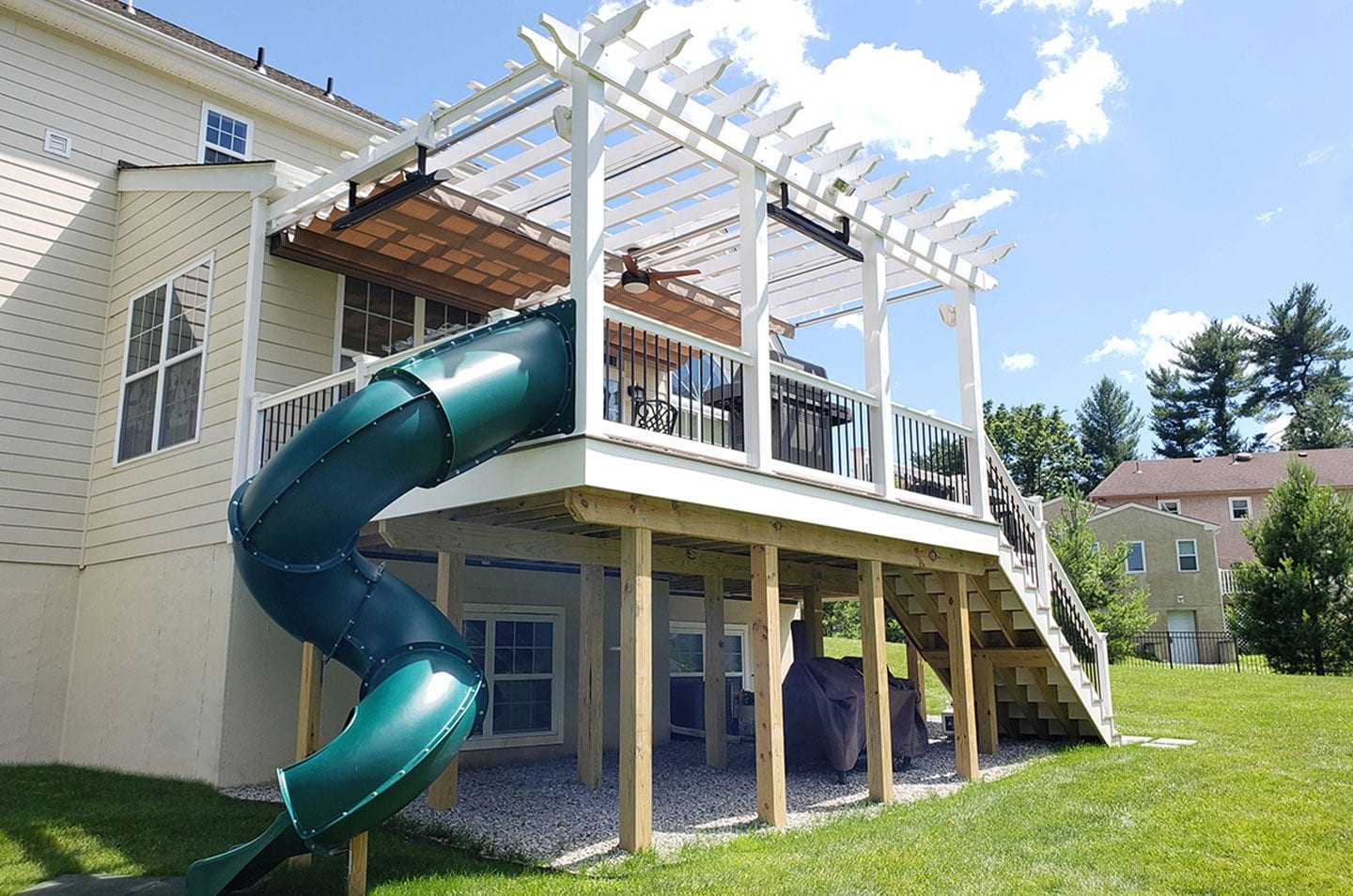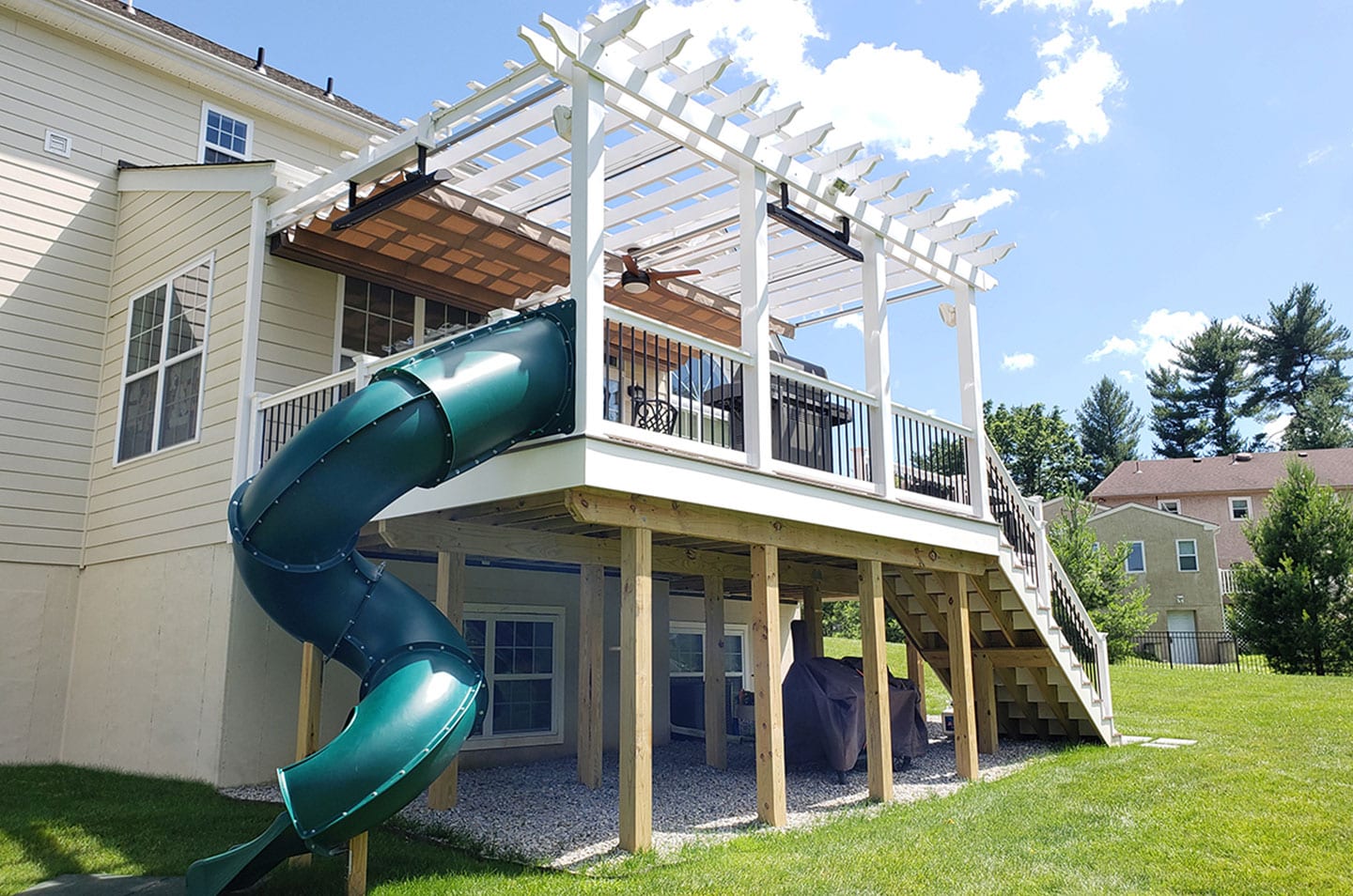 Family and fun came together in a deck that was a first for Keystone. This project marked the first-ever instance of us building a slide into one of our deck projects. The homeowners designed this deck to make a place of family fun and family bonding. You can see these elements throughout the entire design, from the open sitting area to the pergola-shaded outdoor dining room.
3. Expansive and Elegant Poolside Oasis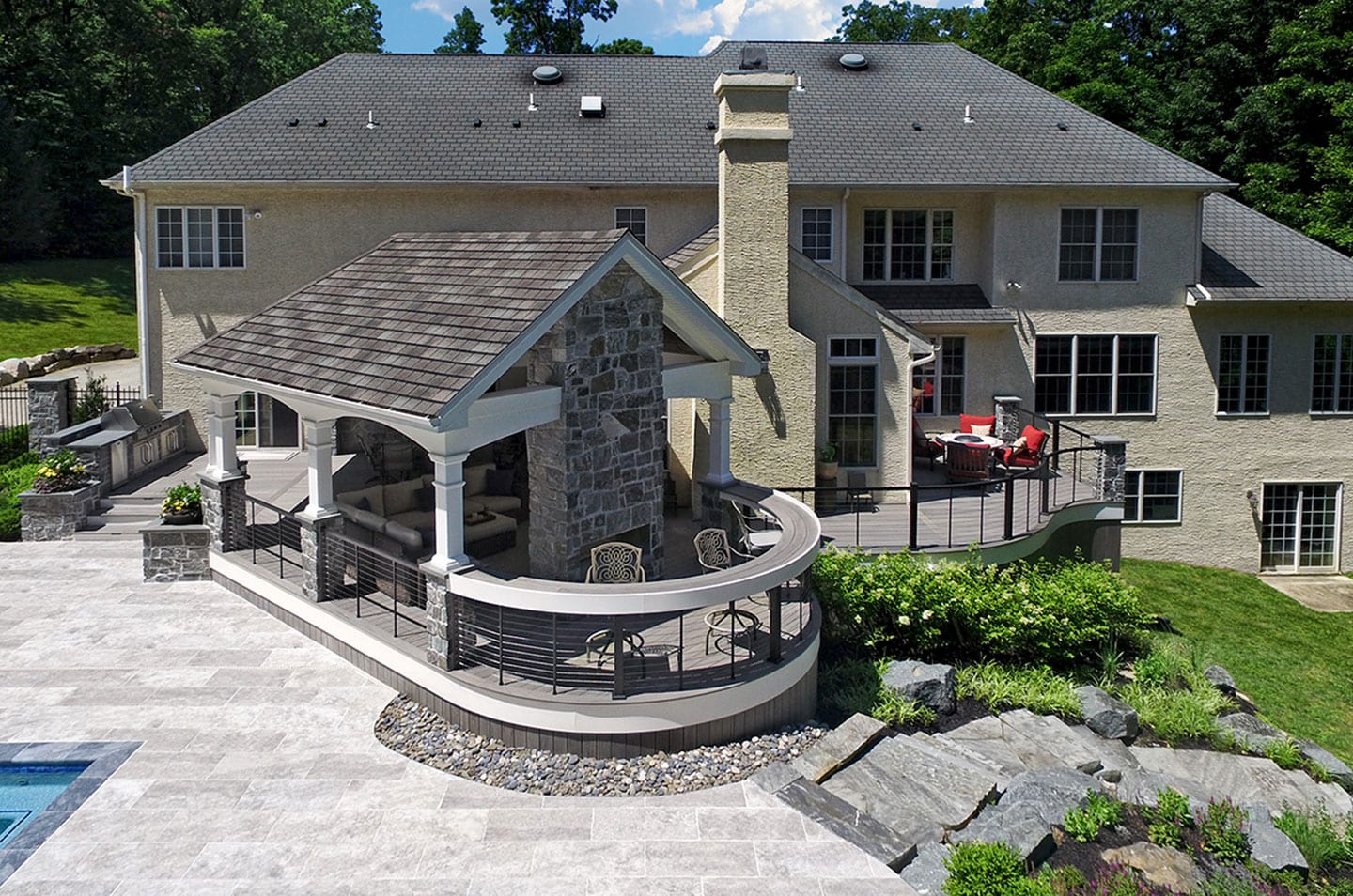 A truly ambitious project, this is a great piece of deck inspiration for those with unique tastes. This space features an exposed deck, a covered deck, and tons of interesting touches. First, notice the two-sided fireplace which can be enjoyed from the outdoor living room and the bar area. Next, check out the curved deck and drink rail overlooking the pool itself. Finally, take a look at the Skyvue outdoor TV mounted on the stonework. This deck is meant for spending unendingly blissful days enjoying the space all summer long.
See the 3D rendering from the design of this space.
4. A Simple Rounded Deck and Patio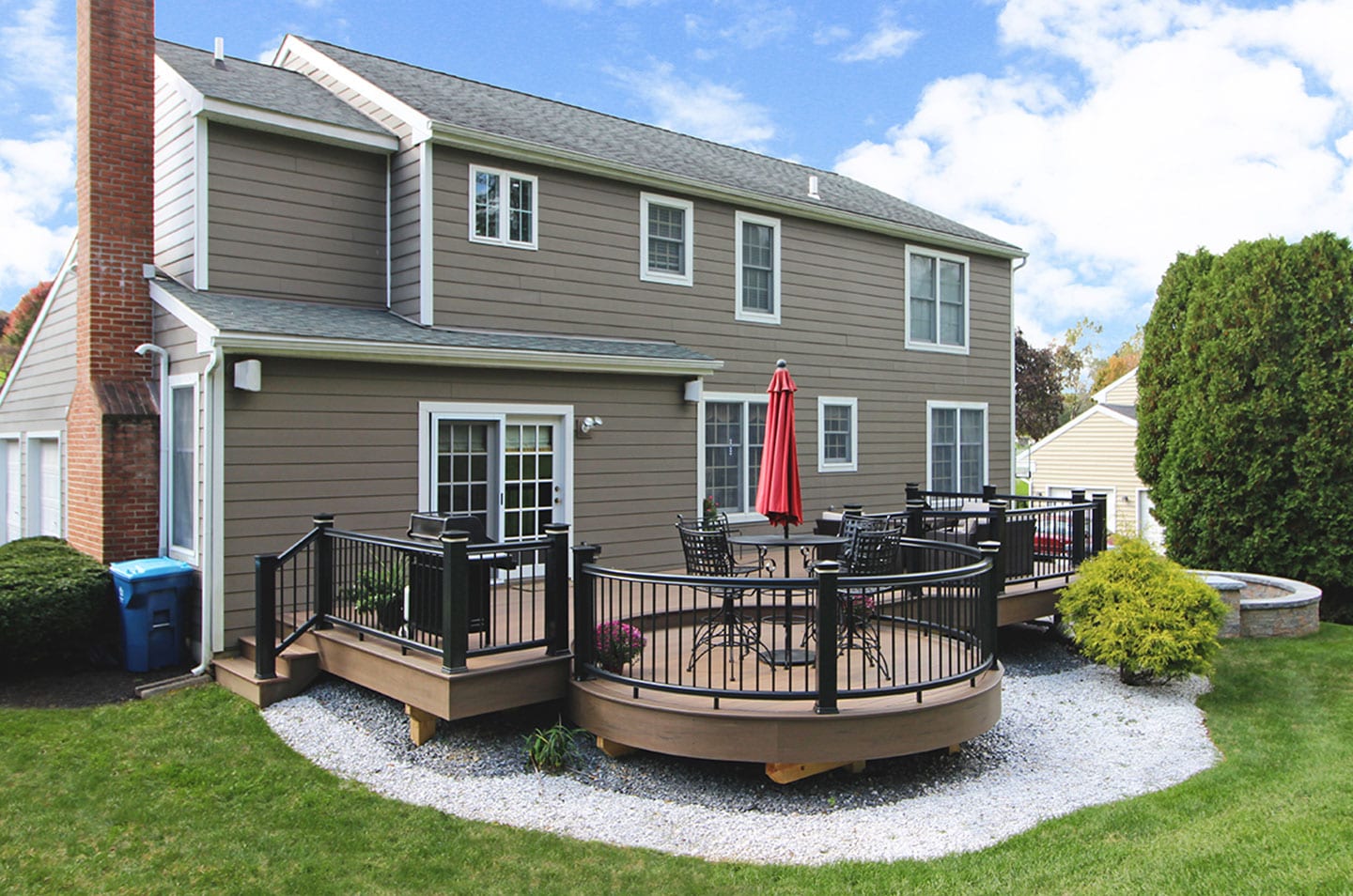 A fairly modestly-sized project with a massive sense of style. This outdoor living space balances a rich pecan-colored deck with a hardscape. The standout element in this space, however, is the circular design of both the patio and the dining nook on the deck.
5. Fully-Equipped Elevated Outdoor Living Space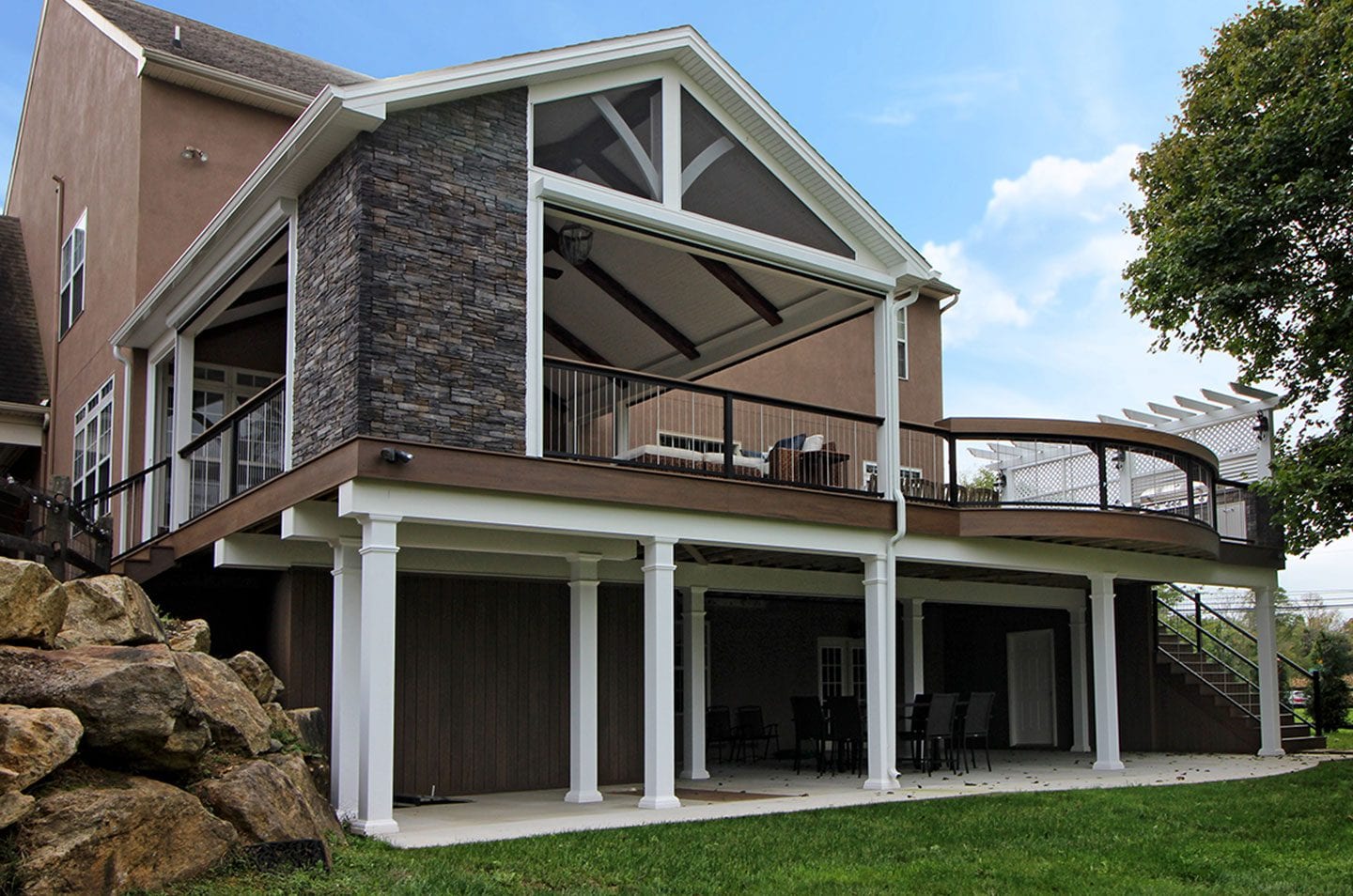 Everything about this elevated deck is unique and showcases the homeowner's personality. Outdoor dining and entertaining were the passion of this family, which is why this space boasts a complete kitchen setup and ample room for guests around the table. Plus, they paired it with a covered seating area, perfect for keeping the party going.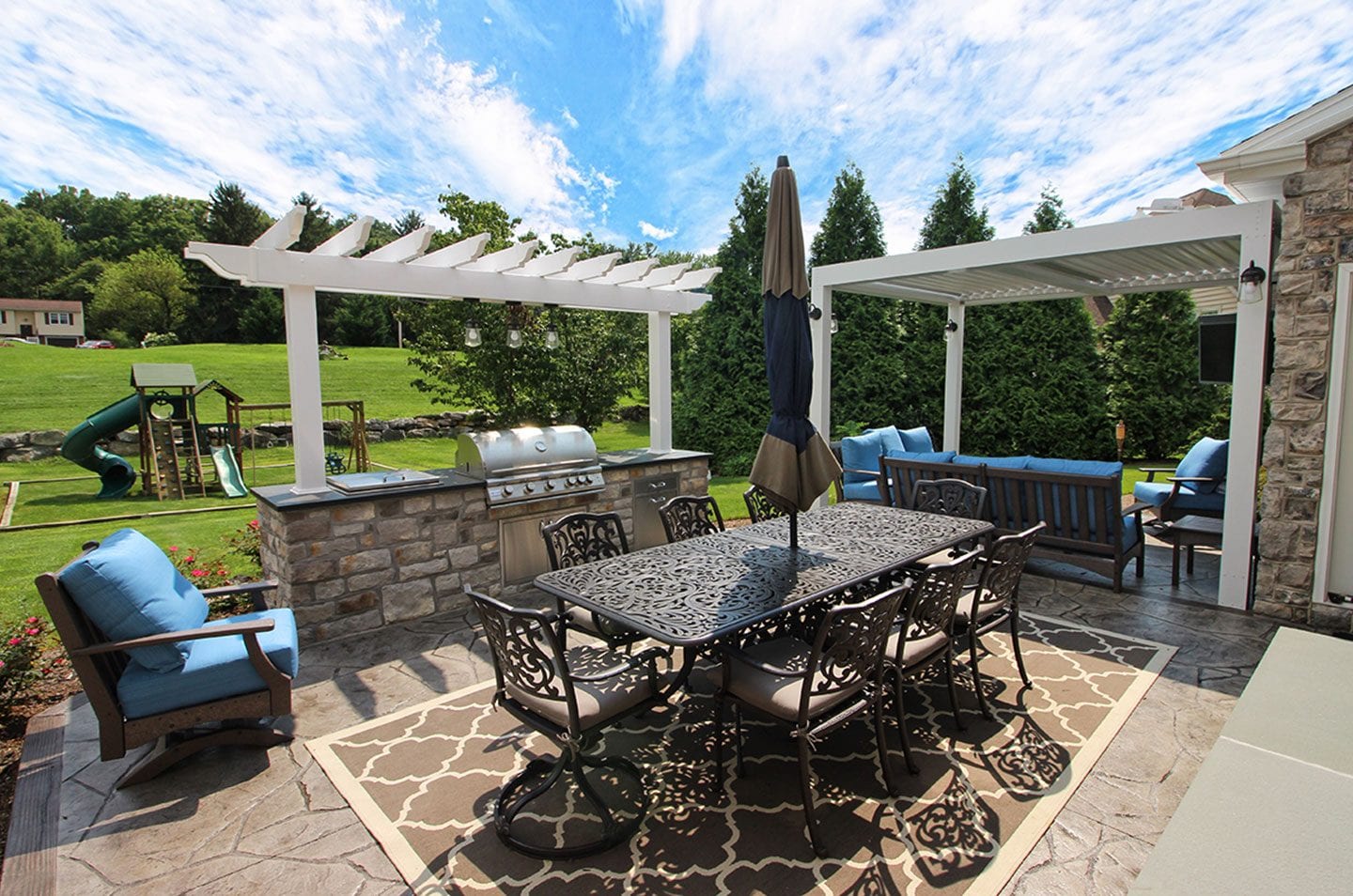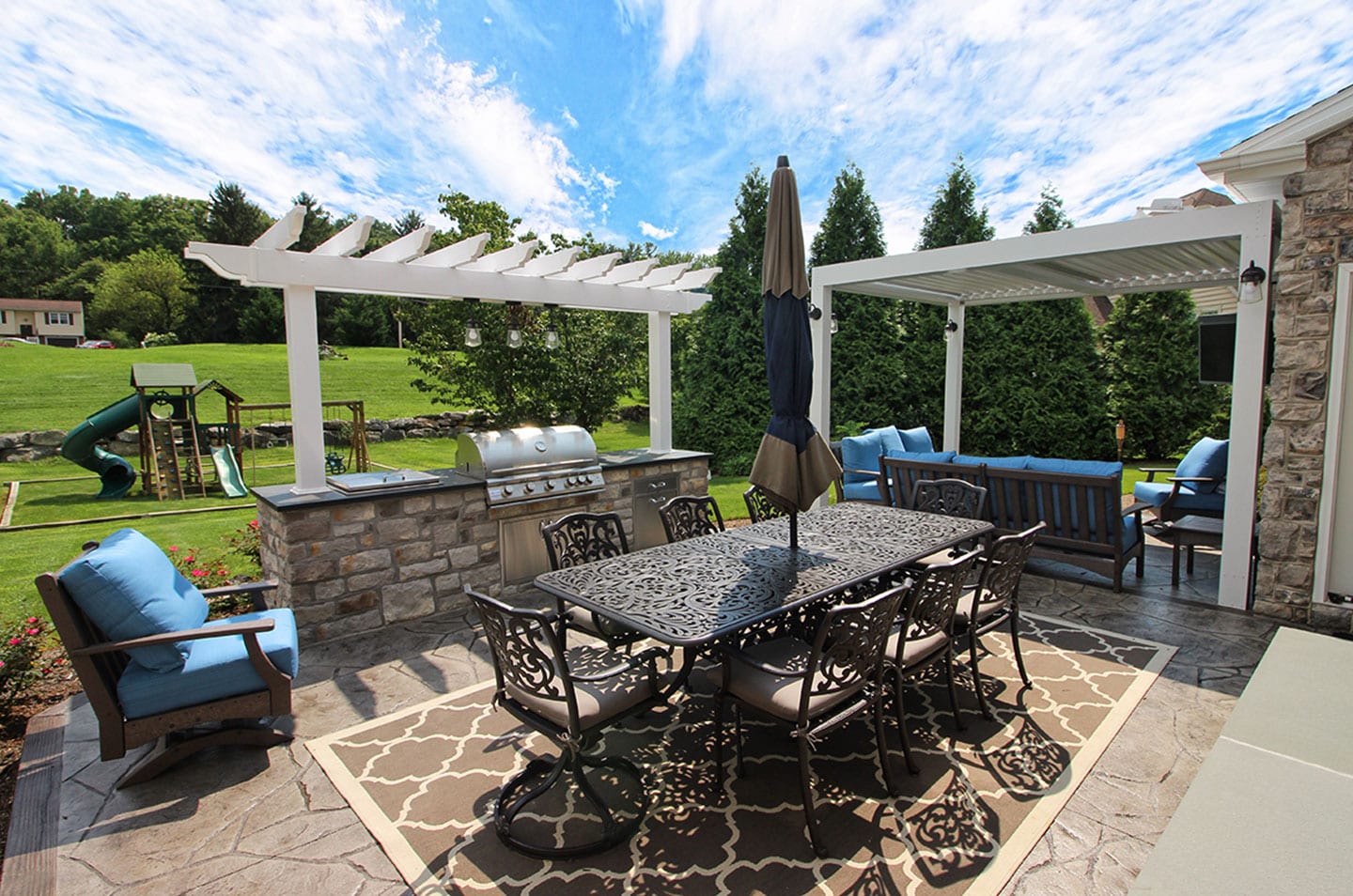 Explore cool modern style in another modestly-sized package. This patio gives the homeowners an ideal space to use for entertaining small groups or enjoying on a daily basis. Some of the interesting touches to notice include the elegant pergola and the natural gas firepit that's sure to be used on countless chilly nights.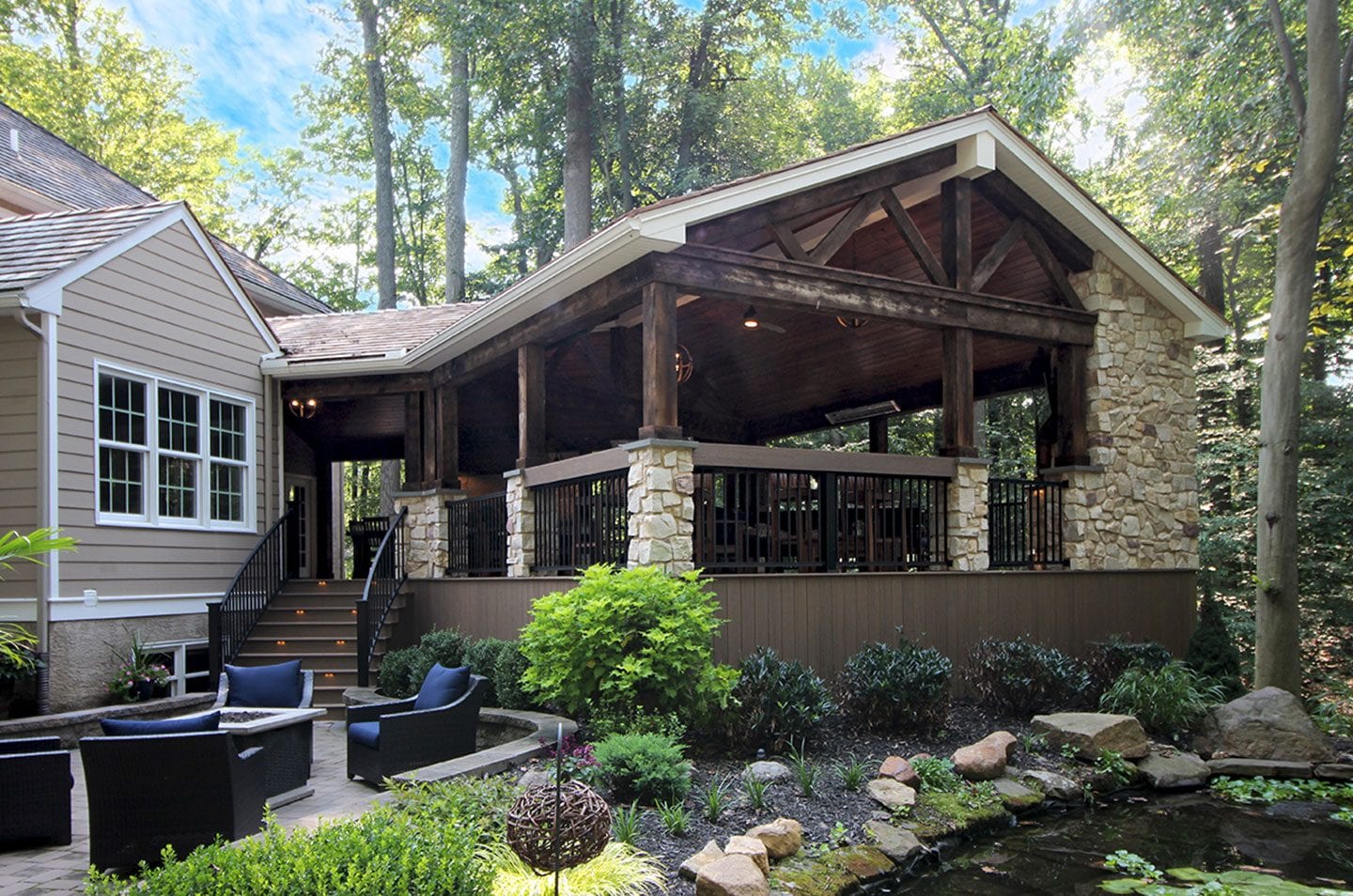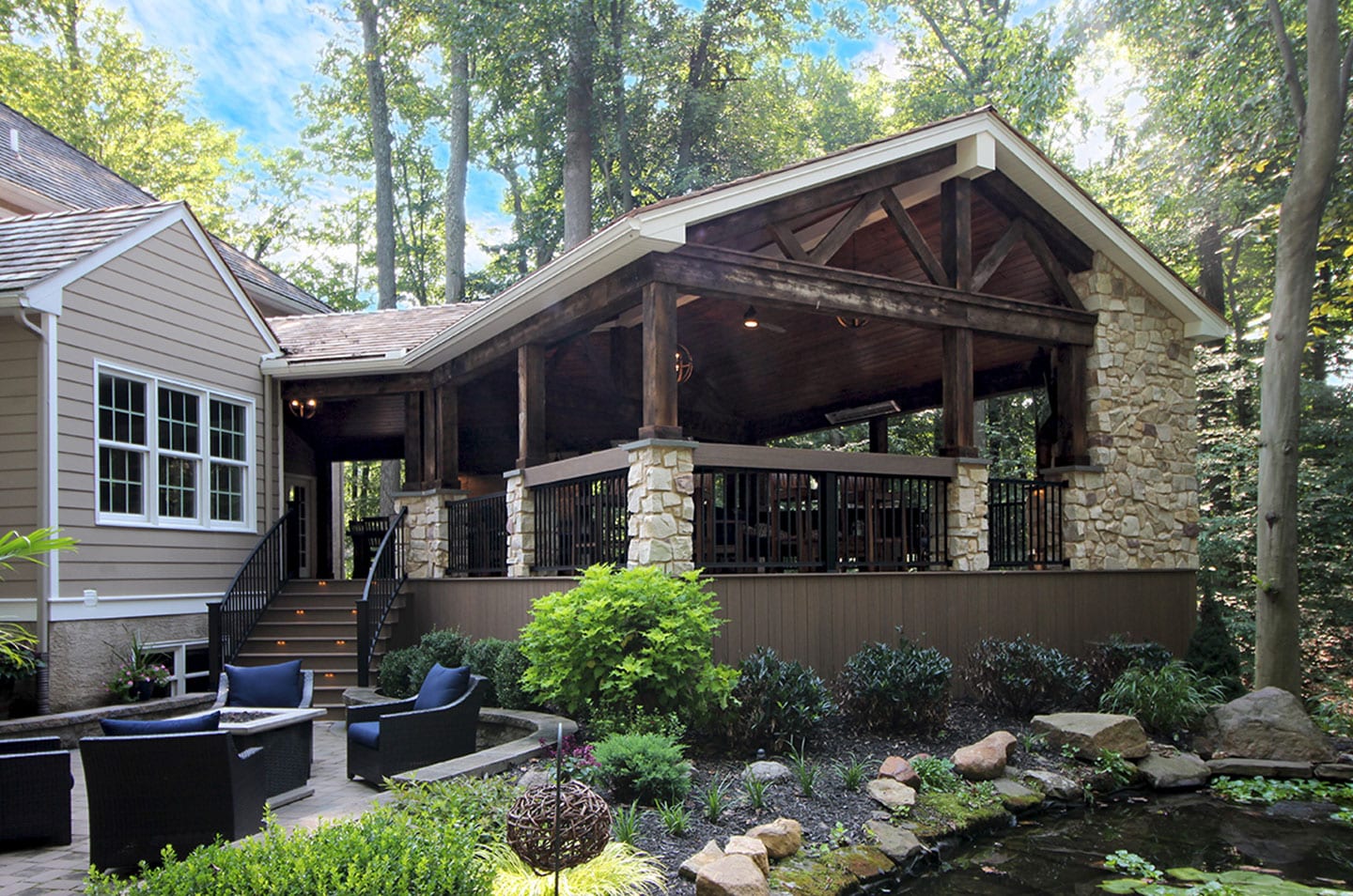 The homeowners' preference for rustic style is evident in every part of this inviting covered porch. From the reclaimed barn wood throughout the project to the authentic Jack Daniel's barrels that make up this bar, this space is full of authentic character. In addition to the fully-stocked interior space, there is also a hot tub perfect for enjoying the view.
3D Rendering Available With Every Quote
Deck inspiration comes standard with Keystone Custom Decks. We begin every single project by having an in-person consultation with the client to discover their aesthetic preferences and to discuss how they plan to use their space. This allows our designers to craft the spaces you've seen here, perfectly tailored to our client's tastes.
We'll show you a full 3D rendering of your project. This rendering shows your home, complete with your personalized outdoor living space.
Visit Our Showroom for In-Person Deck Inspiration
While seeing pictures of these amazing deck projects is a great place to start, there's nothing better than being there in person. That's why we'd like to invite you to our showroom for true deck inspiration. You can meet with one of our designers and explore the numerous fully-complete spaces.
Contact us today to request your quote — or to schedule your visit to our showroom.